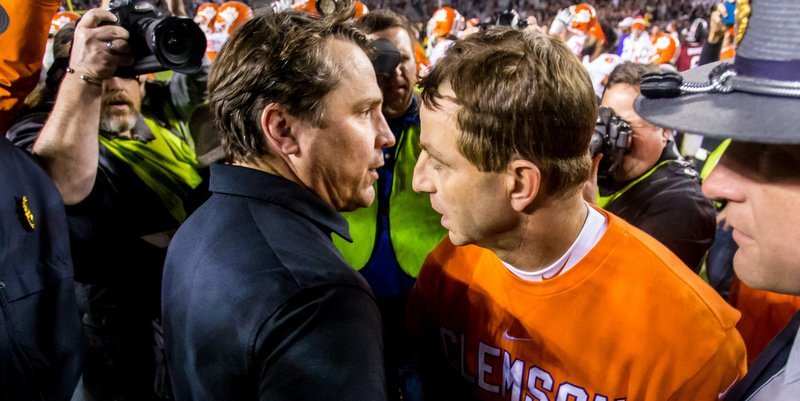 | | |
| --- | --- |
| Todd Ellis: Clemson is "scared to death" of Will Muschamp's progress | |
---
Just when you think you've heard it all, somebody says something that shocks and surprises you.
Clemson defeated arch-rival South Carolina 34-10 Saturday night at Williams-Brice Stadium in Columbia. The game wasn't as close as the final score would indicate – Clemson's defense dominated the South Carolina offense while they were in the game, and head coach Dabo Swinney emptied his bench in the fourth quarter against the Gamecocks.
South Carolina didn't score until a late turnover, and their first scoring drive covered four plays and minus one yard. They added a late touchdown against a bevy of reserves to account for their 10 points. Swinney was able to play 71 players against the Gamecocks, and just six of those were seniors. Thirty-five freshman and sophomores played against the Gamecocks, and that number doesn't include linebackers Tre Lamar and Chad Smith, who were injured.
However, someone sent me the audio of South Carolina play-by-play broadcaster Todd Ellis, who commented during a Friday radio show that Swinney and his staff are "scared to death" of South Carolina head coach Will Muschamp.
No, that isn't a typo. He said that. I get it…..Ellis is a former quarterback at the University of South Carolina and wears his pride for his university on his sleeve. I've met Todd, talked to him a few times and he seems like a good guy. As a paid employee, he gets some leeway on what he says.
But his comments Saturday were certainly of the head-scratching variety. It's one thing to be a homer, which he is allowed to be, but it's another thing to sound like Baghdad Bob, the former Iraqi information minister who stood in front of the television cameras and predicted destruction of the entire United States Military by a few hundred Republican Guard.
"Clemson is scared to death of Will Muschamp's progress. That's a big part of this game as well," Ellis said. "I am not sure they all believe it is this year, but they do not want to give him a step up again on what he's done."
First off, I doubt Swinney's staff is scared of anybody. This staff has gone toe-to-toe with the nation's elite on the recruiting trail and won a lot of battles. On the field, they've gone head-to-head against names like Nick Saban, Urban Meyer and Bob Stoops and come away victorious. These guys are not "scared to death" of anybody.
But Ellis went on…
"There's been a few that's won eight or more in their second season, there's been a few that have won eight games and then beaten Clemson in their second season," Ellis said. "And they feel Coach Muschamp and this staff coming on. They do not want to give them the title of, 'Oh by the way, we took Clemson out of the College Football Playoff in our second year.'"
That's good stuff, but he wasn't quite finished.
"We are the up and coming team," Ellis said. "They are cycling out. We're cycling in. That's a big part of the fear from the Tigers right now."
Swinney has told the media repeatedly that this is still a very young football team, and the numbers bear that out.
Clemson has played 41 combined sophomores (23) and freshmen (18) this season, with another 11 high-profile prospects who have redshirted, including quarterback Chas Brice, three offensive linemen and defensive linemen Jordan Williams and Logan Rudolph. Several high-profile prospects will enroll in January, including Trevor Lawrence and Xavier Thomas.
The Tigers have six seniors who are regular contributors - players who are on the two-deep on offense or defense – and 23 juniors. A few of those juniors will leave after this season, but Swinney and company will have another strong team next season, with a large number of younger players. Cycling out? Sorry, Bob (Todd), that is not the case.
The Gamecocks, as Muschamp reminds us, are also a young team. They have 11 seniors and 15 juniors, with 24 sophomores and 19 freshmen. They also have seven redshirt freshmen. The numbers between the two schools are eerily similar, but the recruiting rankings are not.
One team is certainly cycling in, and it calls Death Valley home.

Upgrade Your Account
Unlock premium boards and exclusive features (e.g. ad-free) by upgrading your account today.
Upgrade Now