| | |
| --- | --- |
| Todd Blackledge not surprised at Clemson's ranking, but advises caution | |
---
| | |
| --- | --- |
| Wednesday, November 4, 2015 1:50 PM | |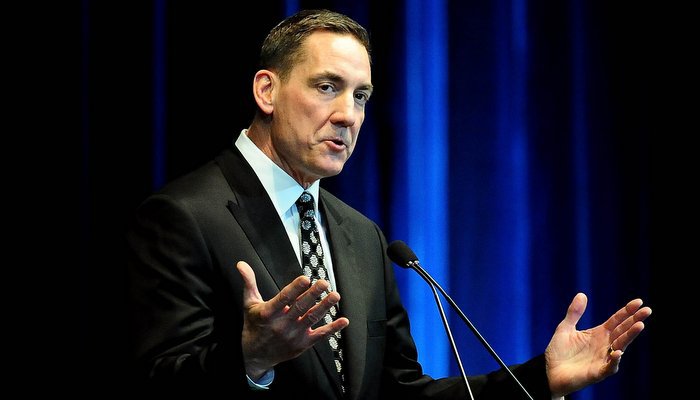 Todd Blackledge isn't surprised Clemson sits atop the initial College Football Playoff rankings, but the college football analyst also cautions that winning out doesn't guarantee the Tigers a spot in the final four.
The Tigers are ranked No. 1 in the nation in the initial 2015 College Football Playoff poll, released Tuesday evening. It marks just the third time in history Clemson has been No. 1 in an in-season major poll. The Tigers were ranked No. 1 for the final two polls of the 1981 season. Clemson is ranked No. 1, followed by Louisiana State, Ohio State and Alabama. Notre Dame is No. 5, followed by Baylor, Michigan State, TCU, Iowa and Florida.
Blackledge and Mack Brown – the former head coach at Texas – held a conference call with the media Wednesday morning to discuss the season's first rankings and Blackledge said he wasn't surprised at Clemson's spot.
"I really wasn't surprised. I think that they've played at a very high, consistent level to this point," Blackledge said. "I would say this; there are two sides to this coin. I think that it's great that the first playoff ranking doesn't come out until November. I've never been a fan of pre-season polls or early polls or early discussions about Heisman or any of that. This is one thing I love is that the first one comes out in November. Having said that, it's still the first one, and there's still a lot of football to be played, a lot of serious football to be played with a lot of major games coming up on the calendar in November. I think they deserve it. I think you can make an argument for a couple of other teams. I'm not surprised they got the first nod, but even as soon as this weekend there are some huge games left for Clemson and some other teams."
The Tigers face Florida State, ranked No. 16 in the College Football Playoff poll, Saturday at 3:30 p.m., at Memorial Stadium, but have games against Syracuse, Wake Forest and South Carolina remaining, something that could hurt the Tigers' chances according to Blackledge.
"First of all, anything is possible. I think we kind of learned that last year," he said. "We had one team that finished without a loss. It's possible that a team can finish without a loss and be left out. It's too hard to speculate right now. The cool thing is that the first poll has come out, and a lot can change even in looking at two of those four – Alabama and LSU play each other this weekend, so there's going to be shakeups all the way from now until the end. Obviously, you have to sell your team. The message for Clemson is that we have to take care of our business, control what we can control and try to win out and believe that our body of work will speak for itself. I think because it was such a strong impression so far that it would be hard for them to win out and get knocked completely out of the top four but not impossible."
Brown said he thinks an undefeated Clemson team would be a lock.
"When you're undefeated in a good league like the ACC, I think they get in because they will have beaten Notre Dame," Brown said. "They will have to have beaten Florida State this weekend, and they're at Syracuse, Wake Forest and South Carolina. Louisville has struggled some this year. Georgia Tech has struggled. Boston College and Miami have struggled. N.C. State has had their struggles. It really hurts teams when they have good teams on their schedule who don't have a good year, but because of the way Clemson has played, the eye test tells you that if they win out they'll be one of the four teams."
Brown said head coach Dabo Swinney told him in July that he had a team that would make a run.
"Dabo is a great friend, and we all know he's very upbeat and very positive at all times," Brown said. "I asked him if you lose your whole defense and most of them are in the NFL, you lose your whole offensive line, how can you be as good? He said, 'Coach, we're going to be good. We've recruited well. These guys believe they can win.' I do think that Dabo thought he had a special team."