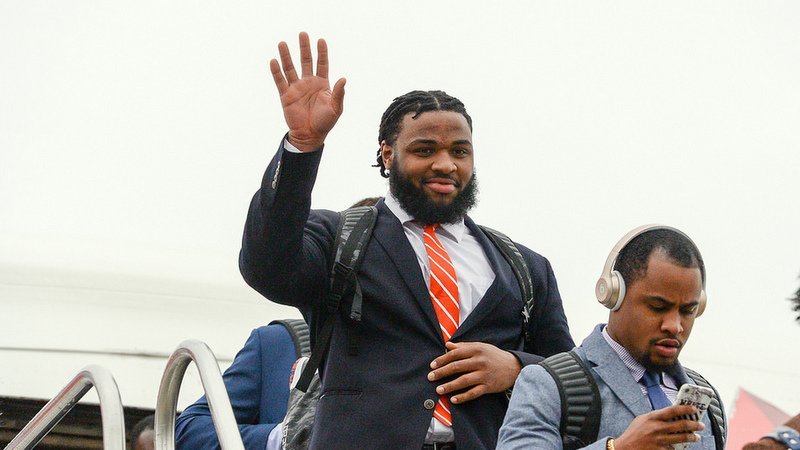 | | |
| --- | --- |
| Todd Bates would do a "split right now" in honor of Christian Wilkins | |
---
| | | |
| --- | --- | --- |
| Thursday, July 26, 2018, 1:19 PM | | |
SUNSET – Todd Bates is a big man, but he insists he can do a split and would do so in honor of Christian Wilkins returning for a senior season.
Bates met with the media at head coach Dabo Swinney's media golf outing a week ago, and he broke out a megawatt smile when asked about the return of Wilkins.
"I would do a split right now in honor of ol' Christian. I was so excited," Bates said. "The kid is one of a kind and what a great young man he is. He's a great leader. Great personality. The thing a lot of people don't know about him is just the effect he has on a room. He makes the room instantly better. He brings the same energy every day. That type of stuff is priceless. We're just ecstatic to have him back."
On working with new defensive ends coach Lemanski Hall
"We're going to work together closely. I'm looking forward to that. I've known Coach Hall for a good while back to his days playing before me at Alabama. I used to see him when I was a captain there my senior year. I'd see him in and out of the building all of the time, never knowing that we would be coaching together one day. I'd also go by his job when he was coaching in Tennessee at a high school there and I got a chance to reconnect with him while he was working there, so I'm looking forward to that. Anytime you're able to specialize and really zoom in on one thing, you can concentrate on it and get guys a lot better and you can spend a lot more time with them, so that's been better.
"I've coached all four (line positions) at times in my career and it's good to know what everybody is doing, so we're going to try not to lose that element of knowing what everybody is doing because you're that much better of a player when you know what your brothers are doing. We're going to work hand-in-hand together but I'm also looking forward to being able to specialize and spend that intimate time with your position."
Getting the young guys up to speed
"That's always important. Just as important as recruiting is development and those guys putting in the work to where they understand what you're trying to do. As a young player, that's the biggest barrier for you is knowing what to do. Those guys understand their role, they're getting a better handle on the playbook. Nyles (Pinckney) has been here now going on his third year, so I expect big things out of him. Having him this spring and being able to talk to him and coach him, you can tell he has a handle on it. Players like Darnell (Jefferies), getting here early helped him. Getting here early in the spring and being able to go through that helped him tremendously. I'm looking forward to getting back rolling with those guys in camp. Of course we'll restart where we began at in the spring, but those guys will be light years ahead."
"Jordan had a phenomenal spring. He came in at about 272 pounds as a freshman and he's about 305 pounds now. He's really worked in the weight room. He's been under Christian's wing for a year now. It's almost like they're Siamese Twins because wherever you see one, you see the other. Christian does a great job of leading him and leading the whole group. I'm looking forward to seeing what he can do. He really came on in the spring. I look forward to the carryover from the summer into camp."
"He has really come on. He's the perfect example of being ready when your number is called and fighting til the end. At Florida State last year, we had Dexter (Lawrence) go down and he steps right in there and has a player of the game type of game. He carried that over into the spring and had a wonderful spring. I'm just looking forward to seeing him continue that growth as a player. He's been consistent. He's worked his butt off and I think y'all are going to like what you see out of him.
I think he is. I think he has all of the tools and he's just putting them together every day - sharpening them and shining them up."
How do you manage the group?
"A lot of times you're on the other side of this where you don't have enough guys that can do it. Being on the side where you've got three starter level guys and well capable backups, you just have to coach them truthfully. What I mean by that is guys have to earn it every week. It's got to be fair to be where if I'm out-performing this guy, I'm going to start or I'm going to play and that's the best type of situation to be in where you've got competition at that level of a Christian Wilkins, Dexter Lawrence and Albert Huggins and the rest of the gang. It's going to be fun and those guys know how we're going to do it. They know whoever puts in the work is going to play."
Dexter Lawrence
"I think he will be ready to go. He's really worked his butt off. It was good to see him working camp and running around a little bit. It's been good to hear about him over the summer doing his workouts. He's looking good. Yesterday was our first day back in the office from vacation, but I got a chance to see him and he's been looking good."
"Darnell's work ethic. He has really come in here and worked his butt off and been a resilient guy as far as it's a big learning curve on learning the plays, but effort can't ever be a problem and it hasn't been for him. He's always running to the ball, he's always giving effort. You can see flashes of the talent that he has, but it's always just that learning curve that you've got to get over. He's put in extra time in his playbook on his own and with the leaders of this team and with myself. As long as he's doing that, he'll be just fine."
On having two dominant defensive tackles
"I go back and I feel like I'm getting old when I say this, but you have to go back to the Tennessee days when Dan Brooks was the d-line coach there and they had Albert Haynesworth and John Henderson. That's the two guys. I just remember our o-line preparing for those guys and talking about how they had their work cut out for them and how they were going to block those two because you can't double team everybody."