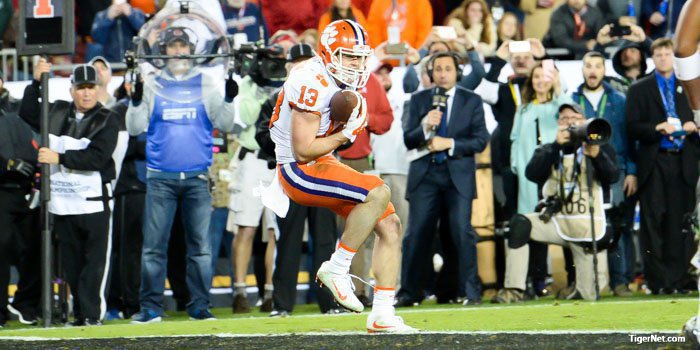 | | |
| --- | --- |
| Title Drive: Tigers win when Watson says, "Let's be legendary" | |
---
John Elway has The Drive and The Drive II, leading the Denver Broncos to playoff wins over the Cleveland Browns. Those drives were great and will live on in football lore as reminders of a great player.
But neither of those drives won a Super Bowl.
Clemson, Deshaun Watson and Hunter Renfrow will always have The National Championship Drive, Title Drive, 13 Steps to Glory or whatever you want to call it. And it means so much because it won a national title.
It's been five weeks since Clemson knocked off Alabama to win the College Football Playoff National Championship, and as I was going through the assembled notes and quotes I had after the game, I noticed I had a story in mind about the game-winning drive that I've never run.
With spring practice still two weeks away, it's a perfect time to reflect on the events of that Monday night in Tampa's Raymond James Stadium.
To set the stage: The Tigers took their first lead, 28-24, with 4:38 left in the fourth quarter when Wayne Gallman rumbled into the endzone from a yard out.
Alabama's offense, which had gone dormant for most of the second half, finally showed signs of life with the game on the line. The drive was kept alive when receiver ArDarius Stewart took a backward pass from Jalen Hurts and fired a strike to tight end O.J. Howard for 24 yards.
On the next play, Hurts broke free from a collapsing pocket and weaved through defenders for a 30-yard touchdown run to make it 31-28 with 2:07 left. The Crimson Tide players and fans began to celebrate what they hoped was yet another national title.
Tight end Jordan Leggett looked at the clock and the scoreboard, and smiled to himself.
"We didn't flinch at all. We knew all season that two minutes had kind of been our thing," Leggett said. "That is when our offense clicks the best. I didn't worry about it at all."
(2:07 - 4th) Adam Griffith kickoff for 53 yds , C.J. Fuller return for 20 yds to the Clem 32
C.J. Fuller returned the kickoff 20 yards to Clemson 32-yard line, and the Tigers took over on offense with 2:01 to play.
On the sideline, center Jay Guillermo gathered his linemen and made sure they were dialed in.
"I knew it was too much time," Guillermo said. "We scored fast like that when we needed to all year. Against Louisville or Florida St. or whoever, we scored when we needed to. I just wanted to get my five guys locked in and let them know we were going to win the game."
Wayne Gallman says the huddle was particularly chatty.
"We all were talking. We all wanted to go out and give 100 percent," he said. "We just went out there and did our jobs because we knew what was at stake. Alabama was the team we wanted, and we knew this was our chance."
Quarterback Deshaun Watson knew he had enough time to etch his name in the record books.
"I knew it. We work on two-minute drill pretty much almost every day in practice whenever we have time. But I just flashed back from last year when they scored, and when we scored, and we were down five, but we ran out of time," Watson said. "But I just smiled right when they scored. I saw the two minutes and one second on the clock, and I just smiled, and I just knew, I just told my guys, 'Hey, let's be legendary, let's go be great.' I told myself, they left too much time on the clock. Last year they ran out the time, but this time they left us a little bit too much. I knew my guys were going to make plays and I knew my offensive line was going to give me time, and I'm thankful for the people I have around me and believing in me to get the ball and those guys making big-time plays."
Watson hit two quick passes, one to Leggett and one to receiver Mike Williams.
1st and 10 at CLEM 32
(2:01 - 4th) Deshaun Watson pass complete to Jordan Leggett for 5 yds to the Clem 37
2nd and 5 at CLEM 37
(1:56 - 4th) Deshaun Watson pass complete to Mike Williams for 24 yds to the Alab 39 for a 1ST down
The Tigers tried the old hook and ladder play, followed by a one-yard Watson run. Time was ticking steadily off the clock.
1st and 10 at ALA 39
(1:41 - 4th) Deshaun Watson pass complete to Artavis Scott for a loss of 4 yards to the Alab 33 to Wayne Gallman for 10 yds to the Alab 33
2nd and 4 at ALA 33
(1:01 - 4th) Deshaun Watson run for 1 yd to the Alab 32
The Tigers were in the middle of the field and in field goal range, but Watson found Hunter Renfrow for six yards and a first down.
3rd and 3 at ALA 32
(0:28 - 4th) Deshaun Watson pass complete to Hunter Renfrow for 6 yds to the Alab 26 for a 1ST down
Guillermo knew the Crimson Tide defense couldn't take many more punches.
"You could hear them gasping a little bit. You could tell they were getting tired," Guillermo said. "We just wanted to keep moving the ball and continue to press the tempo. We knew if we were going to win the football game it would be with tempo, and once it started clicking it didn't stop."
Watson fired an incomplete pass, but then hit Leggett for 17 yards to the Alabama nine-yard line for a first down with 14 seconds left on the clock. The Tigers called a timeout.
1st and 10 at ALA 26
(0:20 - 4th) TEAM pass incomplete
2nd and 10 at ALA 26
(0:19 - 4th) Deshaun Watson pass complete to Jordan Leggett for 17 yds to the Alab 9 for a 1ST down
(0:14 - 4th) Timeout CLEMSON, clock 00:14
Leggett made an outstanding one-handed catch that he hoped made up for an earlier drop.
"We made the most of the opportunity, and we had players make plays," Leggett said. "We just drove down the field. All of our plays were working so well on that last drive. To know that my number got called there was big. I dropped one earlier in the game, and I tried to make up for it. I was going to catch that ball no matter what."
There was an incomplete pass to Leggett in the back of the end zone, and then a pass interference call on Alabama on a throw to Williams. Clemson had the ball at the Bama two with just a few ticks left on the clock.
1st and Goal at ALA 9
(0:14 - 4th) Deshaun Watson pass incomplete to Jordan Leggett
2nd and Goal at ALA 9
(0:09 - 4th) Watson, Deshaun pass incomplete to Williams, Mike, PENALTY ALABAMA pass interference (Averett, Anthony) 7 yards to the ALABAMA 2, NO PLAY, 1ST DOWN CLEMSON.
Watson got the play call from the sideline – Crush. He smiled because he knew the play would work and that Clemson was one play away from a National Championship.
"It just kind of slowed down the moment, and I just kind of smiled to myself and just knew because I knew that we were inside the five and I knew they were going to play straight cover zero man, and I knew if Tay (Artavis Scott) make his block and get the little pick, Renfrow was going to get in the end zone," Watson said. "I kind of smiled, and I knew before I even snapped the ball it was going to be a touchdown. All I had to do was just get the ball to him."
Renfrow had an idea the ball was coming his way.
"I'm thinking, with six seconds, we're rolling right, even if we get sacked, we can still call timeout," Renfrow said.
Watson took the snap, rolled right, and hit Renfrow for the game-winning score. No. 13 took 13 steps from beginning to end for the touchdown.
"Just an unbelievable play by Deshaun (Watson)," Renfrow said. "Artavis Scott did a great job on the outside getting a little rub, and it was an awesome play call by our coaches."
Watson said he felt at peace before the final play.
"I couldn't hear the crowd. I couldn't really – I was just in my zone," Watson said. "I just felt just at peace. It just kind of went through there, and once I threw the touchdown, I just kind of ran off. At that moment – honestly, it's like a blur. The only thing I remember is Renfrow going to the sideline, and I'm just sitting there, and the guys just coming, coming over there. That's all I really remember. It just happened so fast. It's just incredible. I slowed down the moment, everyone made their blocks and did their part, and I did my part, and we pulled it out."
1st and Goal at ALA 2
(0:01 - 4th) Hunter Renfrow 2 Yd pass from Deshaun Watson (Greg Huegel Kick)
Leggett had one thought when he saw Renfrow cradle the ball and the official signal a touchdown.
"As soon as he caught that ball, I thought, 'Holy hell, we are National Champions. Let's go celebrate,'" Leggett said.
Guillermo said he had confidence that Crush would work.
"I knew it worked in practice and I knew it would work there," Guillermo said. "I didn't see it. I kind of turned around, and I couldn't tell if he had it or not. Then I heard the crowd, and I knew, but then I started looking at the clock to see how much time was left."
There was enough time for a final kickoff, an onside kick recovered by Clemson, and the game was over, and the drive was history. Then the confetti fell, and the drive quickly became perhaps the most important drive in the history of Clemson football.

Upgrade Your Account
Unlock premium boards and exclusive features (e.g. ad-free) by upgrading your account today.
Upgrade Now