| | |
| --- | --- |
| Tigers squeak out late victory after fourth-down goal line stand | |
---
| | |
| --- | --- |
| Saturday, October 11, 2014 7:19 PM | |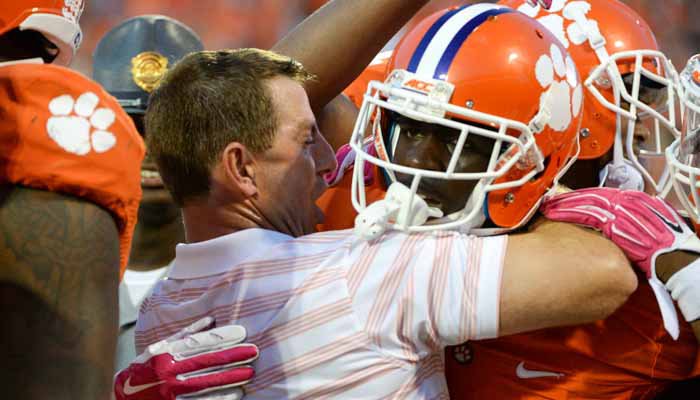 CLEMSON – Clemson's defense did what the offense couldn't Saturday afternoon, they scored points and came up with big plays with the game on the line.
The result was a frenetic, anxiety-filled, hand-wringing 23-17 victory over Louisville that sent the Tigers to 4-2 on the season, and the win was set up by a big play from the defense.
The Tigers kicked a field goal to go up 23-17 late in the fourth quarter, but Louisville's first play from scrimmage was a 73-yard pass play that gave the Cardinals the ball at the Clemson eight yard line with just over a minute to play. Quick looked like he might score on the play, but he was chased down from behind by safety Jayron Kearse

Jayron Kearse
So. Safety
#20 6-4, 215
Fort Myers, FL
View Full Profile .
The Cardinals got a quick seven yard pass to the Clemson one, but a run was stuffed for a loss of one, and the Cardinals spiked the ball with seconds left on the clock to set up a 4th-and-goal at the two. Quarterback Will Gardner sprinted out to his right, but his pass was broken up by defensive tackle DeShawn Williams

DeShawn Williams
Sr. Defensive Tackle
#99 6-1, 292
Central, SC
View Full Profile , setting off pandemonium and a sigh of relief for the Clemson faithful.
The joy of the win is tempered, however: starting quarterback Deshaun Watson

Deshaun Watson
Fr. Quarterback
#4 6-3, 204
Gainesville, GA
View Full Profile left late in the first quarter with a hand injury that might keep him out for a month. Cole Stoudt

Cole Stoudt
Sr. Quarterback
#18 6-4, 231
Dublin, OH
View Full Profile came on in relief of Watson and finished the day 20-of-33 for 162 yards and one interception.
Freshman running back Adam Choice

Adam Choice
Fr. Running Back
#26 5-10, 211
Thomasville, GA
View Full Profile came up big in the fourth quarter, and he finished with 16 carries for 61 yards.
Clemson plays at Boston College next weekend.
The Tigers forced a 3-and-out on Louisville's first drive, and after a 45-yard punt Adam Humphries

Adam Humphries
Sr. Wide Receiver
#13 5-11, 193
Spartanburg, SC
View Full Profile broke a couple of tackles and took it 72 yards for the touchdown, electrifying an already-loud crowd. It was Clemson's first punt return for a touchdown since 2009, when C.J. Spiller

C.J. Spiller
Pro Running Back
#28 5-11, 195
Lake Butler, FL
View Full Profile took it to the house at Boston College, and it gave the Tigers a 7-0 lead.
Clemson's offense stalled early and often in the first quarter, and Watson had a freshman moment when he tried to float a pass to the sideline deep in Clemson territory. The ball was picked off by Louisville at the Clemson 25, and they turned it into a field goal at the 4:39 mark.
At that point, it all fell apart for the Tigers. Watson went out with a hand injury on the ensuing drive, and a terrible punt gave Louisville prime field position that they turned into a 2-yard touchdown run for a 10-7 lead early in the second quarter.
Clemson's defense remained stout however, and did what the offense couldn't do – put points on the board. The Cardinals had the ball deep in their own territory midway through the second quarter, and Garry Peters

Garry Peters
RS Sr. Cornerback
#26 6-0, 194
Conyers, GA
View Full Profile hit quarterback Reggie Bonnafon as he dropped back to pass and Bonnafon fumbled. The loose ball was picked up by defensive end Tavaris Barnes

Tavaris Barnes
RS Sr. Defensive End
#9 6-4, 273
Jacksonville, FL
View Full Profile , and he returned it two yards for a touchdown and a 14-10 Clemson lead.
The Tigers had a chance to score before the half, but Stoudt took a sack with time running off the clock and the Tigers were unable to spike the ball in order to attempt a field goal.
The opening drive of the second half was a 3-and-out, but Stoudt led the Tigers on a scoring drive on the second attempt, getting a 45-yard field goal from Ammon Lakip

Ammon Lakip
RS Jr. Kicker
#36 5-10, 200
Alpharetta, GA
View Full Profile for the 17-10 lead.
Just when it looked like the Tigers might gain a little momentum, a strange playcall got Louisville back in the game. The Tigers faced a 4th-and-inches at their own 41-yard line, and elected to go for the first down by sending three tight ends into the game for what appeared to be a power run. Instead, Stoudt lined up six yards deep in the shotgun, waited a split second after the snap to begin his run and never made it back to the line of scrimmage.
The Cardinals made the Tigers pay, inserting former starting quarterback Will Gardner into the game, and he hit Eli Rogers on a 22-yard scoring toss that tied the score at 17-17 with just over five minutes left in the third quarter.
Clemson got a 40-yard field goal from Ammon Lakip to end the third quarter, but on a 3rd-and-short play Stoudt was once again stuffed. However, Clemson still led 20-17 heading into the fourth.
Clemson's defense continued to hold Louisville in check, and offense then went on a 12-play, 68-yard drive that ran out much of the late fourth quarter. The drive ended with another Lakip field – this one from 21 yards out – and the Tigers had a 23-17 lead with 1:24 remaining on the clock.

Score by Quarters     1  2  3  4   Score

-----------------    -- -- -- --   -----

Louisville..........  3  7  7  0  - 17       Record: (5-2,3-2)

Clemson.............  7  7  6  3  - 23       Record: (4-2,3-1)

Scoring Summary:

1st 13:58 CU - Adam Humphries 72 yd punt return (Ammon Lakip kick), , LOU 0 - CU 7

    04:39 LOU - John Wallace 41 yd field goal, 4-1 1:27, LOU 3 - CU 7

2nd 14:56 LOU - Dominique Brown 2 yd run (John Wallace kick), 5-50 2:24, LOU 10 - CU 7

    07:16 CU - Grady Jarrett 0 yd fumble recovery (Ammon Lakip kick), , LOU 10 - CU 14

3rd 09:43 CU - Ammon Lakip 45 yd field goal, 6-24 2:29, LOU 10 - CU 17

    05:27 LOU - Eli Rogers 22 yd pass from Will Gardner (John Wallace kick), 5-40 1:08, LOU 17 - CU 17

    00:00 CU - Ammon Lakip 40 yd field goal, 10-55 3:09, LOU 17 - CU 20

4th 01:24 CU - Ammon Lakip 21 yd field goal, 12-68 5:34, LOU 17 - CU 23

                                    LOU       CU

FIRST DOWNS...................       10       12

RUSHES-YARDS (NET)............    38-52    32-72

PASSING YDS (NET).............      212      157

Passes Att-Comp-Int...........  30-15-0  39-22-2

TOTAL OFFENSE PLAYS-YARDS.....   68-264   71-229

Fumble Returns-Yards..........      0-0      0-0

Punt Returns-Yards............     4-24    8-107

Kickoff Returns-Yards.........     2-38     3-66

Interception Returns-Yards....      2-0      0-0

Punts (Number-Avg)............  12-44.2  10-41.9

Fumbles-Lost..................      4-2      0-0

Penalties-Yards...............    11-65     3-14

Possession Time...............    32:06    27:54

Third-Down Conversions........  1 of 17  2 of 16

Fourth-Down Conversions.......   0 of 2   0 of 1

Red-Zone Scores-Chances.......      1-2      1-2

Sacks By: Number-Yards........     3-18     4-33



RUSHING: Louisville-Dominique Brown 17-47; Brandon Radcliff 11-23; L.J.

Scott 2-10; Reggie Bonnafon 8-minus 28. Clemson-Adam Choice 16-61; Deshaun

Watson 3-10; Wayne Gallman 4-9; C.J. Davidson 2-8; Cole Stoudt 7-minus 16.

PASSING: Louisville-Will Gardner 10-16-0-150; Reggie Bonnafon 5-13-0-62;

Team 0-1-0-0. Clemson-Cole Stoudt 20-33-1-162; Deshaun Watson 2-6-1-minus 5.

RECEIVING: Louisville-James Quick 6-101; Gerald Christian 4-21; Dominique

Brown 1-39; Eli Rogers 1-22; Charles Standberry 1-17; Kai DeLa Cruz 1-7;

Michaelee Harris 1-5. Clemson-Artavis Scott 10-66; Jordan Leggett 3-43; Wayne

Gallman 3-minus 5; Mike Williams 1-23; Adam Humphries 1-15; Adam Choice 1-8;

Stanton Seckinger 1-3; C.J. Davidson 1-2; Germone Hopper 1-2.

INTERCEPTIONS: Louisville-James Sample 1-1; James Burgess 1-minus 1.

Clemson-None.

FUMBLES: Louisville-James Quick 2-1; Reggie Bonnafon 1-1; Dominique Brown

1-0. Clemson-None.

Stadium: Memorial Stadium      Attendance: 81500

Kickoff time: 3:37 PM   End of Game: 7:04 PM   Total elapsed time: 3:27

Officials: Referee: Jeff Heaser; Umpire: Michael Wooten; Linesman: Joseph Griesser;

Line judge: Richard Misner; Back judge: Barry Hendon; Field judge: Mike Cullin;

Side judge: Jerry Hocker;

Temperature: 82 deg    Wind: Calm      Weather: Sunny