| | |
| --- | --- |
| Tigers see familiar unit in Fighting Irish defense | |
---
| | |
| --- | --- |
| Friday, October 2, 2015 9:21 AM | |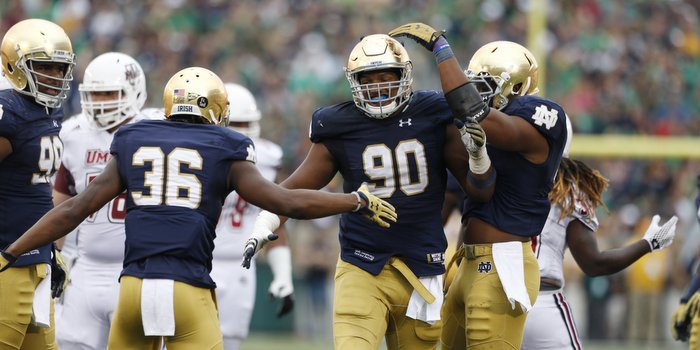 Dabo Swinney

Dabo Swinney
Head Coach
View Full Profile sees a lot of his own defense in this week's opponent.
That should make for an interesting showdown in Saturday night's top-15 matchup between Clemson and Notre Dame.
The Fighting Irish are 4-0 and ranked sixth nationally. The Tigers are 3-0 and ranked 12th.
"They're aggressive," Swinney said of the Irish's defensive players. "They force the issue with the way they play, physical up front, really big and thick guys inside that gobble up people. "Backers can run. (Jaylon Smith) is an All-American; he's a great player. They're athletic and fast in the secondary. Bunch of juniors and seniors in the secondary. So, again, very similar when you just kind of look at them as to how we play and how we try to play."
Clemson is ranked ninth in the nation, allowing 260.7 yards per game, surrendering 788 yards on 199 plays. The Tigers are strong against the run (114.7 yards per game allowed) and the pass (third in passing efficiency defense) and have allowed just 12.3 points per game, which is 11th nationally.
Notre Dame's numbers aren't quite as sparkling, but it is still a solid unit.
The Irish are 41st in total defense (341.5 yards per game) and 40th in scoring defense (19.8 points per game). They have allowed 137.8 yards rushing with a passing efficiency defense rating of 115.01.
Still, the Irish defense has come up with big plays when needed, including shutting down Texas and pulling out a hard-fought win at Virginia. Plus, Notre Dame bottled up Georgia Tech's option offense until allowing two late touchdowns in a 30-22 win two weeks ago.
"So this is one of those games that really comes down to the competitive match-ups," Swinney said. "Your offensive line versus their defensive line, their DBs versus our receivers. It's just who wins the plays consistently. Then, obviously the things that usually make a difference in ballgames like this, because games like this, it's usually just a few plays. I think you have pretty evenly matched teams, and that's the turnover margin. And playing special teams, you know, stupid penalties, just discipline type things, so it's going to be a fun game."
Clemson quarterback Deshaun Watson

Deshaun Watson
So. Quarterback
#4 6-2, 207
Gainesville, GA
View Full Profile believes his offense will be prepared for the Notre Dame defense after facing Clemson's unit in practice.
"I see it every day in practice," Watson said. "We have one of the top defenses in the country. (Defensive coordinator Brent) Venables does a great job of showing us all kinds of different types of schemes and blitzes and coverages. So it's nothing that we haven't seen before."
Daniel Shirley is the sports editor of The Telegraph in Macon, Ga., and co-host of The Morning Show on FoxSports 1670 AM. Follow him on Twitter at @DM_Shirley and read his blog at macon.com/peachsports.