| | |
| --- | --- |
| Tigers preparing for "wounded animal" in Louisville | |
---
| | |
| --- | --- |
| Monday, September 14, 2015 1:40 PM | |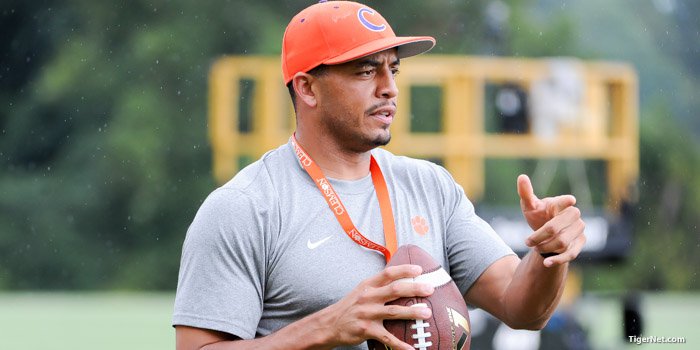 CLEMSON – Tony Elliott

Tony Elliott
Co-OC / Running Backs
View Full Profile knows that Louisville has extra motivation for Thursday night's home game against Clemson, and that Clemson has to be prepared for a "wounded animal" in the Cardinals.
Bobby Petrino's squad had high expectations heading into the season, but a loss to Auburn in the season opener in Atlanta and a home loss to Houston last Saturday has the Cardinals facing a 0-2 hole. That could be 0-3 if the Cardinals don't beat Clemson in Thursday's primetime matchup at Papa John's Stadium, and Elliott says that makes a talented Louisville squad even more dangerous.
That is something he will make sure his players understand.
"You don't have to tell them. You just say, 'Look at the tape boys.' They know last year that the team we played walked out of here and left some doubt, that we kind of stole the game from them," Elliott told the media Monday in the WestZone. "They're going to be ready to play, and they're very talented. Also, you talk about a wounded animal is a dangerous animal because their back is in the corner. They will be playing at home. They believe they should be 2-0, and they're going to be ready to prove it."
Louisville's defense finished sixth nationally in total defense in 2014 but lost several players to the NFL. Elliott said he wishes that made a difference when he looks at the Cardinal defense on tape.
"I wish there was something different. They lost six guys to the NFL, and all they do is reload," he said. "They picked up three transfer guys that fit in. Their two interior defensive tackles are going to be as good as anybody we play in the country - No. 98 (Sheldon Rankins) is a special player. He was there last year, so he's got a lot of experience. No. 44 (Pio Vatuvel) is a really good player. Then, the end that they picked up from TCU, he's very athletic. He reminds you a lot of the No. 94 (Lorenzo Mauldin) that graduated from last year. Then they picked up (Josh) Harvey-Clemons from Georgia. He's a large, athletic safety that can play back on the hash and then Nickel/Sam.
"You don't see a whole lot different. There are different numbers, but the body types look similar. They're aggressive, fast, physical, so it's going to be a good challenge for our guys. Just cut on the film. When you cut on the film versus Auburn and obviously you know Auburn likes to run the football. It's their bread and butter, and you see those guys holding the line of scrimmage and making plays. Houston, they had a little different personality - they played more nickel personnel, but you still see them moving around controlling the line of scrimmage."
The short week makes preparing for another game especially challenging, and Elliott said all of the coaches will miss sleep this week.
"After the game the coaches went home and spent a little bit of time with their families, and then that night on our own we broke down the game," he said. "We just played App. State and we wanted to make sure we had our grades and everything in order. Then we came in early Sunday morning. No sleep. You're running on fumes. You're trying to cover every situation, but you also understand that they're preparing as well, so you've got to prepare for what you see and what you don't see. You have to make sure you're smart with your practice plan because over the course of a normal week you have specific areas of the game plan that you work on different days of the week. You lose a practice and a half, so you have to figure out how to get your base stuff done, all of your situational stuff, and then have opportunities to prepare for the unexpected."
The team also has to prepare for Louisville's crowd noise.
"Coach (Swinney) changed up the way we practice, so we have music going pretty much all the time we're at practice. That has forced us to communicate better," he said. "That's a challenge from a coaching standpoint because we can't yell as loud as the music is, but it's been good for our guys because they've been practicing like that the entire camp. We are doing a little bit more of the crowd type noise instead of the music just playing to help those guys get ready. We know we're going into a loud environment, and communication is going to be critical. They've done a good job in the games they've had and then hopefully with what we're doing this week they'll be prepared."