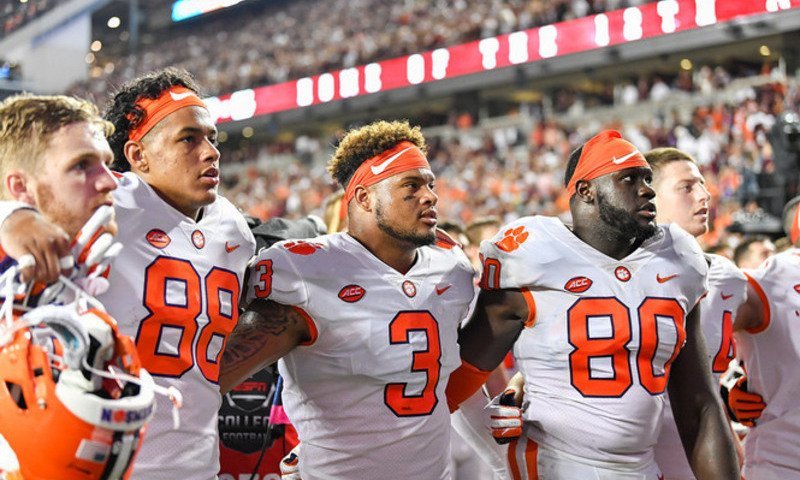 | | |
| --- | --- |
| Tigers preparing for Hurricane Florence, Georgia Southern | |
---
CLEMSON - Clemson goes from the intensity of a road game on primetime television last week to the friendly confines of Death Valley and a team from the Sun Belt this week. Add in the threat of a hurricane and rain, and it makes for an interesting week of preparation for the second-ranked Tigers.
Clemson head coach Dabo Swinney previewed the 3:30 matchup during his weekly Tuesday press conference in the team room at the Reeves Complex.
"I don't know what the weather will be. My thoughts and prayers go out to all the people who are in the path of this monster," Swinney said. "My hope is that the good Lord will turn it, set it down and do something so that we don't have to deal with the devastation. We have players' families who will be impacted. I have no idea what we are going to do here. We will be ready, though.
"We have our set time that we have to prepare. That starts today at 2:10 pm. We get our practice and meetings in. We talked about this yesterday and made sure that they all know we're here for them. We had it happen last year with Trayvon Mullen. His family came up here and stayed. We were able to help them with that."
Georgia Southern is a program that won six national championships on the FCS level and was a runner-up in two other seasons, and Swinney said it's a program with a lot of pride.
"They're 2-0 now. They have the best record in the Sun Belt," he said. "They have so much tradition in that program. To me, they are kind of like App. State. They were dominant and moved up. You play them, you better be ready. They're really good. I think Georgia Southern will be the same. They have a new coach, but they're doing what they've always done, what people have embraced there. They know what they're looking for in the recruiting process."
Clemson plays at Georgia Tech next week, meaning three of the Tigers' first four games will be against option teams. Swinney was asked if this week's game will help in preparation for next week contest at Tech and former Georgia Southern head coach Paul Johnson.
"I guess it is. Three of our first four games are option-oriented. They all have their flavor," Swinney said. "It's not a negative that you spend some of that time on option defense before you face Georgia Tech. The flip side is you're not playing a lot of base defense
"They don't cut as much (as Tech). Their splits are tight. They're more zone-based. They run a lot of split-zone, zone-read."
On John Simpson and Cade Stewart
"John did not play very well. He was disappointed in his performance and technically did not do some things. He had some great moments, too. He had a big hit there on the goal line. He did not have a winning performance. He did not play up to his standard. I have no doubt he'll bounce back this week. He just did not play quite as well. "Cade Stewart did a pretty good job. He hurt us on one. We had
Hunter Renfrow wide open, a change route and he might have scored.
"Kelly Bryant had to rush the throw. It was a simple twist. Cade got his shoulder turned instead of staying square. We missed a huge play there. It's little things that lead to big things. But we've been encouraged with Cade. He and Sean Pollard, that's been a strong battle. Now, Pollard was our lineman of the week. He, Tremayne Anchrum
and Mitch Hyatt did well. Cade, though, is a guy we're excited about. He's just a sophomore."
Kelly Bryant responding in a big way Saturday
"Yes. That kind of speaks for itself. Everything in life is how you respond and he has responded well. Both did some good things and both did some bad things. I thought his leadership and his toughness down the stretch were awesome. It was what we needed in that moment. We're up 21-6, then they score in two plays and we go right down the field and answer. We have a two-touchdown lead going into the fourth. We couldn't hold it. We didn't complement each other well. We picked each other up well but didn't complement each other well. Kelly did a good job of playing well, being confident, focused and composed. He has been a true example of staying focused."
On quarterbacks and when coaches decided Bryant would finish the game
"Me and Brandon Streeter communicate on that all the time. I want every coach's input on everything. It was just the flow of the game. Here's where we are and let's go with a guy who has been in these big moments. And I'm super proud of Trevor Lawrence. Kind of hard to start any better than Trevor did with a run-pass option, a beautifully-thrown ball. I'm disappointed that we didn't do some things around both quarterbacks better. We really only had 55 snaps. That's the offense I played in. You got 50 snaps when I played, you were throwing a party. We just didn't play with details. We weren't efficient on first and second down. A lot of missed opportunities."
Team getting better
"We'll get better, though. That's why we play those games. We didn't do everything right but you know what, we won. We won with a million mistakes. No turnovers, we fought, the effort was awesome. I mean I'm telling you, I cannot overstate that enough. People have no idea what kind of mental toughness is takes to overcome things on the road when all the momentum is going against you.
"I'm so proud of our team for where we are right now. We made way too many mistakes. We're going to improve. That's why we scheduled that game. We could have played Mary Poppins. We could have smashed them. And everyone is so happy, but we still wouldn't be a better team. That was a tough game to get ready for. I told our staff that their quarterback was special. I told them that Kellen Mond was not going to be an easy out. We had him sacked three or four more times and they made some big plays, still. Hey, they made some unbelievable plays. They've got more four and five stars on their roster than we do."
Mental mistakes
"We had a million mental errors. Then it's like all of a sudden we quit playing defense. Offensively, we didn't put people away. I thought we should have had 21, 24 points at the half. Let people hang around on the road, a talented team, and it can come down to a couple of plays. We're up 21-6, you think you're in control and two plays later they're right there with a score. It's the big play busts that hurt us. That lets people back in games. We have to play disciplined football."
Will Spiers and punting
"Yeah, that (rugby punt at end) was a disaster. I was pleased with Will otherwise. We did a rugby on the last one. They just came right up the middle on our shield and it wasn't blocked. We were trying to hold the ball a little bit. We tried to make a safe play and have a field position situation with no timeouts but it didn't work out. He thought he had pressure and he didn't. He just shanked it. I would have done something different had I known he was going to punt it 22 yards. We do still have competition there at the position."
Travis Etienne and Tavien Feaster getting more carries
"He (Etienne) had 11 touches. Like I said, we only had 55 snaps that were worth a darn. It was a combination of how inefficient we were and how poor we were on third down. But he's got to touch the ball. Tavien Feaster has to touch the ball. It didn't work out for Feaster the other night. He had a couple of plays where we got blown up and we messed up a draw. Yeah, we are an 80, 85-plus snap team. Etienne has to touch the ball. He had three big plays in the passing game for us. We'd like to see 35-40 touches with our backs. We have to get it going and do a better job of making sure those guys touch the ball. We have to get better there."

Upgrade Your Account
Unlock premium boards and exclusive features (e.g. ad-free) by upgrading your account today.
Upgrade Now

Tags: Clemson Football
,
Trayvon Mullen
,
John Simpson
,
Cade Stewart
,
Hunter Renfrow
,
Kelly Bryant
,
Sean Pollard
,
Tremayne Anchrum
,
Mitch Hyatt
,
Trevor Lawrence
,
Will Spiers
,
Travis Etienne
,
Tavien Feaster
,
Brandon Streeter