| | |
| --- | --- |
| Tigers play "road game" during Monday morning practice | |
---
| | |
| --- | --- |
| Monday, August 11, 2014 2:25 PM | |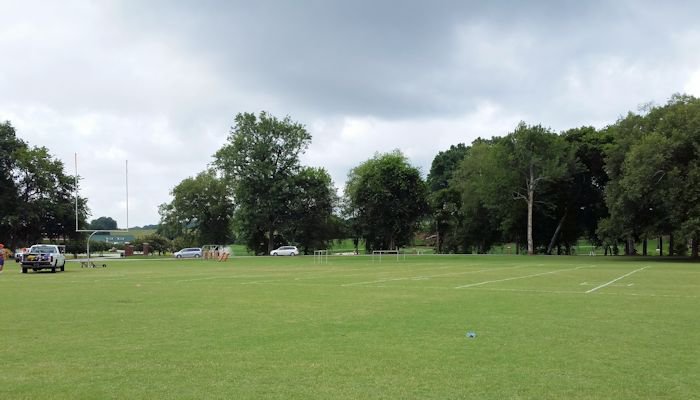 CLEMSON – The Clemson Tigers played a "road game" during Monday morning's practice.
Clemson head coach Dabo Swinney

Dabo Swinney
Head Coach
View Full Profile moved the team across the road from the indoor practice facility for the first of two Monday practices, and he said that the reason for moving the team to Jervey Meadows was two-fold – to give the outdoor practice fields across the street a break and to simulate a road game for his team, which opens the season on the road at Georgia.
"I just wanted to change it up on them a little bit," Swinney said after the practice. "We obviously are going to be on the road almost all of September. Sometimes they get a little comfortable – everything is so perfect and everything is just so nice. We have great fields and the indoor is incredible. I wanted to throw them a curveball so I didn't tell anybody until yesterday. I wanted to change things up and see how they respond – we have to be able to perform no matter where we are.
"That was part of it. And then I wanted to try and stay off of our fields for about a week. I will tell you, Mike Echols and his staff they did an awesome job in preparing our fields this year. They are incredible. And this is the most stress we will put on them all year, really. Once you get into game week, you know it's a little different. It is not as taxing. So I wanted to take that stress off our fields this week and once we get into Georgia mode they will be immaculate just like day one. Our fields are in great shape and this is something I decided last Thursday."
Swinney was asked about so many young players playing on the road for the first time, and he said that when he was a player he thrived in road environments.
"I loved it. I was one of them that always loved to go on the road," Swinney said. "I've always loved that. It always a little more intensity when they aren't nice to you and aren't pulling for you. Fortunately for us, we have a bunch of guys who have been there and knows road environments. You will have a few guys – those freshmen – and it will be a little different for them. That is where the experience comes in, but at the end of the day it's just football. You have a checklist, and if you're focused properly that's what you should be dialed in on, not what somebody is saying in the third row. If you are sitting there worrying about what is going on in the stands then you're obviously not dialed in and focused on what you need to be doing. "
Notes after watching film of Saturday's scrimmage
"A lot of good things on both sides. Defensively as a whole there really wasn't anybody we were disappointed with. Everybody was very engaged and we didn't give up a lot of big plays from a bust standpoint with the first group and everybody was pretty much where they needed to be. We gave up a few big plays where a guy just whipped a guy. Not a lot of dropoff between our ones and twos and that is a very competitive group across the board, which is a great situation to be in. I thought Cole (Stoudt) did great, and so did Deshaun (Watson). He got some work with the ones and did a great job, our backs ran hard. We didn't have any drops – zero drops by our wideouts and tight ends – and we didn't have any turnovers. Zero. We had a few missed assignments and penalties that we can correct."
On Bradley Pinion

Bradley Pinion
Jr. Punter
#92 6-6, 230
Concord, NC
View Full Profile
"Pinion is a weapon for us. He punted out of the endzone on the back end line and he hit two about 60 yards and those were one-step punts with our tight punt formation. He's got a real veteran feel to him now and a confidence that comes with that. Sobeski is back. He's also doing our punts now."
Cole Stoudt

Cole Stoudt
Sr. Quarterback
#18 6-4, 231
Dublin, OH
View Full Profile on his injury Saturday
"I got a little banged up, and after the scrimmage went in and got some treatment. I came out here at practice today and didn't miss a rep. So I am good to go. It's just a bruise. I am fine and went through the whole practice today and felt great. I am good to go."
Stoudt said the quarterbacks – which were live in the spring – are not live in fall camp.
Mike Williams

Mike Williams
So. Wide Receiver
#7 6-5, 208
Vance, SC
View Full Profile
Mike Williams spent the summer working against two of Clemson's top cornerbacks in MacKensie Alexander

MacKensie Alexander
RS Fr. Cornerback
#2 5-11, 190
Immokalee, FL
View Full Profile and Cordrea Tankersley

Cordrea Tankersley
So. Defensive Back
#25 6-1, 195
Beech Island, SC
View Full Profile . Williams said that he chose to work out with those two so that he could go against their physical style of play.
"Mackensie is a great corner and he's physical, so I just wanted to go up against somebody physical to work on my hands and my releases. Cordrea - he's real long - so going up against him, I got to use my size and be physical with him, also."
Injury updates
Swinney said that he expects to have junior wide receiver Charone Peake

Charone Peake
RS Jr. Wide Receiver
#19 6-3, 204
Moore, SC
View Full Profile back in the fold this week. The plan is to have Peake in a green jersey (no contact) on Wednesday then transition to full practice on Friday. He will be held out of Saturday's scrimmage but then return to full practice next week.
"He's looking really good," Swinney said after practice Monday.
Peake suffered a torn ACL in practice on Sept. 10, 2013 and was lost for the season.
In some other injury news: WR Daniel Rodriguez

Daniel Rodriguez
RS Jr. Wide Receiver
#83 5-8, 175
Stafford, VA
View Full Profile rolled his ankle but appears he will be fine. Safety Travis Blanks

Travis Blanks
Jr. Safety
#11 6-0, 210
Tallahassee, FL
View Full Profile (ACL) was in a green jersey today. TE Sam Cooper

Sam Cooper
RS Sr. Tight End
#86 6-6, 250
Brentwood, TN
View Full Profile (shoulder) returned from injury.