| | |
| --- | --- |
| Tigers leash Terriers in almost perfect afternoon | |
---
| | |
| --- | --- |
| Saturday, September 5, 2015 3:58 PM | |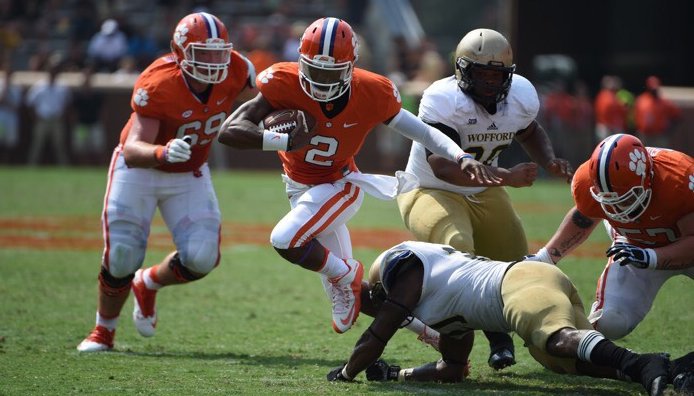 CLEMSON – Saturday afternoon was almost perfect. Almost.
Clemson kept quarterback Deshaun Watson

Deshaun Watson
So. Quarterback
#4 6-2, 207
Gainesville, GA
View Full Profile healthy and several young players took a step forward in their development as the Tigers defeated Wofford 49-10 in front of a sellout crowd in Death Valley.
The only blemishes were injuries to wide receiver Mike Williams

Mike Williams
Jr. Wide Receiver
#7 6-4, 213
Vance, SC
View Full Profile and Ryan Norton

Ryan Norton
RS Sr. Offensive Line
#58 6-3, 284
Simpsonville, SC
View Full Profile .
Watson ended the day upright and finished 18-of-22 for 194 yards and two touchdowns as the Tigers rolled up 534 yards of total offense. Watson also had two carries for 22 yards. Freshman Ray-Ray McCloud

Ray-Ray McCloud
Fr. Wide Receiver
#34 5-9, 181
Land O' Lakes, FL
View Full Profile was Clemson's leading receiver, catching eight passes for 80 yards. Artavis Scott

Artavis Scott
So. Wide Receiver
#3 5-10, 191
Oldsmar, FL
View Full Profile had six catches for 75 yards and a score, while freshman Deon Cain

Deon Cain
Fr. Wide Receiver
#8 6-1, 197
Tampa, FL
View Full Profile had three catches for 36 yards.
The Tigers rushed the ball 43 times for 222 yards as Wayne Gallman

Wayne Gallman
RS So. Running Back
#9 6-1, 210
Loganville, GA
View Full Profile led the way with 14 carries for 92 yards and two scores.
Wofford had 45 rushes for just 123 yards, a 2.7 yards per carry average.
The Terriers won the toss and elected to defer, and the Tigers steadily marched down the field. On the game's 11th play, Watson hit Williams in the back of the endzone for what initially was called an incomplete pass. Williams bounced off of the bottom of the goal post, however, and was down for several minutes before being taken off the field with what appeared to be a neck or head injury.
Williams pointed to the sky as he neared midfield - as the Death Valley crowd erupted – and a few seconds later the officials said Williams caught the pass for a touchdown. It went for four yards and Clemson had a 7-0 lead.
The Tigers forced a quick Wofford punt, and Wayne Gallman capped off the ensuing 10-play drive with a two-yard plunge for a 14-0 Clemson lead.
Nick Schuessler

Nick Schuessler
RS Jr. Quarterback
#12 6-3, 202
Grayson, GA
View Full Profile replaced Watson after two drives and led the Tigers into Wofford territory, but his fumble ended the drive. Clemson's defense continued to hold, however, and Watson returned to engineer an 88-yard drive that ended with a 35-yard scoring reception by Artavis Scott.
Four minutes later it was Tyshon Dye

Tyshon Dye
RS So. Running Back
#22 5-11, 213
Elberton, GA
View Full Profile who got the Tigers on the board as his one-yard rush gave Clemson a 28-0 lead. Through the Clemson 1st-team offense's first four drives, it ran 33 plays for 265 yards, and four touchdowns.
Three minutes later it was Zac Brooks

Zac Brooks
Running Back (2012 - 2015)
#24 6-0, 200
Jonesboro, AR
View Full Profile getting into the end zone as he capped off a 65-yard drive with a 25-yard run for his first touchdown since October of 2013. With over five minutes left in the half the Tigers had a 35-0 lead. The Terriers scored on the last play of the half – a one-yard run by Chase Nelson – and trailed 35-7 at intermission.
The Terriers drove down the field and got a 37-yard field goal from David Marvin to make it 35-10, but the Tigers answered with a six play drive that ended with Gallman's one-yard run that made it 42-10 Clemson with 9:23 remaining in the third quarter.
At that point both coaching staffs emptied the benches, but freshman quarterback Kelly Bryant

Kelly Bryant
Fr. Quarterback
#2 6-4, 213
Calhoun Falls, SC
View Full Profile saw his first action with 8:50 remaining and promptly reeled off a 14-yard run. Two plays later, Dye scrambled in from the one for a 49-10 Clemson lead.
Clemson hosts Appalachian St. next Saturday at 12:30 p.m.
TEAM NOTES
• Wofford recorded its first first down on the afternoon at the 1:50 mark in the second quarter. Comparatively, Clemson had recorded 21 first downs up to that point in the game.
• Clemson's 35 points were the most points the Tigers have scored in a half since 2013 against The Citadel, when they scored 42 in the first half.
• Clemson's rush defense held Wofford to 63 yards on 21 carries in the first half.
• With the win, Clemson has won 24 of its last 31 season openers and head coach Dabo Swinney is now 7-0 in home lidlifters.
• Clemson is a perfect 30-0 against FCS teams. Including the win against Wofford, Clemson has outscored FCS teams by an average of 40-7 (1195-215).
• Clemson has led the nation in tackles for loss the past two seasons, and recorded 10 tackles for loss in its game against the Terriers.
• The Tigers tallied 533 yards of total offense against Wofford. Clemson's record when totaling at least 500 yards of total offense is now 75-0-1.
• Thirteen true freshmen played Saturday. Those who saw time were Austin Bryant, Kelly Bryant, Deon Cain, J.D. Davis, Judah Davis, Jake Fruhmorgen, Albert Huggins, Mitch Hyatt, Ray-Ray McCloud, Van Smith, Christian Wilkins, Garrett Williams and Jalen Williams.
INDIVIDUAL NOTES
• Mike Williams' four-yard receiving touchdown from Deshaun Watson in the first quarter was the first scoring play of Clemson's 2015 campaign.
• Watson finished 18-22 passing for 194 yards and two touchdowns, good for a 185.9 quarterback rating. He also rushed for 22 yards on two carries.
• Zac Brooks scored his first touchdown of the season, a 25-yard scamper in the second quarter, after missing the entire 2014 season with a broken foot. It was his third career score and first since Oct. 5, 2013 against Syracuse.
• Mitch Hyatt is the first first-year freshman to start the first game of the season at offensive tackle since Phil Prince started the opener against Presbyterian College in 1944.
• Hyatt is the first first-year freshman to start the season opener at any offensive line position since James Farr started the 1980 season opener at center against Rice.
• Hyatt is the first freshman (first-year or redshirt) to start the season-opening game at any offensive line position since Nathan Bennett against Georgia in 2003. Bennett was a redshirt freshman.
• Hyatt is just the third first-year freshman to start the season opener at any position under Dabo Swinney. The others are Chandler Catanzaro (2010, PK) and Adam Humphries (2011, WR), who was in attendance for today's game.
• Since freshman eligibility returned to college sports for the 1972-73 academic year, Hyatt is the ninth freshman (first-year or redshirt) offensive lineman to start the season opener. The others are Gary Brown (1979, OT), James Farr (1980, C), Frank DeIuliis (1985, OT), Eric Harmon (1987, OG), Jim Bundren (1994, OG), Glenn Rountree (1994, OG), Jermyn Chester (2000, OG) and Nathan Bennett (2003, OG). All were redshirt freshmen other than Farr.
• T.J. Green recorded 2.5 tackles for loss against Wofford after entering the game with none in his career. He played wide receiver as a freshman in 2013.
• Ray-Ray McCloud's eight catches led the Tigers, and were the most on record by a Tiger in his first game.

Tags:
Deshaun Watson
,
Ryan Norton
,
Nick Schuessler
,
Zac Brooks
,
Mike Williams
,
Tyshon Dye
,
Wayne Gallman
,
Artavis Scott
,
Kelly Bryant
,
Ray-Ray McCloud
,
Deon Cain