| | |
| --- | --- |
| Tigers "just kind of average" as funky schedule takes a toll | |
---
| | | |
| --- | --- | --- |
| Friday, December 15, 2017, 5:20 PM | | |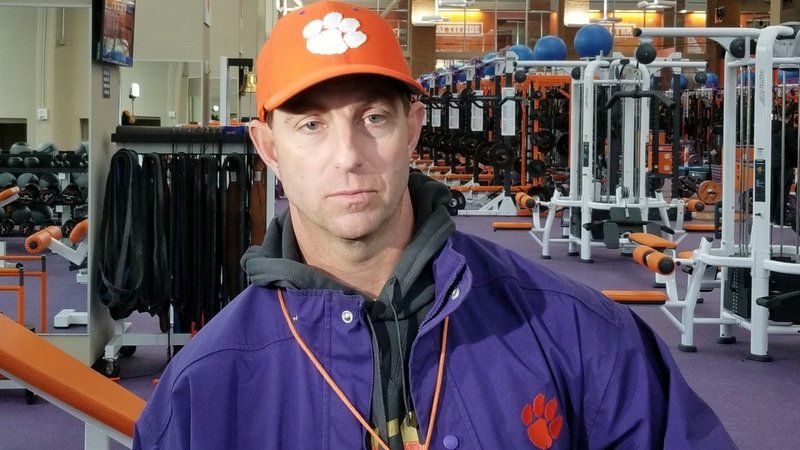 CLEMSON – Between final exams, a new signing period for prospective student-athletes and the start of bowl practice, things have been a little "funky" for the top-ranked Tigers as they prepare for No. 4 Alabama.
The academic calendars exam period fell a week later than usual this year, so the Tigers started bowl practice with recruiting also on the agenda. As a result, bowl practice hasn't gotten off to the start that head coach Dabo Swinney would like.
"Just okay, as far as where we are practice-wise. We are nowhere near where we need to be," Swinney said after Friday's practice. "We're not where I want us to be. Just kind of average. Yesterday and today, to be honest with you. It's a little different challenge for us this year. In past years, when we've started bowl practice school has been over and we've had all bowl focus. But everything is pushed back a week later, and we've been dealing with that, with finals, and in recruiting there has been a lot going on this week."
The Tigers aren't as sharp as Swinney would like.
"Not quite the edge or the focus that we need yesterday or today," he said. "Thankfully, today was the last day of finals so starting tomorrow we will have their full attention in getting ready to do what we need to do to win this ballgame. Not terrible, just pretty average, but we will ramp it up tomorrow."
Despite the added distractions, Swinney said the coaches wouldn't change their process.
"We just do what we do, whether we have 100 seniors or six. We just do what we do. We are going to practice and get ready, and at the end of the day the players have to go play," he said. "We are going to give them a great plan and put them through the preparation that they need, but teams have to take ownership of the opportunity in front of them. But we will do what we do while we're here at Clemson and then when we get to the bowl site, we will believe in what we do and challenge the leadership to carry the task at hand.
"We are doing the same thing We had to practice this week. It's not like we could just say, hey, let's not practice. We have to get ready. We have just had to practice at different times, and it's been kind of funky from a when we practice standpoint. But today we got back into our normal routine and tomorrow we will have a normal Saturday."