| | |
| --- | --- |
| Tigers ignoring rankings, focused on Florida St. | |
---
| | |
| --- | --- |
| Monday, November 2, 2015 2:43 PM | |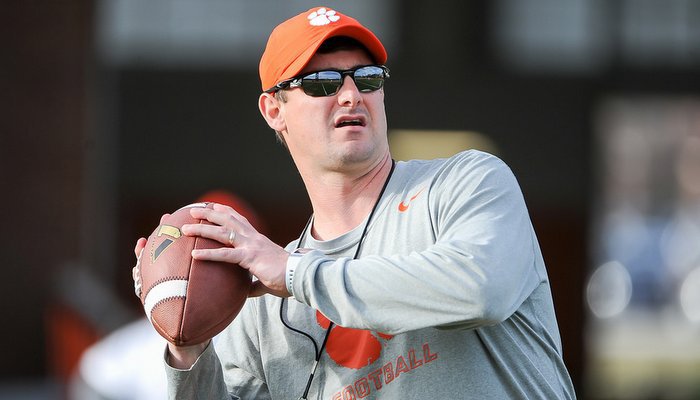 CLEMSON – Clemson will be the center of the college football world this week, but Jeff Scott says his offensive players won't be paying attention to anything but Florida St.
The Tigers and Seminoles face off at 3:30 p.m. Saturday in a battle for ACC Atlantic Division supremacy and a berth in the ACC Championship Game. The Tigers are undefeated in conference play and a win over the Noles will clinch the title. Florida St. has one loss, but if they win out they clinch the title.
The initial College Football Playoff rankings will be announced Tuesday night, and the Tigers are expected to be in the top four (if not number one) and will be at the front of the conversation as long as they keep winning.
At the forefront for Scott and the Clemson offense, however, is Florida St., a team that has beaten Clemson three straight times.
"Looking ahead to Florida St., this is one of those games that when you get your schedule you're trying to figure out when you play Florida St. It's a big challenge," Scott said Monday in the WestZone. "Our message to our guys this week is the same it has been every week. I give Coach Swinney a lot of credit. He's done a great job of focusing our players every week on the next game is the biggest game of the year. We will take that same mentality we've had all year long and trust our plan. We will stay committed to the way we've prepared and we'll go out and execute. Right now we are playing at a high level and we hope we can go out and continue that Saturday."
Scott said Swinney's mantra of "each game is the biggest game of the year" has served Clemson well this season and will do so again this week.
"When you treat every game like it's the biggest game of the year, then when you get to the biggest game of the year it's not that big a deal," he said. "I really believe that our guys in that offensive room each week put everything they have into that and I believe they will be prepared this week. What Coach (Tony) Elliott and I tell the guys is to stay focused on that and not get distracted by all of the outside noise. We've done a very good job of not getting caught up in that. They trust that we have a plan and that if we go out and execute then everything else will take care of itself."
Clemson's offense is on a roll and the Tigers have scored 58 and 56 points the last two weeks, leading to a heightened level of confidence.
"I feel like we are playing our best ball at the right time," Scott said. "I really like our consistency. That's something we've really talked to our guys about. That speaks to our preparation and they've bought into our plan starting on Monday and that continues over into Saturday."
The losing streak to Florida St. and the wealth of talent the Seminoles have on defense will keep the Tigers' attention this week.
"Last week going into that game, NC State had the No. 3 defense in the country. Each week, we've had a big challenge in front us that took all of our attention," he said. "I think the confidence we have is that we control our own destiny and if we go out and execute in our remaining games we will wind up in the top four. Outside of that, the rest of it is just fun stuff to talk about and write articles about. For us, this is just a time for us to keep our heads down and keep working. It's too early for the rest of that stuff."
Possible division titles and playoff rankings? They won't make a dent in Clemson's offensive psyche this week.
"Coach Swinney told them at the beginning of the year that as we continue to climb there will be more exposure and more noise and more distractions," Scott said. "But we have to stay focused and stay committed to that. Our guys have done a great job of staying focused on each week."