| | |
| --- | --- |
| Tigers have final word against talkative Canes | |
---
| | |
| --- | --- |
| Saturday, October 24, 2015 5:35 PM | |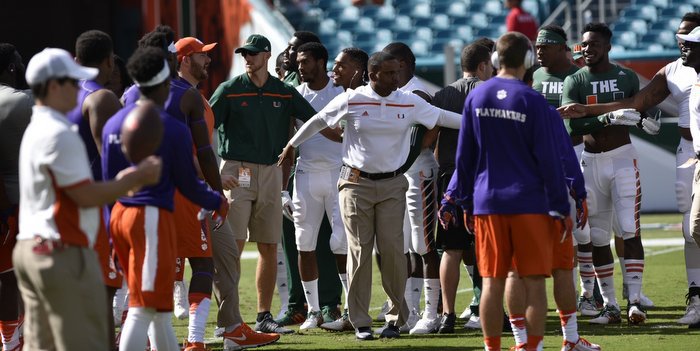 MIAMI GARDENS, FL – Eric Mac Lain knew Miami would try and use a little trash talking to get the Tigers out of their game. Clemson did its talking on the field.
Number six Clemson throttled Miami 58-0 Saturday afternoon in Sun Life Stadium, a statement game for a team that keeps looking for national respect. The Hurricanes started the trash talking long before the game started, continued to talk (and draw unsportsmanlike penalties) during the game, and Mac Lain said the Miami fans kept up a running dialogue with Clemson players throughout the contest.
The Tigers got the last word.
Clemson coach Dabo Swinney kept his team on the field briefly at halftime, telling his players in a speech caught on camera that he wanted his players to stop talking and just play, saying "You win with class, you lose with class. This is Clemson!"
Defensive end Shaq Lawson said Swinney's message was simple.
"He just told us to play with class. He's right about that because some of the players got a little out of hand about the situation," Lawson said. "We knew we were up, but we needed to play with class and win with class, and lose with class. That's what he was basically telling us and to have a class effort.
Swinney said he wanted to keep his team out of Miami's way as the Hurricanes left the field – the teams have to cross in front of each other to get to the locker rooms.
"This is one of those places that you've got both teams crossing and all of that stuff, and it's not a good setup, to be honest with you. I was in the locker room, but supposedly we had a little chippiness early in the game, and it just seemed like we were losing our focus a little bit," he said. "It's one thing to play with emotion because this is a game of emotion, but it ain't okay to be emotional. We have to channel that the right way. I just felt like we needed to get refocused on who we are and the way we do things at Clemson because I'm not about all of that stuff. I was just trying to let them (Miami) get off the field and let's refocus and go play a second half."
Mac Lain said Swinney wanted to keep the Tigers focused on the task at hand.
"He wanted to make sure that we were playing Clemson football. We're not going to get into all of the arguing and bickering and trying to get into a fight," Mac Lain said. "We knew that being down at home is kind of embarrassing and we knew that they were going to try to provoke us and do different things, so he wanted to make sure that we could handle our own and be good people."
Lawson said the pregame and in-game chatter served as motivation.
"They were talking the whole time. I guess this is a talkative bunch down here," he said. "I like stuff like that. I like when they talk. That motivates me more to do better, and that's what we did today as a team. They started with some of our players in pregame and that just motivated us to come out here and get a shutout. I like coming on the road and hearing the other fans. I've never been a part of Miami fans, so it was kind of wild. It's great coming on the road.
"That (the pregame altercation) made us even more hungry about the situation. We knew then that they were ready to put up a fight, and we knew we had to fight them back by how we play our game, not by how we talk. It's a matter of how we play. They're team was doing most of the talking, and we played the whole time."
Mac Lain said the commentary with the Hurricane fans behind the Clemson bench couldn't be repeated on camera but he still had a good time with the back-and-forth.
"We expected it. We knew coming in that they were going to try and jab and talk a little bit, but you just have to keep your head down and play the game," Mac Lain said. "I think they were expecting it. This was the good sportsmanship game, and it being against Miami was kind of comical. We were just excited to get the W. The whole game was trash talk. I enjoyed it. It was a great game. The fans behind the bench were loving me. We're best friends. They gave me eight or nine different comments throughout the game - saying I graduated 10 years ago, saying I played for the Jets yesterday. I don't even think the Jets played yesterday. It was a fun football game. It's similar to Syracuse because they will talk to us a bunch."