| | |
| --- | --- |
| Tigers come up dry in the desert | |
---
| | |
| --- | --- |
| Tuesday, January 12, 2016 12:22 AM | |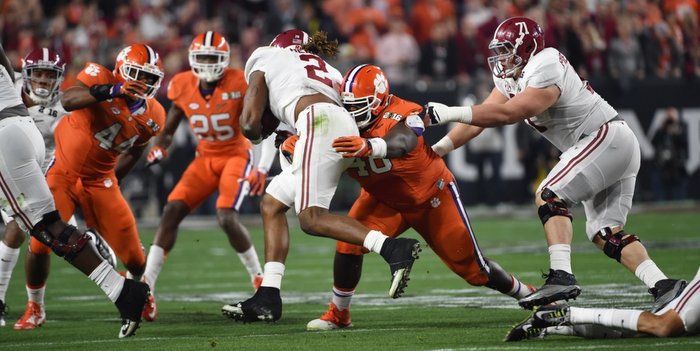 GLENDALE, AZ – Clemson will look back at Monday's national title game as one of missed opportunities and mindless mistakes.
The Tigers went toe-to-toe with Alabama for 60 minutes, but countless coverage issues and a big onside kick led to the Crimson Tide claiming a 45-40 win and the National Championship at University of Phoenix Stadium in the College Football Playoff title game.
Clemson got a superlative game from quarterback Deshaun Watson, but it wasn't enough to offset a five-catch, 208 yard receiving night by tight end O.J. Howard.
Watson became the first player to throw for 4,000 yards and rush for 1,000 yards in the same season in FBS history, and he finished the game 30-of-47 for 405 yards and four touchdowns with one costly interception. He also rushed 20 times for 73 yards.
Clemson's 17-game winning streak comes to an end, and the Tigers finish the season with a 14-1 record.
"What a year," said Head Coach Dabo Swinney. "I'm incredibly proud of our team. Obviously we wanted to win the game and we came up a little short, but at least the nation saw tonight why we've been so successful. This was a team that had incredible will to win and heart, and gave us everything that they had. It won't be 34 years before we're going to be back, I promise you that."
The teams traded punts to begin the game, but it took Alabama just three plays to dent the scoreboard on its second drive. Derrick Henry took the handoff and went 50 yards up the middle for a touchdown and a 7-0 Tide lead.
Artavis Scott returned the ensuing kickoff 43 yards to set Clemson up near midfield, and the Tigers took advantage. A third down penalty against Alabama and another third-down run by Watson set up Watson's 31-yard touchdown toss to Hunter Renfrow, tying the game at 7-7.
Alabama missed a 44-yard field goal on the next possession, setting up Clemson at their own 27-yard line. It took the Tigers seven plays to march the 73 yards for the score, and it was a crucial 24-yard pass from Watson to Charone Peake that set up an 11-yard touchdown pass to Renfrow. Clemson had 147 total yards and led 14-7 at the end of the first quarter.
Clemson forced an Alabama punt and Watson gained seven yards on first down, but his ill-advised throw on second down was intercepted by Eddie Jackson at the Clemson 41. The Tide made Clemson pay when Henry dove over from one yard out, and the score was tied at 14-14 with 9:35 to play in the half.
The teams then traded possessions for much of the next nine minutes, and Clemson had a chance to add points at the end of the half. Watson completed a pass on first down but the clock continued to run and Swinney was forced to call a timeout while he complained about having to stop the clock on his own. The officials didn't change the call, however, and Greg Huegel's 44-yard field goal attempt was tipped by D.J. Pettway and the teams went into intermission knotted at 14.
Clemson was forced into a 3-and-out to begin the second half, and it took Alabama just a few plays to reclaim the lead with Coker hitting O.J. Howard on a 53-yard scoring strike. Barely two minutes into the third quarter and Alabama held a 21-14 lead.
Clemson responded with a scoring drive, driving deep into Alabama territory before settling for a 37-yard Huegel field goal that made it 21-17 Alabama with 10:10 to play in the third quarter.
Clemson forced an Alabama punt – Kevin Dodd's third sack of the game on Coker put the Tide behind the chains – and took over at their own 40. Nine physical plays later, right guard Tyrone Crowder and tight end Cannon Smith pulled and opened a hole for Wayne Gallman to plunge in from a yard out. The touchdown gave Clemson a 24-21 lead with 4:48 to play in the third quarter.
The Tigers kept stopping Bama but couldn't stretch it to a two-score lead, and the Tide finally got back on the scoreboard with a 33-yard field goal with 10:39 remaining that tied the game at 24-24. The missed opportunities would quickly come back to haunt the Tigers.
However, Alabama elected to go for an onside kick that was recovered cleanly, and the Tide had the ball at the midfield stripe. Two plays later, Cordrea Tankersley stumbled and safety T.J. Green was caught staring into the backfield as Coker hit Howard on a 51-yard scoring toss and Bama had a 31-24 lead with 9:45 to play.
Clemson responded with two big plays – a 24-yard pass to Renfrow and a 34-yard run by Gallman – but had to settle for a 31-yard field goal by Huegel as Bama led 31-27 with 7:47 to play in the season.
Kenyan Drake then broke the Tigers' hearts, returning the ensuing kickoff 95 yards for a touchdown that put Bama up 38-27 with just 7:31 to play.
The Tigers then showed the fight they've shown all season, with Watson leading a frantic drive down the field. Included was a 39-yard pass reception by Gallman that was all desire, and Watson finished the drive with a 15-yard scoring strike to Scott. The 2-point conversion was missed, and Alabama led 38-33 with 4:40 to play in the season.
Clemson stopped Alabama for a loss on first down, but coverage issues bit Clemson again as Coker hit Howard on a 63-yard pass to play to the Clemson 13. Henry put the game away with a one-yard run with 1:07 to play and Alabama leading 45-33.
Watson moved the Tigers down the field, and Watson hit Jordan Leggett with a 24-yard touchdown pass that made it 45-40 with just 12 seconds left on the game clock. The ensuing onside kick went out of bounds, and Alabama took a knee and the title.

Tags:
Charone Peake
,
Kevin Dodd
,
Cordrea Tankersley
,
Wayne Gallman
,
Tyrone Crowder
,
T.J. Green
,
Deshaun Watson
,
Cannon Smith
,
Artavis Scott
,
Hunter Renfrow
,
Greg Huegel