| | |
| --- | --- |
| Tigers as consistent as Ohio St.? Not just yet | |
---
| | |
| --- | --- |
| Saturday, December 28, 2013 12:18 PM | |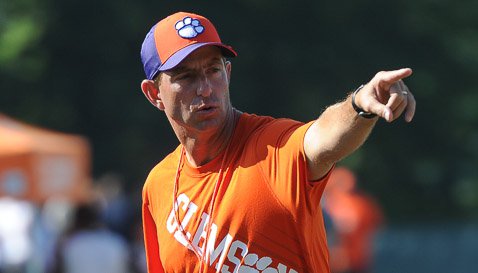 CLEMSON – Clemson head coach Dabo Swinney

Dabo Swinney
Head Coach
View Full Profile was asked Friday afternoon if Clemson could consider itself on a par with Ohio St., the Tigers' foe in the Discover Orange Bowl next week.
Swinney responded that he thinks his Clemson program has a long way to go to reach the lofty status the Buckeyes have attained after decades of being a national power, but he also said that he thinks the Tigers have held their own with the Buckeyes over the last five years.
"If you just judge us on the last five years, I think we've become one of the most consistent programs in the country. More consistent than Ohio State, if you will," he said after Friday's practice. "There's a lot of teams out there that would love to have the accomplishments that this team has had the last few years. As far as consistently being ranked, and school things we've done here, records that we've set here at Clemson. That's what you've got to do."
With that in mind, I looked up the records of both programs over the last five seasons, and it turns out the Clemson still has a ways to go before matching the consistency of Ohio St.
The Buckeyes are 12-1 this season, finished 12-0 in 2012, 6-7 during a tumultuous 2011 campaign, fashioned a 12-1 record in 2010 and finished 11-2 in 2009 for a five-year total of 53-11. The Buckeyes are also 2-1 in three BCS games during that span, even though the win in the 2011 Sugar Bowl was later vacated. Overall, the Buckeyes have a 6-3 record in BCS games, and have played in three National Championship games, winning the title in 2003.
Clemson has a 10-2 record this season, finished 11-2 in 2012, 10-4 in 2011, 6-7 in 2010 and 9-5 in 2009 for a five-year total of 46-20. Clemson will be playing in its second BCS game overall next week.
The Buckeyes finished the 2009 season fifth in the final AP poll, fifth in 2010 and third in 2012. Clemson finished 24th in 2009, 22nd in 2011 and 11th in 2012. Both teams finished unranked following the 2010 seasons.
Swinney said the Tigers still have something to prove if they want to be considered among the nation's elite.
"A few years ago, everybody was excited about winning the league and winning 10 games. That was great, but my response was, we've got to do it again," he said. "We've got to go have another 10-win season, and another one, and another one. Until we do that, we're not going to get the type of national relevance that we all want to have. That's what you've seen. That's why we were in the top ten for 14 weeks this year. That's why we've set the school record for being in the top 15, because people have people have recognized that consistency."
He then said that the Tigers have played against some of the best competition the country has to offer.
"We've played good people. This is our sixth top 12 matchup in our last 15 games. So it's not like we haven't had some challenges," he said. "And then for a long time, people said, well, Clemson loses to somebody they're not supposed to lose to. Well, we've won 18 games in a row versus unranked opponents by double digits. So that's consistency. Until you do those things, we're not going to get the national respect or relevance we all want to have as a program. I definitely think we've gotten beyond a lot of those hurdles. We're not to the top of the mountain, but we can see it. We're not just circling it. We're climbing. We've got to continue to grow as coaches, develop our players, recruit our tails off, have great discipline in what we do, graduate our guys, and we're going to get there. We're a lot closer than some people may think from getting where we want to be. But I like where we are from a program standpoint, and I like what's coming."