| | |
| --- | --- |
| Tigers add QB depth with Stanford transfer | |
---
| | |
| --- | --- |
| Wednesday, April 30, 2014 8:40 PM | |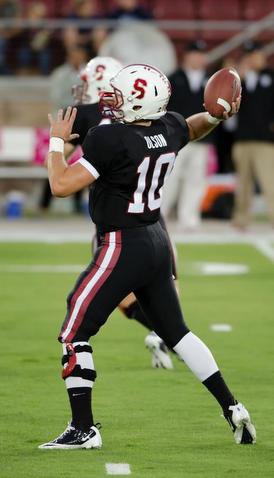 The Clemson coaching staff added depth to a thin quarterback position with the addition of Stanford transfer quarterback David Olson Wednesday afternoon.
Olson graduated from Stanford in March and was actively looking for a place to play during his final year of eligibility, and it just so happens that Clemson provided the perfect opportunity.
The Stanford graduate is a native of Columbia, S.C., and was a 4-star prospect coming out of Irmo High School, after passing for 1,857 yards and 18 touchdowns, while rushing for five touchdowns.
After a tumultuous spring for Clemson and its quarterback situation, the 6-3, 220-pound Olson told TigerNet that he reached out to the Clemson coaches.
"I graduated a quarter early from Stanford, so that was in late March," Olson told TigerNet Wednesday evening. "From there, I was essentially looking around into situations that had one year of eligibility where I could go in and contribute and help a team. I looked at some smaller schools along the way, but I first got in touch with Clemson after the spring game. They had the news break about their quarterback situation and I sent them an email and they got back with me a few days later and they said they were interested. That is how the whole thing got going, and we went on the visit today."
The Clemson coaches were very up front with Olson about the quarterback situation and about the status of the starting spot.
"They told me that Cole (Stoudt) is the starter," Olson said. "He earned that in the spring and I respect that. It's the coach's decision and something that I respect and I would do the same thing if I were in their position. They told me they were running a little short and quarterback and they thought I could come in and be a reliable option. I am going to come in and compete in camp. I know the only film they have seen from me is from high school and I am a completely different player now. I am ready to go in and show them I can be the starter and prepare like the starter."
However, the decision was still an easy one.
"I just went on a visit with my parents today and we were shown around by Coach Brad Scott," Olson said. "At the end of the visit, around 2 p.m., we met with Coach Swinney and they offered and I committed. I am going to start school on May 14th for the first summer semester."
Olson's path to Stanford was different that most college prospects – he played behind two very good quarterbacks at Irmo and didn't get a chance to start until his senior year.
"I didn't play very much my junior year, and when I went to camps the summer after my junior year I really didn't have any film to show the coaches," he said. "I threw well, but by then a lot of schools had their commitments early and a lot of places were already full. I had originally been committed to Princeton, but they went through a coaching change. It was about that time that I got a call from Stanford, and Coach (Jim) Harbaugh wanted me to come out and visit. That turned out to be the best situation for me.
Now, he gets a chance to play for the school he grew up rooting for, and he detailed additional reasons why he chose Clemson.
"The coaches are some of the best in the country and they were very honest about their situation," Olson said. "They said that they would love to have me and said I would have a chance to come in and compete for a certain spot on the depth chart. It's close to home and I have been a fan of Clemson football my whole live. It's something I couldn't turn down. I'm very excited about this opportunity to be a member of the Clemson family."