| | |
| --- | --- |
| Tigers, Sooners continue pregame trash talk | |
---
| | |
| --- | --- |
| Wednesday, December 30, 2015 8:01 PM | |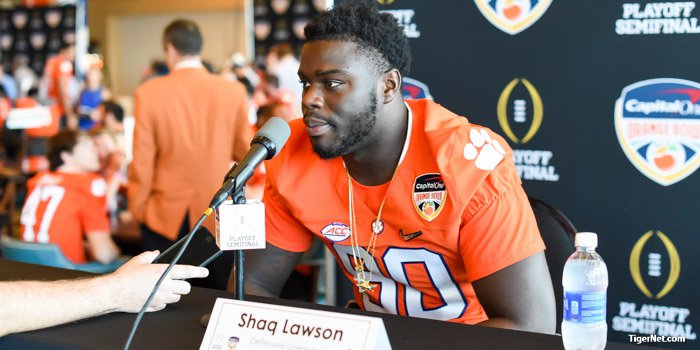 Mackensie Alexander and Sterling Shepard had a moment on the field before last year's Russell Athletic Bowl.
The Clemson cornerback and Oklahoma wide receiver seem determined this year not to get drawn into any pregame trash talk for Thursday's Orange Bowl.
Likewise for the two teams' quarterbacks – Clemson's Deshaun Watson and Oklahoma's Baker Mayfield.
But other players haven't been so diplomatic, and it started with Oklahoma defensive end Charles Tapper, who kicked off the festivities, saying his team likes to talk and saying that Watson prefers to run instead of throwing the ball.
Clemson's players took notice.
"Oh, yeah. I heard they did a lot of trash talking the other day, one of their D-linemen," Clemson defensive end Shaq Lawson said. "We ain't saying nothing because we've been through that experience before where teams talk trash, like Miami. We're just going to let our game do the talking and handle ourselves. They've improved after the last year, so that's how I feel. It's something between the two teams."
Lawson liked that the Sooners, who were beaten 40-6 last year by the Tigers, opened the talk this week.
"Oh, yes, sir, I do, I love that a lot. I like to talk myself," he said, "as long as you are able to back it up on the field no matter how you talk. It's going to be a fun game. They already said they're going to talk the whole game, so we're just going to be ready for it."
Oklahoma running back Samaje Perine also caught Lawson's attention when he said the Tigers' defense has issues that the Sooners will expose.
"Oh, yeah, I seen what he said. He can feel that way," Lawson said. "They've got a lot of weaknesses that we're going to expose there, too. That's how he feels about the game. We're just going to be ready to play. I guess he seen some of the stuff on film and everything, but we don't got to worry about that. If we play how we played the first five games of Clemson football, we'll be straight."
Perine also said last year's Tigers defense was better than this year's.
"Oh, I feel differently. I feel like we're about the same as a defense last year," Lawson said. "I mean, we've just got to show what we're going to do to them and stop the run."
Linebacker Ben Boulware jokingly pointed out that the Tigers did drop from No. 1 in total defense last year to No. 7, and he didn't seem too concerned about the talk this week.
"I'm really not worried about it honestly," he said. "They can talk all they want to. We're focusing on us. We're focusing on Clemson and our game plan and focusing on doing anything possible to get the W on Thursday. We're really not worried. We're obviously here, but we're not worried about it."
Still, Boulware likes his defense's chances this week, especially after some time off to rest after the 12-game regular season and the ACC championship game.
"Hopefully he doesn't expose us. I'm not one to bring up any controversy or make any headlines," Boulware said. "He can say what he wants to say, but you can't talk your way to a win. You've got to play the game. You can talk all you want to, but that's obviously how they're trying to win the game. You've got to play the game. You've got to line up and beat the man in front of you, so we'll see on game day.
"There's a bunch of smack talk going around from their side. They can do that if that's what they want to do, but you've still got to play the game. They can talk all they want to, but on Thursday, come Thursday night, you've got to strap up and play the game."
Senior tackle Eric Mac Lain said this week's talk is nothing new and that the Tigers are prepared for it.
"Yeah, I think it's the game within the game," he said. "I love talking a little bit of trash talk. But it can get out of control sometimes. I think that guys maybe go a little bit too far with it. You know, my main thing is to try and get you out of your game. That's what I'm going to try and do. So that plays right into my cards, so that's great. But if (Tapper) wants to talk the whole game, we'll have great conversations."
Those conversations could be coming from both sides.
Clemson tight end Jordan Leggett expressed his offense's confidence, saying, "It's a really basic game plan going in. We're going to be able to do what we want when we want."
Leggett continued his comments Tuesday, saying, "The confidence for our offense came throughout the whole season. Putting up all these yards, not allowing a sack in five games, we've just got a lot of momentum going forward, and we're just extremely confident about this game."
Tapper, took issue with that, saying, "I wasn't talking any trash, but we see that the tight end is talking a lot of trash. We're just going to wait and see him on game day. We're definitely going to be looking for him first play of the game. We're trying to find him. Every time he runs that ball we want to apply the pressure to him and lay some big hits on him.
"You just laugh at it. If he wants to boost his confidence and try to give his team some confidence, it's like 'Ha, go ahead and take it and run with it, but you best believe that stuff you were talking off the field; you better back it up on the field.' "
Daniel Shirley is the sports editor of The Telegraph in Macon, Ga., and co-host of The Morning Show on FoxSports 1670 AM. Follow him on Twitter at @DM_Shirley and read his blog at macon.com/peachsports.