| | |
| --- | --- |
| Tigers Chalk up first commitment for 2016 | |
---
| | |
| --- | --- |
| Wednesday, June 11, 2014 2:15 PM | |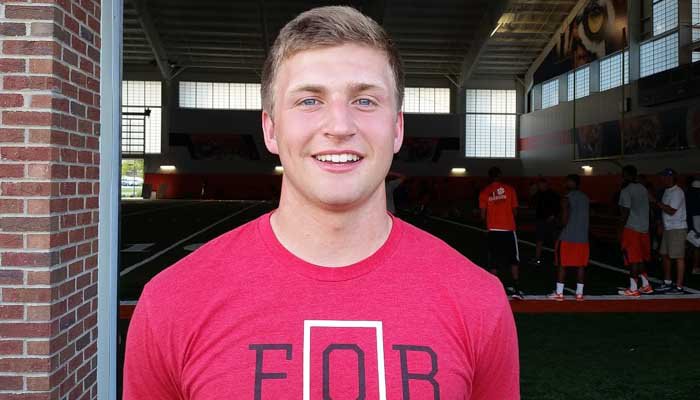 Clemson's recruiting is on a roll, and it was only fitting that the Tigers picked up the first commitment for the 2016 recruiting cycle at the end of the first session of Dabo Swinney

Dabo Swinney
Head Coach
View Full Profile 's high school camp Wednesday when 2016 tight end prospect J.C. Chalk

J.C. Chalk
Tight End
6-4, 215
Argyle, TX
View Full Profile gave his verbal to the Clemson coaches.
The 6-4, 225-pounder from Argyle (TX) was on campus for all three days of the camp – along with his mother Jackie and father John - and said the visit was enough to show him that Clemson was where he needed to be.
"Me and my parents were talking to Coach (Chad) Morris and Coach (Danny) Pearman after camp for a little bit, and we've been praying about this for a long time. I've wanted this for a long time," Chalk told TigerNet shortly after the commitment. "I truly feel like that I've committed to the right place and I can eliminate the distraction of other schools. Now I can slow the process down and completely shut down other schools and completely focus on Clemson."
He said the three-day visit sealed the deal, and he has canceled a planned Thursday visit to Auburn.
"It definitely showed me more. I've been talking to Clemson for a little bit. This was more of seeing how they coach and showing that they aren't just saying things and that this is actually how they live," he said. "I just thought it was really important to see all of that. I love their coaching style and how they're not just going to worry about me being a better football player, but they want me to grow and be a better man. They are always going to want me back here even after I graduate. They'll always be supporting me and I'm grateful for that."
Chalk said that Swinney told him being the first commitment carries a responsibility.
"I actually talked about that with Coach Swinney for a little bit and he said that, 'Now that you're the first commitment for 2016, that's a big responsibility for you because we're going to have to use you to reach some players that we need to get and to recruit them in.' Also he said that we are going to be molding our 2016 around you because you're the first and you're the leader," Chalk said. "He said that it's going to be a big responsibility and you need make sure to represent Clemson well through all of this and just try to get people here that are quality guys."
Chalk has offers from Arizona State, Colorado State and Duke and Texas A&M has been showing increased interest. However, he said the visit also allowed him to build a relationship with position coach Danny Pearman

Danny Pearman
Assistant Head Coach / Tight Ends
View Full Profile , and that he feels like he will be coached by the best staff in college football.
"We got along really well. I definitely love the way he was coaching. He helped me out a lot," Chalk said of Pearman."I like how he - like Coach Swinney - will help me be a better man. Surrounding myself with people like him and this coaching staff is going to help me in the long run. There is no better coaching staff in all of college football than these guys. They are better men than most of them and they really care about you."
Chalk is the grandson of former Alabama and Texas A&M head coach Gene Stallings. Swinney played for Stallings at Alabama, and Chalk said that his grandfather was "extremely excited."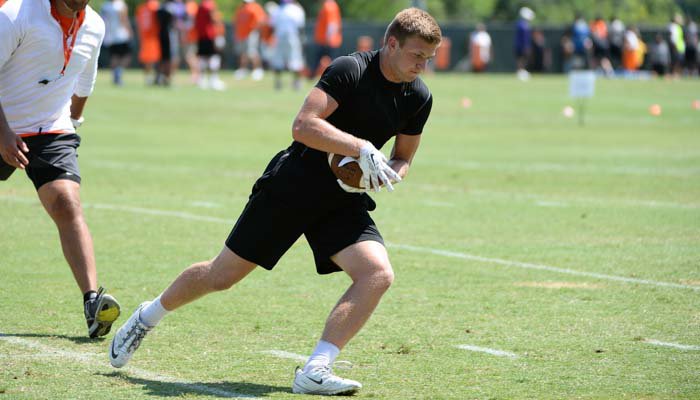 "Actually, we just called him and he's talking to my mom," Chalk said. "He's extremely excited. He's very happy about it. He always told me that he didn't want me to go somewhere and feel pressured to go anywhere. He said that he wanted me to make my decision where I wanted to go myself and know that he would back me up 100-percent no matter where I went. I'm not sure he thought I was going to come here, but he's extremely excited right now, I can tell you that."
Chalk said that there were quite a few moments that stand out from the visit.
"One was when I saw all of the new facilities that are going to be built," he said. "Also, just them telling me what they're all about really stuck out to me because all of the schools I've been too have said stuff and you just come back thinking that it's not really true what they're telling you. I can just tell that here everything they are telling me is 100-percent real and what they stand for is amazing. I want to be a part of that."
Excited to say I have official committed to play football at the university of Clemson #gotiger pic.twitter.com/bjbq8MnrHd

— JC Chalk (@JCChalk) June 11, 2014