| | |
| --- | --- |
| Tiger Tidbits: Update on Tyshon Dye, and why is Jayron Kearse seeing more snaps? | |
---
| | |
| --- | --- |
| Thursday, October 31, 2013 10:35 AM | |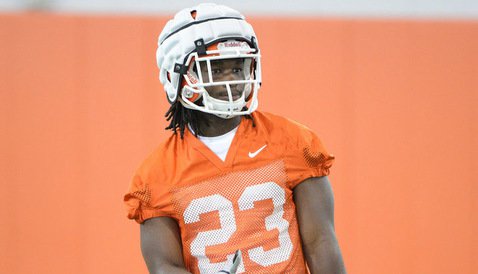 CLEMSON – This edition of Tiger Tidbits is going to cover a lot of different topics and items we can't put anywhere else, but I want to start with some things we are hearing about some of the freshmen who are coming back from surgery or injury.
*Running back Tyshon Dye

Tyshon Dye
Fr. Running Back
#23 6-1, 205
Elberton, GA
View Full Profile , the freshman out of Georgia, had surgery to repair some nerve damage in his back a few weeks, and the early reports I am hearing all say that he should be ready to resume football activities in a few months.
I've seen Dye walking around the football complex (we aren't allowed to talk to players unless they have competed in a game), and he looks like he is already walking better than he did before the surgery. The word is that by the start of January, he should be able to go full speed, and he should be able to be a full participant in spring practice.
*Defensive back MacKensie Alexander

MacKensie Alexander
Fr. Defensive Back
#2 5-11, 185
Immokalee, FL
View Full Profile is back and practicing with the scout team. Head coach Dabo Swinney

Dabo Swinney
Head Coach
View Full Profile told us Wednesday after practice that he is still limited in some of the things he can do, but has looked good after having groin surgery.
"You have to understand, he hasn't been full speed since July," Swinney told us.
*Speaking of injuries – In case you missed it, freshman safety Jayron Kearse

Jayron Kearse
Fr. Safety
#20 6-4, 205
Fort Myers, FL
View Full Profile played 47 snaps at Maryland last week, while starter Travis Blanks

Travis Blanks
So. Defensive Back
#11 6-0, 190
Tallahassee, FL
View Full Profile played just 26 snaps. We asked Swinney Wednesday night about the disparity, and he admitted that Blanks has been bothered by knee and shoulder injuries but is still the unquestioned starter.
"Travis and Robert (Smith) give us our best chance to win," he said. "On defense, if you miss an assignment it's a touchdown and you are in the hole. Those two guys give us our best chance to win today. He won't tell you what is hurting because he loves to play. He is not 100 percent with his shoulder and not 100 percent with his knee."
However, he said he loves the potential that Kearse exhibits.
"His skill set is pretty obvious," he said. "He has such great range, he can run and has great ball skills obviously. But he is still really not able to play like he is going to because he is thinking a lot. I am proud of him and his development. He is going to get there. He is just like any other freshman in that he has a lot to learn."
Speaking of Kearse – I went to the IHOP in Clemson after the FSU game, and Kearse quickly followed with three other freshman defensive backs. For the next hour, he animatedly went through each and every play and talked about formations and defensive calls. All at 4 a.m. You gotta love a player with that kind of passion that he is using salt shakers to diagram plays hours after the game is over.
*Swinney told us that one of the things he didn't like about his secondary last week was that they didn't play physical and jam the receivers coming off the line of scrimmage last Saturday. He said that the corners have to do a better job of jamming the receivers at the point of attack.
However, he said that what many think of as the weak spot on the team might be the strength of the team in the next 12-18 months. He said that he has the talent on campus right now to have a special secondary, and that they just need to grow all of them up. He mentioned Alexander and Kearse, and even said that Ronnie Geohagan is coming along and showing signs of breaking out.
*I thought Virginia head coach Mike London had some interesting comments about Swinney this week during his press conference.
"I know Dabo Swinney personally, and I know he's a man of strong character and faith. I know he believes in recruiting the right type of young man," London said. "I know he believes in the process of how you build a team. And I believe the same things, very similar, in that approach. I know that it takes a couple good recruiting classes, and it takes some standout players to really step out to the forefront and play and produce, and sticking to the process of that. He's done a great job there of being who he is and as you said, setting a template as far as what they are and what they do, and I'm excited about the opportunity, as well, through all those things, through staffs, to build a program that should win and is one that the fans and people can be proud of in terms of supporting."
*On the NCAA and rules side of things, The NCAA adopted five new rules for football, dealing with recruiting and coaches' access to players during the summer.
The Division I Board of Directors on Wednesday said in a news release the rules are effective immediately.
The new rules include:
• Allowing football players to participate in eight hours per week of required weight training and conditioning. Up to two of the eight hours can consist of film review.
• Prohibiting school staff members from attending all-star games or activities associated with those games.
• Establishing an extended dead period when no in-person recruiting can take place in December and January. For 2013-14, Dec. 16 through Jan. 15 is now a dead period.
• Establishing a 14-day dead period in late June and early July for FBS schools.
• Allowing schools to pay for meals for up to four family members who accompany a recruit on an official visit.
*Because of the ACC's unbalanced schedule, Virginia and Clemson will not play again until 2020 in Clemson. The Tigers won't visit Charlottesville again until sometime after the 2024 season. Virginia and Clemson played every season from 1977-2004, but have only played twice since that time (2008 and 2009). So by 2024, when the already announced ACC rotating crossover schedule is complete, Virginia and Clemson will have met four times in the 20 seasons between 2005-2024.