| | |
| --- | --- |
| Tiger Bytes: Leggett continues to impress, injuries and scrimmage standouts | |
---
| | |
| --- | --- |
| Wednesday, August 13, 2014 9:20 PM | |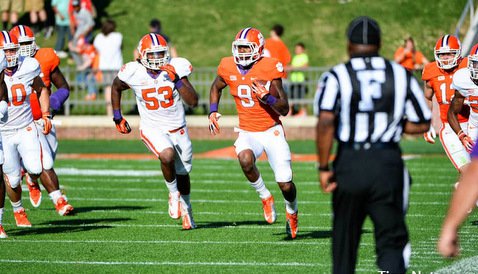 CLEMSON – There weren't a lot of bright spots in Wednesday's scrimmage, but Jordan Leggett

Jordan Leggett
So. Tight End
#16 6-5, 251
Navarre, FL
View Full Profile 's performance and continued improvement may have been one of them.
Leggett who has worked hard to kick the nickname "Lazy Leggett" over the summer and during fall camp has been one of the stars of camp, consistently showing up and making big plays during practice and scrimmages.
Wednesday was no different.
Leggett had seven receptions and two touchdowns during the Tigers situational scrimmage inside Death Valley and he said that he is trying to make his case to be the starting tight end when the season opens in just a little over two weeks.
"I've been progressing. By the way things have been going, I've definitely moved into that role," Leggett told the media Wednesday. "I'm just trying to keep it up, stay healthy, keep working and try to keep learning stuff everyday. I'm definitely ready to take it [the role of starting tight end]. I just have to stay mentally focused every day at practice."
Clemson fans have grown accustomed to seeing tight ends make plays all over the field with players like Dwayne Allen

Dwayne Allen
Tight End (2008 - 2011)
#83 6-3, 255
Fayetteville, NC
View Full Profile and Brandon Ford

Brandon Ford
Tight End (2008 - 2012)
#80 6-4, 240
Wando, SC
View Full Profile . Leggett said that last season's drop off should be considered an anomaly and that the tight ends will be used at a variety of positions in 2014.
"We lost a couple of playmakers," Leggett said. "The 3-back [tight end] kind of fell a little bit last year. We're just trying to really pick that up and be the go-to guy in the endzone. Somebody they can depend on to go up and get a ball other than a receiver.
"We're tight ends - we play in the backfield, we move to the slot, we come back inside, we protect. It's a matter of where they want to play us and the match-up problems we can create in the redzone. We're going to be all over the field."
Scrimmage standouts
Cole Stoudt

Cole Stoudt
Sr. Quarterback
#18 6-4, 231
Dublin, OH
View Full Profile took snaps exclusively with the first team, while Deshaun Watson

Deshaun Watson
Fr. Quarterback
#4 6-3, 204
Gainesville, GA
View Full Profile worked with the second team.
Grayson High School teammates Ryan Carter

Ryan Carter
RS Fr. Cornerback
#31 5-9, 175
Grayson, GA
View Full Profile and Wayne Gallman

Wayne Gallman
RS Fr. Running Back
#9 6-1, 209
Loganville, GA
View Full Profile both had standout scrimmages. Carter had a 50-yard pick six, while Gallman recorded the longest run of the day with a 48-yard scamper.
Vic Beasley

Vic Beasley
RS Sr. Defensive End
#3 6-2, 236
Adairsville, GA
View Full Profile led the defense with two sacks and two tackles for loss, while Ben Boulware

Ben Boulware
So. Outside Linebacker
#10 5-11, 235
Anderson, SC
View Full Profile added two sacks of his own.
Ready for a different opponent
Grady Jarrett

Grady Jarrett
Sr. Defensive Tackle
#50 6-1, 290
Conyers, GA
View Full Profile told the media that the team is right in the heart of the grind it out part of camp, but he and his teammates are more than ready to tackle someone with a different colored jersey.
"These are the grind days of camp and I've gotten used to it and know what to expect now," Jarrett said. "I'm going to take advantage of the days we have left before we have to play the game. We're definitely ready to see some other guys, but we're just trying to sharpen each other right now."
Learning from mistakes
Adam Humphries

Adam Humphries
Sr. Wide Receiver
#13 5-11, 193
Spartanburg, SC
View Full Profile made a diving catch for a 40-yard gain in Wednesday's scrimmage, but he said overall the team lost focus and just didn't have a good day of practice.
"Yeah, just today, there were a few mental errors all around the board," Humphries said. "Sideline warnings, off-sides, false starts, receivers lining up wrong. To be this deep into camp, you don't want to see those kind of mental errors. It's his [head coach Dabo Swinney

Dabo Swinney
Head Coach
View Full Profile ] job to get on us and yell at us for things like that. We've got to respond to that. Things that will happen during the season, if we line up off-sides, we know we've got to pay the consequence. It's things we've got to learn from, and as a veteran team, I think we'll come out with a lot more focus tonight and tomorrow and the rest of practice and learn from those mistakes."
However, he said better to have one of those days now than later in the season with the game on the line.
"I feel like we're always going to have a day where we don't bring the focus like we need to," Humphries said. "We've had three really hard, tough days – two-a-day Monday, and yesterday was a long practice in the heat. Sometimes that takes a toll on us. But we've got to have mental toughness and come out here and fight through that. We'll always have days like this. It's good to get these days out during fall camp so it doesn't happen during the season."
Injury updates
Mike Williams

Mike Williams
So. Wide Receiver
#7 6-5, 208
Vance, SC
View Full Profile missed the scrimmage as he recovers from a shoulder injury suffered in practice on Tuesday. Daniel Rodriguez

Daniel Rodriguez
RS Jr. Wide Receiver
#83 5-8, 175
Stafford, VA
View Full Profile also missed with a sprained ankle suffered early this week. Other players who did not participate due to injury were Travis Blanks

Travis Blanks
Jr. Safety
#11 6-0, 210
Tallahassee, FL
View Full Profile , Sam Cooper

Sam Cooper
RS Sr. Tight End
#86 6-6, 250
Brentwood, TN
View Full Profile , Tyshon Dye

Tyshon Dye
RS Fr. Running Back
#23 5-11, 214
Elberton, GA
View Full Profile , B.J. Goodson

B.J. Goodson
RS Jr. Linebacker
#44 6-1, 240
Lamar, SC
View Full Profile , Kellen Jones

Kellen Jones
RS Jr. Linebacker
#52 6-1, 233
Houston, TX
View Full Profile , Charone Peake

Charone Peake
RS Jr. Wide Receiver
#19 6-3, 204
Moore, SC
View Full Profile and Stanton Seckinger

Stanton Seckinger
RS Jr. Tight End
#81 6-4, 241
Isle of Palms, SC
View Full Profile .