| | |
| --- | --- |
| Tiger Bytes: Injury updates, McCullough on "deadly" tight ends and more | |
---
| | |
| --- | --- |
| Wednesday, August 6, 2014 9:29 PM | |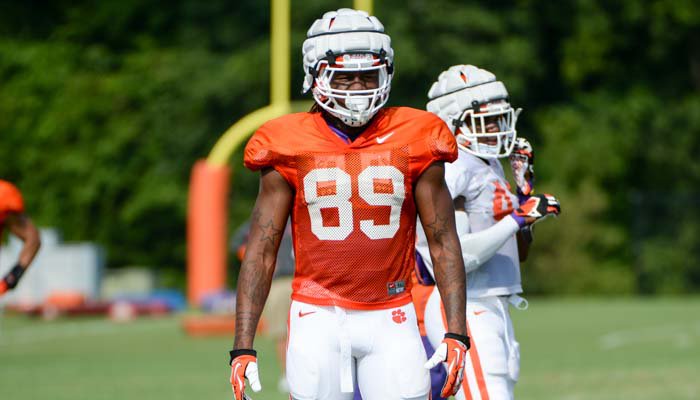 CLEMSON – The fifth practice of the fall is in the books, a practice highlighted by the first day in full pads, special teams work, plenty of post-practice interviews and a lot of injury updates.
"We got a lot of work done," Clemson head coach Dabo Swinney

Dabo Swinney
Head Coach
View Full Profile said after practice. "It is going to be a tough three or four days for these guys. I thought we set the tempo to practice pretty good coming out of the gate. I thought the groups competed really, really hard. We did some good things throughout in our skelly and team pass, and we worked a lot of red zone and green zone today. We went live with some short-yardage and I thought the defense did a great job."
Swinney then said that his team has to improve on the "little things."
"it's not the big things, it's the little things that are going to make the difference," he said. "The big things are talent and experience and depth. We have all of that. It's the little things that make that much (holding thumb and index finger an inch apart). That is where we have to improve with some guys. Not just knowing what to do, but doing it exactly the way we need it done. Because you can't just be physically capable, you have to be mentally dependable, too."
Quarterbacks update
"Cole has really had a good five days. Very pleased with his presence and his focus. He really understands what he's doing and he's throwing the ball really well. Deshaun Watson

Deshaun Watson
Fr. Quarterback
#4 6-3, 204
Gainesville, GA
View Full Profile – think the first couple of days, he was really pressing out here, he had a big final he was trying to get through. It was taxing him. In the last couple of days, he's really come on. He's making the right reads. He's seeing his sights and hitting his hots, showing good poise in the pocket."
on Adam Choice

Adam Choice
Fr. Running Back
#26 5-10, 211
Thomasville, GA
View Full Profile and C.J. Fuller

C.J. Fuller
Fr. Running Back
#27 5-11, 216
Easley, SC
View Full Profile
"Those two young backs we've got – that's two of them. They don't know what they're doing, but the one thing they know what to do is run it. They know how to get North-South and run. We hit on both of those guys. They are no where near game ready to go out and execute a system after five days, but it is obvious that we signed two really good football players."
Injury updates
Yellow – non-participation jerseys
"Shaq [Lawson] just got hit on his shoulder yesterday. Travis [Blanks} just tweaked his knee yesterday. He landed kind of funny on it, so we held him today. He should be back tomorrow, but we might hold him so he will be ready to roll Friday and Saturday."
Tyshon Dye

Tyshon Dye
RS Fr. Running Back
#23 5-11, 214
Elberton, GA
View Full Profile
"He's going through that process. He's just going to keep getting better. We're just going to let him go at his pace. It's not something that we're trying to force an issue. We just want him back ready to go full speed. He looks great physically."
Charone Peake

Charone Peake
RS Jr. Wide Receiver
#19 6-3, 204
Moore, SC
View Full Profile
"He's doing good. Hopefully we'll get him back here in the next few days, certainly by sometime next week. It would be great if we could have him back for two full weeks as we get going into game prep. That's my goal for him."
Isaiah Battle
"He's alright. He just got rolled up from behind. He was nursing it a little bit out there today."
Stanton Seckinger

Stanton Seckinger
RS Jr. Tight End
#81 6-4, 241
Isle of Palms, SC
View Full Profile
"Seckinger is probably going to be out three or four weeks at most. Worst case looks like three or four weeks. It's his ankle down in the Achilles area. Hopefully he'll be back in a couple of weeks. He actually said he felt pretty good today."
On the young tight ends
"Jay Jay [McCullough has really had a good five days. He's sharper than he's ever been. He's more engaged than he's ever been. He's playing faster than he's ever played and as a result he's finishing more plays. We've got to evaluate these freshmen. I think we got two good ones in Cannon [Smith] and Milan [Richard]. And then [D.J.] Greenlee, he's a guy that has really worked hard physically. He's at 241 pounds, but he's got to take ownership of the system. He's still making too many mistakes after being here a year. He's capable of helping us"
On punt return
We've been working catching and fielding, but we just installed punt return today. We've got a few new things we're looking at. I think we're capable of leading this conference in returns. I think Adam Humphries

Adam Humphries
Sr. Wide Receiver
#13 5-11, 193
Spartanburg, SC
View Full Profile really kind of came into his own last year and finished in the top 25 in the country. He's confident and knows what he's doing. I'm excited about MacKensie Alexander

MacKensie Alexander
RS Fr. Cornerback
#2 5-11, 190
Immokalee, FL
View Full Profile , Artavis Scott

Artavis Scott
Fr. Wide Receiver
#3 5-11, 190
Oldsmar, FL
View Full Profile and G-Hop [ Germone Hopper

Germone Hopper
RS So. Wide Receiver
#5 6-0, 175
Charlotte, NC
View Full Profile ]. G-Hop has looked very good. We're going to do some live returns on Saturday – live kick off return, live punt return, good-on-good
Jay Jay McCullough

Jay Jay McCullough
RS So. Tight End
#89 6-3, 248
Fort Mill, SC
View Full Profile
McCullough is an entertaining and interesting interview, and he told us that when he first arrived on campus he "didn't get it as fast as the other guys." McCullough said that he has matured, and he feels like he can be a major contributor this season.
I asked him who the fastest tight end happened to be, and he smiled a broad smile and said, "I would have to say me. But Jordan Leggett

Jordan Leggett
So. Tight End
#16 6-5, 251
Navarre, FL
View Full Profile is the best route runner. He runs his routes fast. But if we were to just go out here on the field and have a footrace, it would be me."
McCullough said that he envisions the tight ends being used at wide receiver – think the "9-man" or boundary receiver position played by Watkins, and he said the tight ends can even line up in the slot to make for better targets in the red zone.
He then said that playing multiple positions – he has played running back and tight end and might add wide receiver – can only help his resume.
"Once you start talking about the NFL, they will look and see if you can play different positions," he said. "I feel like I can help out in a variety of ways."
I asked McCullough if we could see him on the field at the same time as Leggett, and he said yes. McCullough said of the matchup advantages this offense can have with both he and Leggett on the field together, "I'd call it deadly."
Jadar Johnson

Jadar Johnson
So. Defensive Back
#18 6-1, 207
Orangeburg, SC
View Full Profile
We are going to run a story on Jadar Johnson later this week, but he told us that the competition he has with Jayron Kearse

Jayron Kearse
So. Safety
#20 6-4, 215
Fort Myers, FL
View Full Profile is making both players better. In fact, he said that the two are friends and help each other out.
"We are really good friends, and we try to help each other. He will call me or come and wake me up and we go work out together or watch film together. Because we are friends, it makes it easier on us and makes us compete even harder. Really, in the whole secondary, we don't look at it like there are starters and reserves. If we are going to be as good as we want to be, we all will have to play a part."