| | |
| --- | --- |
| Tiger Bytes: Help in the return game, Ben Boulware and notes on the OL | |
---
| | |
| --- | --- |
| Friday, August 8, 2014 8:04 PM | |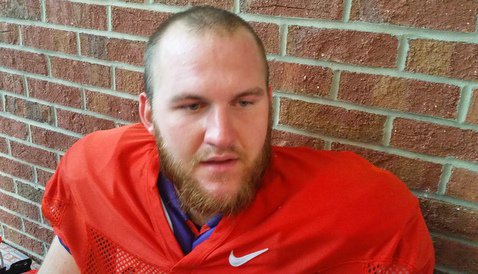 CLEMSON – The Clemson football team practiced for two hours Friday morning, with the majority of the practice moved inside the indoor practice facility due to rain.
Following the practice, we had plenty of player interviews and here are some highlights from that interview session.
Offensive line
One observer who has been at practice the last few days told me that he thinks the offensive line might be starting to show some frustration – the defense is so good that the offensive guys are starting to feel the pressure a little bit.
Eric Mac Lain

Eric Mac Lain
RS Jr. Offensive Tackle
#78 6-4, 306
Hope Mills, NC
View Full Profile told me that isn't the case.
"If anything, that makes us more confident," Mac Lain said. "Those guys are so good, and you just can't pick out one of them. We know how good they are, and when we have success it means we've really accomplished something. Those guys make us better because other than maybe one team, that will be the best defensive line we will see all season."
Mac Lain said he has been working out at four positions along the line – left tackle and left guard and right tackle and right guard – in the wake of left tackle Isaiah Battle

Isaiah Battle
Jr. Offensive Tackle
#79 6-7, 285
Brooklyn, NY
View Full Profile 's ankle injury. Kalon Davis

Kalon Davis
RS Sr. Offensive Guard
#67 6-5, 340
Chester, SC
View Full Profile has been working out almost exclusively at left tackle during Battle's absence.
However, Mac Lain (who has a great sense of humor) told the media to not pigeonhole him at one position.
"I can still play tight end," he said with a smile. "And you guys are sleeping on me at quarterback. We have a package for that. It is going to be good. You will see."
However, left guard is where he feels the most comfortable, and with David Beasley

David Beasley
RS Sr. Offensive Guard
#68 6-4, 323
Columbus, GA
View Full Profile out for the opener at Georgia it could be where Mac Lain lines up against the Bulldogs.
"It's where I played the most during the spring," he said. "It's just a position I have the most reps at so it's where I feel the most comfortable. Unfortunately, David is out for the Georgia game, but we are going to have the best players. Me and Reid (Webster) are out there right now and working with the ones."
T.J. Green

T.J. Green
So. Safety
#15 6-3, 205
Sylacauga, AL
View Full Profile
Green moved from wide receiver to safety prior to the spring, a position move he says he initiated.
"I went into Coach Swinney's office and told him I wanted to move to safety," Green said Friday. "He was all for it and thought it would be a great idea. I was all the time talking to Jayron Kearse

Jayron Kearse
So. Safety
#20 6-4, 215
Fort Myers, FL
View Full Profile about it, and he told he wanted me back there with them. I like playing safety, and I feel like we can do a lot this season."
Green had eight tackles in the spring game, but he was also recruited as a return man, and he told us Friday that right now he is the starting kick returner.
"I like to look at Devin Hester. He has some crazy moves," Green said. "If you want to be a good return guy that is the best guy to look at."
Ben Boulware

Ben Boulware
So. Outside Linebacker
#10 5-11, 235
Anderson, SC
View Full Profile
Boulware told us he has been working out mostly at the WILL linebacker position – Tony Steward

Tony Steward
Sr. Linebacker
#7 6-1, 236
Hastings, FL
View Full Profile is currently the starter – but has been studying the MIKE position. He told TigerNet he just wants to work and prove that he deserves a chance to play.
"Honestly, I am just coming out there every day and working my butt off," Boulware said. "You don't know what is going to happen. This year, I am smarter and know the defense a lot better. I still make mistakes every day but I am learning from the leaders and learning from Coach Venables. I am getting better every day. But I still know MIKE from last year and I've been learning WILL since the spring, so I will do whatever Coach V needs me to do."
Boulware was asked for a self-scouting report, and he said he's just a guy who will do anything for his team, but also wants to be a player who initiates contact.
"I am just a guy that loves the game and gives a lot of effort on every play," he said. "He loves his teammates and loves his team and will do anything for his team. Definitely Coach V likes a guy who can hit. He would rather whoa than go, and that is what you need in a linebacker. It's hard to teach effort and playing fast. That just has to be who you are. I feel like I am a pretty good effort guy."