| | |
| --- | --- |
| Tiger Bytes: Dabo on Kurt Fleming, Jay Jay McCullough and other camp nuggets | |
---
| | |
| --- | --- |
| Tuesday, August 5, 2014 9:12 PM | |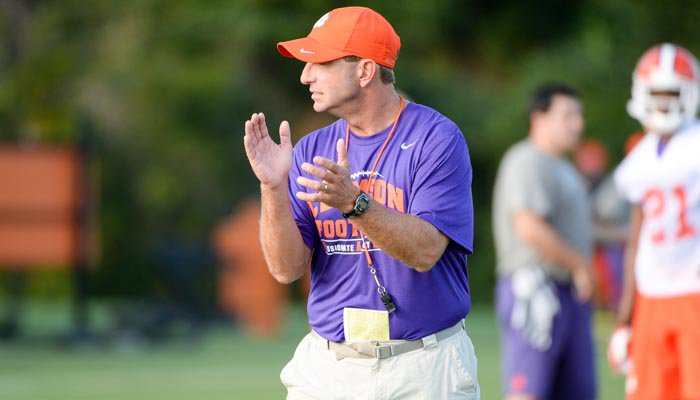 CLEMSON - After five days of fall camp and four days of practice - the first in the heat - mental fatigue is starting to rear its ugly head.
The Clemson Tigers held their fourth practice in five days Tuesday evening and head coach Dabo Swinney

Dabo Swinney
Head Coach
View Full Profile said that the heavy installation during the first part of fall camp, combined with the heat that was present for the time caused a little sluggishness in his team.
"We've got four days under our belt. It's starting to pile up on these guys installation wise. Today is the first day that I didn't think we pushed through as well as I would've like for us to," Swinney said. "It's been hot and we went 55 out of our last 60 minutes good on good. The practice plan was designed that way today. We saw a couple of guys not reflect the mental toughness that I want to see, but a bunch of guys did really good. As a group today, I thought we gave in a little bit in the end."
*Tight end Stanton Seckinger

Stanton Seckinger
RS Jr. Tight End
#81 6-4, 241
Isle of Palms, SC
View Full Profile watched practice Tuesday night after injuring his ankle during Monday's practice. Swinney said that he doesn't believe the injury is serious.
"He's going to be alright. He's hurt his ankle yesterday," Swinney said. "He had an MRI. I assume everything turned out okay. They didn't come tell me anything, unless he haven't gotten the report back. He said he felt pretty good this morning. I think he'll be alright."
*Wide receiver Seth Ryan

Seth Ryan
RS Fr. Wide Receiver
#85 5-11, 160
Summit, NJ
View Full Profile - son of New York Jets head coach Rex Ryan - attended Tuesday's practice wearing a sling. Ryan broke his collarbone during Monday's practice session and is expected to miss at least a month.
Other notes
On practicing in full pads on Wednesday
"It's been a lot of mental work. Yesterday was the first day in shells, a lot of energy. Then you come out here today and it's hot and the intensity has picked up. All of a sudden you see some of those guys give in a little. Tomorrow I expect to see some of those guys separate a little bit. That's how the game is played. It's full gear. We'll have some competitive work where there's no where to hide."
On Ammon Lakip

Ammon Lakip
RS Jr. Kicker
#36 5-10, 200
Alpharetta, GA
View Full Profile
Really, really good today. Yesterday was the first time that we really did some team field goal stuff. We've been doing our special teams stuff in the beginning. Yesterday, I didn't think he was mentally ready to go and I let him know it. It was good to see him come back today. We really put him back in some challenging situations today and I thought he responded very well. He hit a 55-yarder that would've been good from 60-something. Had a couple more situations that we created just to put some pressure on him and he responded. It was good to see him come out with an edge that I was looking for yesterday. He's been solid except for yesterday.
On the running back depth
"It falls into suit with what we said coming into the preseason. This is the deepest group we've had around here in a long time. One position that I'm not worried about is running back. We're going to be just fine right there. We've got some really, really good football players. A guy like Zac Brooks

Zac Brooks
Jr. Running Back
#24 6-1, 199
Jonesboro, AR
View Full Profile , I've been in impressed with him. C.J. Davidson

C.J. Davidson
RS Jr. Running Back
#32 5-10, 203
Clemson, SC
View Full Profile - it's amazing that we have a guy like that who just walks in off the street. He is a quality player. Wayne Gallman

Wayne Gallman
RS Fr. Running Back
#9 6-1, 209
Loganville, GA
View Full Profile just continues to improve. Those two freshmen are really what you're looking for physically. They are both natural runners. I'm anxious to see those guys once we get into some live work.
" D.J. Howard

D.J. Howard
RS Sr. Running Back
#22 6-0, 205
Lincoln, AL
View Full Profile is the leader of that group and he's doing a great job. He looks the best he's looked since he's been here. Then you throw [Kurt] Fleming out there who's just learning how to play football again. You forget about him and he'll do a couple of things to get your attention. He's a guy that will be a little different. He'll be a developmental guy, but I see him having a little bit of a role early on. Later on his career, when he learns to play football again and figures it all out, I think he'll be a very solid contributor."
On Jay Jay McCullough

Jay Jay McCullough
RS So. Tight End
#89 6-3, 248
Fort Mill, SC
View Full Profile 's emergence
"Jay Jay can help us big time. He's got to help us. I think that's another position that we're very blessed. We've got a lot of depth and a lot of talent at the tight end position. He's made a couple of plays the last couple of days that you just say, 'Okay, he's starting to figure this thing out a little bit.' He's playing faster. He's playing with more confidence. He's taking more ownership. He's still got some details that he's got to get down, but there's no doubt that he can help us. I think he is earning the right to help us."