| | |
| --- | --- |
| Throwback Thursday: Woody Dantzler | |
---
| | |
| --- | --- |
| Thursday, May 29, 2014 9:23 AM | |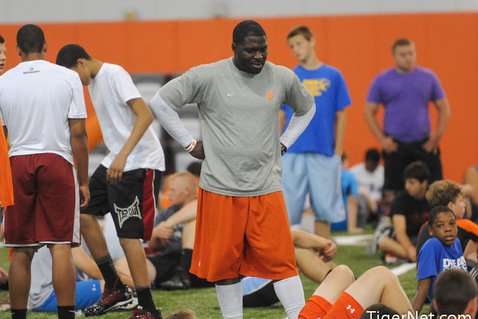 Prior to leaving Orangeburg and heading to Clemson to continue his football career, Woody Dantzler's father had a piece of advice for his son – be more than just a football player.
Dantzler is indeed more than just a football player, and it doesn't take long to realize that one of the most beloved players in Clemson history doesn't dwell on the past or on his accolades – he is always pushing forward.
Dantzler was one of the most exciting players in the nation from 1998-2001. He was a first-team All-ACC quarterback in 2001 when he became the first player in NCAA history to throw for at least 2000 yards and rush for 1000 in the same year. The native of Orangeburg is still third in Clemson history in passing yards and total offense. He went on to play three years in the NFL.
As part of our Throwback Thursday series, we spoke with Dantzler about a variety of topics, and his candid answers shed a little insight into the man beyond the football player.
When you see Chad Morris

Chad Morris
Offensive Coordinator / QBs
View Full Profile ' offense, do you ever wish you had played in a similar style?
"No. I have never been a person to have that kind of personality to say I wish I could go back. I am a strong believer in that I was in my time for my time. This is the time that is for the guys that are there now. It's not for me and it isn't in me to wish I could play now. "
What do you like best about Clemson's resurgence as a football program?
"I like the restoration of family. That is one thing you will see with Coach Swinney - he is all about family. Even if you were a Tiger many, many moons ago you are welcome. He encourages you to come back because he wants to build the legacy up to what Clemson truly is. For so many years, there has been a displacement and detachment between Tigers of old and the Tigers that are new. So the guys coming in, they didn't really understand what it was like to put that orange on, to run down the hill, the power of the paw and that kind of thing. They didn't understand that. To me, they just had a scholarship to play at a D1 college, but now they understand what Clemson is all about. They understand the foundations and the traditions. They understand all of that and they are understanding that within the confines of the family. So what do you do? You protect the family at all costs. And you play for your family at all costs. That is what you are seeing and I think that is a great contributor to the turnaround of the program."
Now that you're in Fountain Inn (SC) do you get back to Clemson?
"I was there yesterday. So yes, I am around. I took it upon myself to get back involved with Clemson and I have been doing a lot of that here lately."
What would be your advice to Cole Stoudt

Cole Stoudt
Sr. Quarterback
#18 6-4, 205
Dublin, OH
View Full Profile heading into this season?
"Everything has changed but honestly, nothing has changed. You know, you've been a backup for so long and Deshaun Watson

Deshaun Watson
Fr. Quarterback
#4 6-3, 190
Gainesville, GA
View Full Profile is the next great thing, but nothing should change. They said the same thing to me after Brandon Streeter left and I played. I was essentially the guy filling a role until Willie Simmons was ready to play. So he finds himself in that same seat. He is warming the seat until Watson is ready to play, which isn't really the case. The case is that he is the starter, and he has been preparing for this his whole life. So you go out there and you prepare like you're the starter, you go out there and be the leader of this team. He has been doing that since he arrived at Clemson. So nothing has changed. The only thing that has changed is what is outside of him, like everything with the media and other things that don't have anything to do with football. If Deshaun comes in and just outright beats him out, then that's just the nature of football and we understand that. But as far as how he should prepare and how he should approach the game, nothing should change. He has come in and played that role in an excellent manner, and now that he's the man he should continue to play that role in an excellent way. And Chad Morris isn't going to let him do anything less."
What are your thoughts on Deshaun Watson?
"I have watched him from afar and talked to him every now and then. He is far beyond his years. But just like any freshman that is transitioning into college, there is a gap there. But he is picking up and he is catching on really fast. That is one good thing for him, and fortunately for him he has a strong family structure back home. His parents do not play."
What keeps you busy these days?
"My two little girls and my wife keep me busy. That is my full-time job, My part-time job is that I legally sell drugs (as a pharmaceutical rep). But my full-time job is my family and seeing to their needs. When I have any extra time I am out in the community and working with young people."
What is so rewarding about working with young people?
"It's not a reward for me. I feel like it is a duty. Each generation is supposed to surpass the previous generation. It's like I was saying earlier, that time was my time and this is their time. I can't want to hold a generation back because of my selfishness. My goal has to be to carry the baton as far as I can and then hand it off to let the next generation carry it. In my generation, if I am not setting the bar so they can carry it even further then I am doing not just myself a disservice but I am doing society a disservice, That is just my mindset. I have to make sure that my family is my priority but that I am also setting the stage so the next generation can be who they have been called to be. That is the foundation to why I do what I do."
You don't seem like the kind of player that lives in the past..
"It's cool to reminisce and talk about those times. There is nothing wrong with that. But when you get stuck there then that is a problem."
What are you fondest memories of your time at Clemson?
"My fondest memories are of just being there and the time spent with friends. I am a big people person, and I love meeting people and doing social events. So sitting out on the bench in front of Mauldin and laughing and joking with my teammates and that kind of thing. Getting involved in mutli-cultural affairs, going over to the student government and meeting with the class presidents and vice presidents. Just experiencing life, that is what I remember about Clemson. You know, coming from Orangeburg one of the big things was my dad told me to not go up there and be just a football player. And getting over the cultural - man I had never seen that many white people before in my life. And then I learned that I could exist in this world. I had people telling me, 'oh, you went to the white people.' But there is no white or black, there are just people. And that is what I remember about Clemson, having all of those different people opened up to me."