| | |
| --- | --- |
| Throwback Thursday: Homer Jordan | |
---
| | |
| --- | --- |
| Thursday, June 5, 2014 5:01 PM | |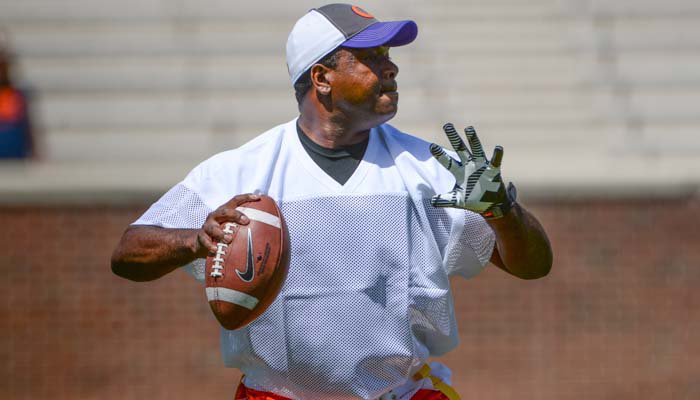 Homer Jordan.
Just saying or hearing that name evokes memories of Clemson's 1981 National Championship season, and for those of us who had to listen to the radio, it brings back the voice of Jim Phillips calling, "Homer Jordan on the keeper."
Jordan attended Clemson from 1979 to 1982, and was the starting quarterback for the 1981 squad that beat Nebraska 22-15 in the 1982 Orange Bowl. He was also an All-ACC selection that year. He finished his Clemson career completing 250-of-479 passes for 3,643 yards with 15 touchdowns and 27 interceptions. He was inducted into the Clemson Athletic Hall of Fame in 1993.
He played for the Cleveland Browns for one season, and he returned to football in 2002 by coaching wide receivers at his old high school, Cedar Shoals. However, Jordan has been back at Clemson more than a few times recently, and he was a guest of Clemson head coach Dabo Swinney

Dabo Swinney
Head Coach
View Full Profile during spring practice.
In the third of a series of Throwback Thursday articles, TigerNet caught up with the Clemson great.
What keeps you busy these days?
"Running a detail business right now that I've run for the last few years. I was coaching high school for ten years, but I am not doing that anymore either. Coaching takes up a lot of time. But football is something you just love doing, and when you leave you always go back to it. I love the game, and I had fun being around the guys and competing."
Would you want to return to coaching?
"Not at this time in my life. I wouldn't mind, but every staff I look at it seems like they are 19 years old. But I would like to get involved somehow with Clemson, in recruiting or something like that. I would love to be involved somehow."
How has Coach Swinney embraced former players such as yourself?
"I think Coach Swinney and his staff like to see us come back. They like to see the former players come back, but sometimes life happens and you just can't get back like you want to. But I try to pop in every once in a while, and I try to come back for the spring game and play in the flag football game and try to catch one or two games a year."
What are your thoughts on all of the new facilities?
"It doesn't look like the Clemson from when I was playing. Everything is super nice, from the WestZone to the indoor practice facility. What they have right now is a beautiful thing. But Clemson has always had first class facilities, and when I was there they preached first class. It has always been that way and it's that way today."
What are your thoughts on the direction the program is headed?
"I think the program is in great hands and great shape right now. Every time I talk to him (Swinney) he recruits me. Every time he speaks it is something positive about Clemson. I think he is doing a great job and it shows with everything going on. He has great players coming to play for him, and they graduate. It shows the work he is doing and the work that he and his staff are putting in. I enjoy being around him. "
Thoughts on Deshaun Watson

Deshaun Watson
Fr. Quarterback
#4 6-3, 190
Gainesville, GA
View Full Profile ?
"I wish I had wheels like that! He can run and he can sling it. My son played against him in high school when he was at Gainesville, so I have been seeing him for the past three years or so. I know what he can do. I think he is in a great situation at Clemson and I can't wait to see him on the field."
What is your best memory from your time at Clemson?
"All of it probably. Of course, the whole national championship year is special and the journey that got us there. The ugly days, too. It was all of the stuff that got us to that great year. There is no memory that is the best part of it, because you have to take the good with the bad."
When did you realize that 1981 team had a chance to be pretty special?
"I think it was the year before, towards the end of the 1980 season when things started to click a little bit and we started to play some pretty good football. We knew that offseason that if we put in the work and then put in a little extra to go with it we had a chance to be pretty good. We had pretty much the whole team coming back, and we knew we had to add the work to go with it. We had some pretty good team leadership and they got us to where we wanted to be. Then we beat Georgia early that year and that gave us a lot of momentum. The Georgia game was key, and then the North Carolina game was key and kind of set the tone for us about halfway through the season. Then every game just got bigger and bigger. There was the Maryland game where we won the ACC, and then the South Carolina game. There were just a bunch of games that meant a lot. But the last games wouldn't have meant a lot if we hadn't taken care of business at the beginning."
What was the mindset of the team heading into the Orange Bowl?
"We knew we had a pretty good team so we knew it was all about us. We had a great defense and a pretty good offense and special teams. But we believed in ourselves. We knew they had great players, but we knew we had great players and we were pretty confident. What I remember is just the whole game - there wasn't one stop or one drive. We just played as a team with the good offense, defense and special teams. The majority of our defense went on to play in the NFL and so did a lot of guys from our offense."
NOTE: It was obvious that he had a lot of great memories from the 1981 season, and I am hoping we can sit down with him again and do a few more stories on that magical year. But only if everyone would like to read them. – David
Previous Throwback Thursdays