| | |
| --- | --- |
| Thoughts on Clemsoning, a wedding, defense and whether Watson should play | |
---
| | |
| --- | --- |
| Monday, November 3, 2014 5:04 PM | |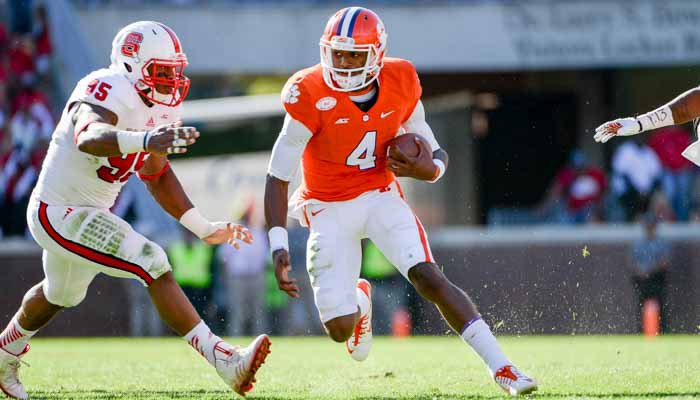 CLEMSON – The oddest and most unsettling of open dates is finally over.
When the Tigers have had an open date before a Thursday game in the past, the actual open week has been a typical week from a media perspective and then we have had a typical media week on the Monday and Tuesday before the Thursday game. Not so this time – we had availability two days last week and head coach Dabo Swinney

Dabo Swinney
Head Coach
View Full Profile has cut off all media access to his team this week. Instead of Monday and Tuesday interviews, we will have Swinney's regular Tuesday press conference at 11 a.m.
That's it. Swinney told the sports information department that he wanted his team focused on this week's game – and the final third of the season – and didn't want there to be anything standing in the way of that focus.
As a result – we scrambled last week to get in as many interviews as possible. Add in the fact that yours truly got married to Nikki Steele this past Saturday at the Old Stone Church just off the Clemson campus, and it was a busy week. For the record, the wedding went off without a hitch – my dad performed the ceremony in the rather cold church and Nikki was a beautiful bride. The original plan had been to get married on August 23rd, but those of us close to Nikki complained that it would be too hot, especially in a church without power. When we switched to November, Nikki boldly predicted that it would "snow on my wedding day." Turns out she was right……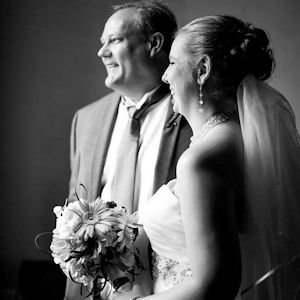 Everybody has been asking about the honeymoon, but it's football season so the best we can do for a honeymoon right now is a night in Winston-Salem after the Tigers and Demon Deacons square off Thursday. Yep, the past few weeks haven't exactly been normal, but I've gained a bride and hopefully Clemson can pull of the win Thursday.
*Hopefully you read the interview with corner Garry Peters

Garry Peters
RS Sr. Cornerback
#26 6-0, 194
Conyers, GA
View Full Profile , who said the defense was "goofy" and that they mass texted all the time. He told us that the group sends out mass text messages, and sometimes they get critical of one another but nobody gets their feelings hurt. This defense is something special, and it's been fun to watch them this season. The latest rankings – as far as where the Tigers stand nationally – bear out how dominant the defense has been and I asked Peters if there was one thing the defense hasn't accomplished that would make this season special in his eyes and he said another shutout.
We asked Peters if the defense counted the win over S.C. State – the Bulldogs lone score came on a fumble by Clemson's offense – and he said no. Peters said it's a team game and if the offense can't hold on to the ball and keep the opposing defense from scoring then it isn't a shutout. He was then notified that the Clemson record for shutouts in a season is three – they have one this season – and he said he was going to go back to the meeting rooms and tell his teammates that they had four more chances at two more shutouts. Wake Forest's offense isn't very good, and the Tigers can certainly hold Georgia St. off the board. Can they? Yes. Will they? Remains to be seen, but it will be fun to watch them try.
*Clemsoning. A great term, right? Following a long wedding day Nikki and I got home just in time to catch some of the late football games (what else would we do?) before unpacking the car. I took a few minutes to catch some social media posts, and noticed a link to an opponent's board that talked about how that team had just "Clemsoned" in losing to an unranked team at home in which they were favored.
As part of having a public forum, I sometimes feel the need to help educate the ignorant. Following last week's win over Syracuse, the Tigers have now won 24 straight games over unranked opponents. All 24 of the wins have been by 5+ points. Yeah, that's a great term alright. Sounds to me that if you are "Clemsoning" you are winning the games you are supposed to win, not tumbling from the rankings after losing several games in a season to unranked foes. Just sayin……Maybe there needs to be a new term.
* Deshaun Watson

Deshaun Watson
Fr. Quarterback
#4 6-3, 204
Gainesville, GA
View Full Profile – to play or not play at Wake Forest? Since Swinney announced late last week that Watson was practicing and throwing again, my email has blown up with people wanting to know whether Watson will play against the Demon Deacons.
We likely won't know any more until we talk to Swinney on Wednesday, and if I know him he won't give too much away. He will say Cole Stoudt

Cole Stoudt
Sr. Quarterback
#18 6-4, 231
Dublin, OH
View Full Profile is the starter and Watson will dress out.
I've gotten emails from those who don't want Watson to play – keep him completely healthy for Ga. Tech and South Carolina – and those who think a little game action might serve Watson well when the Tigers head to Atlanta to take on Tech in 12 days.
I've tried to ask as many people as possible about the injury and how much it could hurt Watson to play, and I've been told that the screws (which are permanent) will make the hand stronger than ever before once it completely heals. And really, there's no chance of him re-injuring the bone. It would take another freak hit like the first one to cause an injury. From everything I've heard – and Swinney backed up – is that it all comes down to Watson's pain threshold and how flexible the hand is.
Considering that Clemson hasn't won at Tech in 11 years and Tech's option offense can play keep away (even with Clemson's defense) points will be at a premium. Would you rather have Watson go in and face his first action on the game's first series? Or, if he's healthy enough to play, would you rather see him get a few series at Wake Forest just to get him back in the flow of the game and the offense?
I don't see a situation where Watson will be needed – Wake's offense is just that bad – but if the doctors say it's ok it wouldn't necessarily be a bad thing to see him get a few snaps. Not start. Not play the whole game. Just run him out there and get him some snaps.
We will know more Tuesday.