| | |
| --- | --- |
| Thoughts from WestZone: Watson's potential, Jarrett's greatness and Silent Out | |
---
| | |
| --- | --- |
| Thursday, October 9, 2014 5:10 PM | |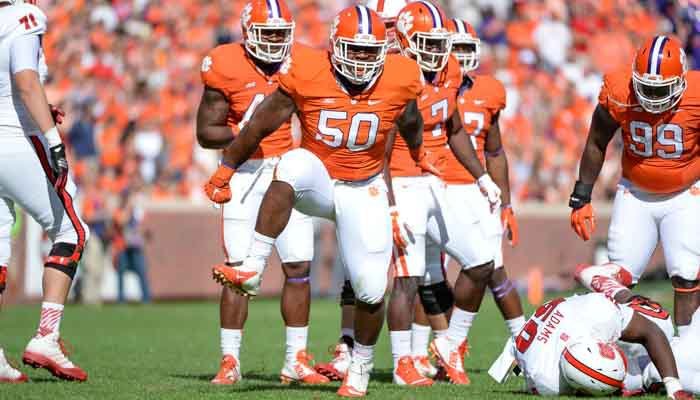 CLEMSON – The season for the Clemson Tigers has reached a crossroads.
We sit down over the summer and count the days until football season, and when the number of days until the opener drops down into double digits it is a cause for celebration. We analyze, we dream, we prepare and we anxiously wait for the chance to get back into Death Valley.
A few minutes later, we look down and the season is halfway over.
That's the position we face this week: when the final seconds tick off the clock Saturday evening after the Louisville game, the regular season will be halfway over and the Tigers will have played four of their seven home games. It seems like just yesterday I was walking into the press box at Georgia's Sanford Stadium. I will leave the press box Saturday night knowing it's halfway over, and October has just begun.
Clemson has three home games remaining – Syracuse, Georgia St. and the regular season finale against South Carolina. The Tigers play at Boston College next week and then come home for Homecoming against Syracuse. Following an off week it's two weeks on the road and then the final two home games to close out November.
So, where does this team stand in the first week of October?
I wrote before the season that this team had a chance to be really good by the end of the season, and I think that's the case here. I truly believe that this team is only going to get better – the offensive line should get healthy, young secondary players will have more experience and the youngsters on offense will have almost a full season under their belts when they kick it off against South Carolina.
To be blunt – I think this team is playing like the Top 10 program it can be. I wasn't sure they could play that way early, but the change at quarterback and the coaches' decision to play some of the younger players (especially at running back) is starting to pay off.
Enjoy Saturday – get there early and stay late. Be loud. I am not sure about the Silent Out, because that's kind of hard to coordinate. People WANT to cheer when the Tigers link arms and do their pregame TigerWalk on the field. People want to cheer when the first uniforms pop out of the tunnel for pregame warmups.
If I had any advice, it would be to cheer whenever you want. But save the vocal chords and the most noise for 1st, 2nd and 3rd downs when Louisville is on offense. Make the stadium shake. And when you see the quarterback begin to panic because he can't hear his own voice, cheer even louder.
Syracuse. Indeed. As one Clemson player said this week, they'll be here Saturday. They will learn.
*Speaking of Watson – we were talking about him the other day during our interview sessions at the WestZone, and I firmly believe he's giving Clemson better quarterback play than the Tigers saw last season. He just has the IT factor. Right now, he has to be the favorite for the ACC Rookie of the Year, and with the continual drama that surrounds Jameis Winston it's not out of the realm of possibility that he could be the conference Player of the Year.
Part of the fun in this job is talking to the players themselves - the ones who see Watson at practice every day and get to see the game film – and get their thoughts on the freshman signal caller.
One senior offensive player brightened up when I when I asked him about Watson this week, and said, "He is special, man. Sometimes you have great players come through a program and you think you'll never see another one like him. I got here after C.J. Spiller

C.J. Spiller
Pro Running Back
#28 5-11, 195
Lake Butler, FL
View Full Profile , but I played with Sammy Watkins

Sammy Watkins
Wide Receiver (2011 - 2013)
#2 6-1, 205
Fort Myers, FL
View Full Profile and I knew he was special from the first day. Deshaun is the same way. He just has so much maturity, and while he's quiet out on the field there is no doubt he's the leader out there. And he's only going to get better – he has just begun to tap into his potential. It's scary to think what he will be like two years from now. He's already one of the top five quarterbacks in the country right now, so what will he be then?"
*I asked about senior quarterback Cole Stoudt

Cole Stoudt
Sr. Quarterback
#18 6-4, 231
Dublin, OH
View Full Profile , and I was told that Stoudt has continued to be a leader for the team. His playing time has diminished, and it would be easy for Stoudt to cash it all in and simply go through the motions. However, another senior told me that Stoudt is very involved in meetings and at practice, and is still providing leadership. That's good to hear.
*Speaking of senior leaders…we always love talking to senior defensive tackle Grady Jarrett

Grady Jarrett
Sr. Defensive Tackle
#50 6-1, 290
Conyers, GA
View Full Profile . I know Clemson fans love watching defensive end Vic Beasley

Vic Beasley
RS Sr. Defensive End
#3 6-2, 236
Adairsville, GA
View Full Profile , and it's Beasley who gets all of the hype and the publicity when it comes to Clemson's defense. He deserves it – he is chasing Clemson's all-time sack record, and has put together some amazing stats in a short amount of time.
However, spend a little time with NFL scouts on Saturday – and I try and talk to all of them – and they are not shy in telling you the best player on the Clemson defense (and maybe the team) is Jarrett. He never takes a play off, and when he chased down NC State quarterback Jacoby Brissett from behind last week I just kind of shook my head.
Jarrett came in for his interviews, and he was asked what makes Beasley so special. I pointed at Jarrett and said to another media member that players like Jarrett being so good is what makes Beasley shine. Jarrett takes up double and sometimes triple teams. Teams don't know who to block…….Jarrett? Beasley? Crawford? Williams? At some point, they run out of options.
*Quick thoughts on Louisville.....I guess I kind of get what Bobby Petrino was doing when he talked about the noise level at Clemson. He doesn't want his team psyched out about the noise. I get it. But sometimes things like that are better left unsaid in public – just tell your team.
Head coach Dabo Swinney

Dabo Swinney
Head Coach
View Full Profile will make Georgia St. sound like the 1985 Bears next month. Sometimes that gets a little old, but he doesn't want a lot of locker room material out there. And Clemson's players have been coached to be the same way. It will be interesting to see if Petrino's noise thoughts and the swagger of Lorenzo Mauldin – who predicted a Cardinal win if they stop Clemson on its first series – make a difference Saturday.