| | |
| --- | --- |
| Thomas talks the draft, his injury and Clowney | |
---
| | |
| --- | --- |
| Thursday, May 8, 2014 10:26 AM | |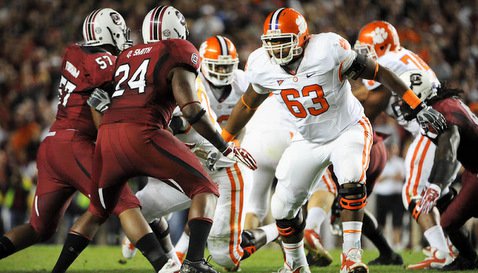 Brandon Thomas

Brandon Thomas
Offensive Line (2009 - 2013)
#63 6-3, 305
Spartanburg, SC
View Full Profile is a month removed from tearing his ACL, but he isn't focused on the coulda, shoulda, wouldas of the past.
With the draft just a few hours away, the Spartanburg native could be looking at what could've been with a possible second-round pick in the NFL draft. Instead, he is looking toward the future and putting all of his attention on rehab and preparing to make an impact in the NFL.
"It was just a fluke," Thomas told TigerNet Wednesday afternoon. "I'm not going to try and think back on the past thinking that I shouldn't had done this or I shouldn't have done that. God has a plan for everybody and he has a plan for me. I felt like I was in the right place at the right time working out and doing stuff I that I usually always do.
"It was upsetting, I can tell you that. We did those drills all of the time at Clemson - during the summer, preparing for the season - and then something like that happened. It was a little upsetting, but you just have to keep moving. You can't look back. I was just thinking about the process to come back. I had done it [torn his ACL] before in high school and I was just thinking about how long and what I have to do to start getting back. That's basically the first thing that came to mind."
The injury came as a little bit of a surprise because Thomas said that he didn't feel any discomfort during his workout for the New Orleans Saints, and even completed all of the drills before seeing the team trainer.
"I didn't know right away," Thomas said. "It just gave way. I was doing a change of direction drill, going over the bags and then my last step on the bags, it just gave way. It didn't feel weird. It didn't pop or do anything. I just kept going. Eventually I went to the training staff and they didn't tell me anything. They just said that, 'we don't know right now.' The next day, I went for an MRI and it came up that I had torn it."
However, the setback won't deter him from accomplishing a life-long dream.
"It has been a childhood dream since I was little - having a chance to be drafted," Thomas said. "Obviously, I wanted to go in the first round. I wanted to be the first pick overall. I had the chance to be a high pick and then the injury happened, but I'll still get picked up. I'm going to be happy regardless if I can just get that chance to get in there and show people what I can actually do."
Despite the injury, several teams are still high on the Dorman graduate.
"The teams that were talking to me early, of course they were wanting me to come in and play right away and of course I'm not going to be able to do that now, but they still like me," he said. "Everyone that I've talked to says that they still like me and they still want to have me, but they know that they can't use me right away. That's what's going to alter me and change what happens in the draft. It's going to put me down, but teams still like me."
There is one part of the recent past that Thomas didn't mind looking back on – his career at Clemson, where he logged 2,765 snaps in 49 games. However, there is one game that stood out – his domination of the potential first pick of this years draft in last November's game in Columbia.
"I would have to say the game against Clowney (2013)," he said. "I prepared well for that game and practiced well all week. The coaches prepared me well and they did some things to help me out in practice, so that I would be ready for it. I think that was probably the best game of my career."
The moment that stands out most from his time as a Tiger was bringing the ACC Championship trophy back to Clemson.
"My best memory was the ACC Championship," he said. "That was a fun year and it was crazy how it ended up for me - being fourth on the depth chart and then moving to guard and eventually to tackle. Winning the ACC topped it off."