| | |
| --- | --- |
| Thomas ready for challenge that Clowney presents | |
---
| | |
| --- | --- |
| Monday, November 25, 2013 10:15 PM | |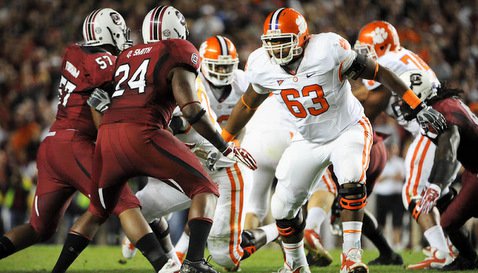 CLEMSON –In 2012, South Carolina Jadeveon Clowney had his way with the Clemson offensive line, but senior Brandon Thomas

Brandon Thomas
Gr. Offensive Line
#63 6-3, 305
Spartanburg, SC
View Full Profile said that he is more prepared than ever to handle the challenge that the Gamecocks' junior presents.
Clowney registered 1½ sacks in the opening half, and then added three more in the final two quarters, harassing quarterback Tajh Boyd

Tajh Boyd
RS Sr. Quarterback
#10 6-1, 225
Hampton, VA
View Full Profile into an 11-for-24 performance.
However, Thomas has played well enough to be considered for all-conference recognition this season, and he said that Saturday night's contest is something he will look forward to.
"I consider it a big challenge for me and I look forward to it, just as I look forward to any competition. He's a great player and it's going to be fun Saturday," Thomas told the media Monday. "It about just playing hard and going right at him. Hopefully he will bring his 'A' game and I'll bring mine."
Thomas said he won't prepare any different for Clowney than he has for the previous 11 games on Clemson's schedule.
"I'm just going to practice like I've always practiced. I'm not going to change anything," he said. "I believe that I'm good enough to where I don't have to change anything. I just want to focus on me. I'm not going to change up my technique. I'm going to practice like I've always practiced."
He then said he doesn't think he was as physical as he could have been with Clowney last season, something he will correct in 2013,
"I think it is being more physical. Last year, I don't think I was as physical as I am now," Thomas said. "My technique has gotten better. Those two things will help me a long way in this game. You always want to go back and study the film of your past so you can correct some things. I did some things well and then I didn't do some things well. After this year, I'll go back and look at the film and try to correct some more things."
Thomas has acted as a mentor of sorts for sophomore Isaiah Battle

Isaiah Battle
So. Offensive Tackle
#79 6-6, 280
Brooklyn, NY
View Full Profile , who has started the last two games at right tackle and is the heir apparent at Thomas' left tackle spot. Thomas said last week that he sees a lot of himself in the talented youngster, and wants to do everything he can to help mature.
"We are in there talking and watching film together. We point out key things to watch out for," he said. "He's [Clowney] a good player so you have to watch for anything he does out there. They like to move him around a lot. I think Isaiah will be ready for him. He's been getting out there and playing hard. He seems like he's pretty happy with what he's been doing. He's progressing along. I think we are all pretty happy for him – to see him progressing and getting better every week.
Thomas has never been on a team that has beaten South Carolina, and he knows what it would mean to the senior class to go out with a win. However, he doesn't think it will define their Clemson careers.
"I don't think so. I think we as a class and as a team have played very well since we've been here," he said. "I think we've done a lot of good things here. I don't think this one thing will hurt us. Some might think that, but I don't. I think we've played great as a class as whole. I don't see this being a gaping hole of any kind."
However, a win over the in-state rival would be special.
"We've had the last four chances and didn't beat them," Thomas said. "Of course it's going to mean something to actually beat them and get a win against them. They are a good team and every year they show that they are a good team. We just have to play our 'A' game and go out there and play the best that we can.
"The in-state rivalry here is crazy. I have some close friends that I went to high school with and some that are actually in family that are South Carolina fans. It's tough, but that comes with the territory of playing for Clemson."