---
| | |
| --- | --- |
| Tuesday, October 7, 2014 7:01 AM | |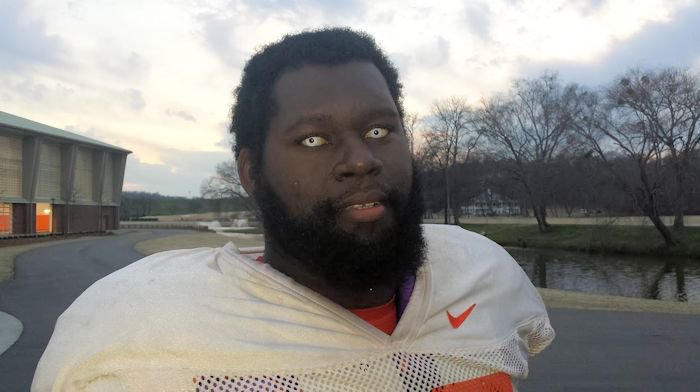 CLEMSON – Chad Morris

Chad Morris
Offensive Coordinator / QBs
View Full Profile didn't mince words during his Monday morning press conference at the WestZone, saying that a rash of injuries on the offensive line have left that group thin heading into this week's matchup against Louisville.
The Cardinals bring the nation's number one defense to town, and that includes talented defensive end Lorenzo Mauldin.
Last week, the Tigers lost right tackle Joe Gore

Joe Gore
RS Jr. Offensive Tackle
#73 6-5, 283
Lake Waccamaw, NC
View Full Profile to appendicitis that will sideline him at least two games. During Saturday's game against North Carolina St., center Jay Guillermo

Jay Guillermo
RS So. Center
#57 6-3, 314
Maryville, TN
View Full Profile suffered a broken foot that might keep him out of action for a month.
As a result, starting right guard Reid Webster

Reid Webster
RS Sr. Offensive Tackle
#77 6-3, 300
Woodstock, GA
View Full Profile was also listed as the backup right tackle, backup left tackle and backup center on Monday's depth chart.
I asked Morris how many offensive linemen he thought could play and he shrugged his shoulders.
"We know that we're going to put five out there. Outside of that, who knows," Morris said. "We've got six or seven guys that you feel comfortable with to create some rotation with some guys. That's where we are. You don't want to pull a redshirt off a guy and him not really play an extensive amount of time. Not that they're ready yet because they're not. Obviously if you got into a situation where you had to, they're there.
"Regardless of if we would've had 10 guys or 15 guys, we're playing the number one defense in the country - very active. Not only number one in pass defense but also scoring defense. They definitely have everybody's attention. It's not just us. I don't think they've been scored on - a touchdown - in 13 or 14 quarters. These guys - this is a good football team, a really, really talented defensive football team."
Morris was then asked if he had to change his play-calling because of the lack of depth.
"I don't know if it changes your philosophy. You do what you do," he said. "We are thin - thinner than we've ever been. We've got guys playing multiple positions. We're very versatile, which is good in a way. What do you do? You're not going to change what you do and how you're going to approach things. We may change some of things about how we practice a little bit.
"We're all about tempo, tempo, tempo in practice and there may be some things that I have to change in a few periods of my own to help alleviate some things, because we've got some guys that are running first team with this group and second team with another group. You have to be smart with that and not burn them out and have them ready for the game."
However, he did say it proves that working out players at multiple positions has proven beneficial.
"We went into the game last week thin and came out thinner but we're very versatile and that's good," Morris said. "It's great seeing some guys that are capable of playing three positions to help us out. As a coach, you don't want to be in this situation. It is what it is and there's nothing you can do about it. We've got to keep playing fast and trying to create an opportunity for these guys to have success and obviously tempo is a big part of it."
Morris said that Maverick Morris

Maverick Morris
RS Fr. Offensive Line
#69 6-4, 291
Broxton, GA
View Full Profile is available but not ready to play, and then said that freshmen Taylor Hearn

Taylor Hearn
Fr. Offensive Line
#51 6-3, 305
Williston, SC
View Full Profile and Justin Falcinelli

Justin Falcinelli
Fr. Offensive Tackle
#50 6-5, 300
Middleton, MD
View Full Profile might have to burn their redshirt years if the line suffers any further injures.
"Obviously, we've thought about it and they're not there yet. We'll have to do some things practice-wise that will help us out a little bit with those guys to make sure you're not burning out the main group of guys," he said "We've got some of the younger guys that are going to be good players but they're not ready yet. We've got some guys that we were counting on that aren't ready. We don't feel like they're in a position right now to be in that rotation.
"The good thing is that we've got guys capable of playing multiple positions. Reid Webster is a guy that has since the Georgia game played three positions. Kalon Davis

Kalon Davis
RS Sr. Offensive Guard
#67 6-5, 340
Chester, SC
View Full Profile has been able to go back and forth and play a couple of positions. Tyrone Crowder

Tyrone Crowder
RS Fr. Offensive Guard
#55 6-2, 322
Marston, NC
View Full Profile is a guy that is just a guard. He's a guy that really needs to come on. He got to play a little bit the other night and he showed some flashes. He would provide us a little bit of depth but we've got to get him right and get him ready. He's not there yet. He would have to play if we needed him."