| | |
| --- | --- |
| The latest on Albert Huggins, including his thoughts on Clemson's 2015 class | |
---
| | |
| --- | --- |
| Thursday, July 24, 2014 4:30 PM | |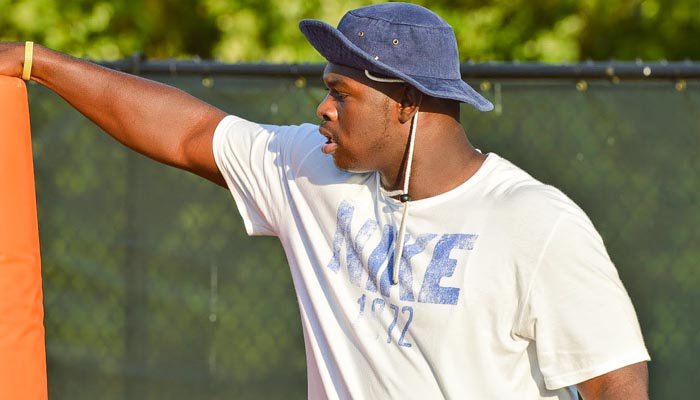 Albert Huggins

Albert Huggins
Defensive Tackle
6-3, 280
Orangeburg, SC
ESPN:


View Full Profile is making the rounds and taking his visits but the Clemson coaching staff is making sure that Huggins knows he is still very much on their minds.
Huggins has made the trip to Clemson several times – including a three day stay on campus for head coach Dabo Swinney

Dabo Swinney
Head Coach
View Full Profile 's high school camp in June – however the four-star defensive end out of Orangeburg (SC) Orangeburg-Wilkinson wanted to visit Georgia and possibly Florida before rendering his decision.
"The visit to Georgia went great. I enjoyed myself," Huggins told TigerNet Thursday afternoon. "They have a great coaching staff and the facilities were excellent. They have a great campus. I wanted to make sure that I could visit other places and see if I had that little feeling. I enjoyed doing that, I really did. My parents went with me, because I need my parents behind me 100-percent, so they need to see where I'm going. They need to trust the coaches as I trust the coaches."
It didn't take long after the Georgia visit concluded for Swinney to reach out to Huggins to let him know that he belonged at Clemson.
"I talked to Coach Swinney the other day," Huggins said. "He just said, 'Hey man, you know there's no place like home. You can go out of state. What if you get hurt? It's not going to be the same, but if you stay in state and you can get hurt, everybody is still going to love you.'"
The 6-4, 280-pound prospect spent a lot of time with defensive ends coach Marion Hobby

Marion Hobby
Assistant Coach / Defensive Ends
View Full Profile , other prospects, commits and current players while at Swinney's camp, giving him a glimpse at what life as a Tiger would be like.
"I enjoyed it. It was more time for me. I got to see how he (Hobby) works and I got to see how the d-linemen act and everything," he said. "They act just like us - just like our football team. That's a fun thing. That's a good thing to see, but at the same time I know I have to put in hard work and dedicate myself to the team, my coaches and to the fans. Wherever I got, I've to put in work."
After spending time with the 2015 commits and seeing the types of prospects that Clemson is bringing in, Huggins knows what a special class he could be a part of.
"They are great. Clemson has been putting in work," he said. "They are getting set to go to a championship - that's their plan. How does their recruiting class look? That's what they're doing - this 2015 class is a great class. To me, there's never going to be a class like this again. I can't see it. There are so many d-linemen that are coming out of South Carolina that are just beasts. Then we also have the skill players, they're doing a great job, too. The 2015 class, we are ready. Let's go baby. We've got work to put in. This is going to be one of the greatest classes ever."
The trip to Florida could be in the works before school starts in mid-August.
"Maybe Florida sometime between now and when school starts," he said. "I was supposed to go to Florida last summer. I want to see if they have a family atmosphere. I just want to look, that's all. I want them to be family. I want somebody that will support me. I want the coaches to push me. I just want to be around good people."
However, Huggins also knows that his time to make his decision is winding down.
"I can't tell you that because I really don't myself," he said. "The situation is that I'm just going to pray about it. I have to make a decision before December. I'm just going to pray about it, really think hard about it, talk to my parents, talk to my coaches at O-W, and hopefully I can make the right decision and I can live a great life and have fun doing it."
As a junior, Huggins accounted for 65 tackles, 11 sacks, 13 tackles for loss and four forced fumbles.
As a sophomore, Huggins registered 64 tackles, a fumble recovery for a touchdown and four sacks.