| | |
| --- | --- |
| The key to beating Florida St.? It's all about blocking and tackling | |
---
| | |
| --- | --- |
| Friday, September 19, 2014 1:16 PM | |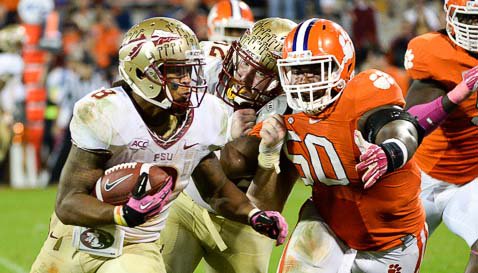 An open week for Clemson means a chance to sit at home and watch college in front of the television, and that's exactly what we did last Saturday. I can't say I would trade in my hours in the pressbox to do it every week – I like the game atmosphere too much – but it's good to sit back and watch other programs and teams.
This week there is no open date – the Tigers travel down to Tallahassee and take on a Florida St. team that is dealing with all kinds of distractions and issues regarding Jameis Winston. A lot of people feel like Clemson can pull off the upset because Winston isn't playing in the first half.
No. If Clemson pulls off the upset it won't be because on Winston. It will be because the offensive line played well and blocked, and the defense tackled. End of story.
When Clemson blocks and tackles they can play with anybody (see LSU). When they don't, it can get sideways in a hurry and the offense struggles (see every loss since the beginning of 2011, all by double digits).
I watched almost all of the Boston College win over Southern Cal last weekend, and I was impressed with their offensive line and how they ran a lot of read option and used multiple shifts and formations in an effort to confuse the defense. The result was a whopping 452 yards on the ground against a Southern Cal defense that held Stanford's vaunted run game in check the week before.
All of Boston College's offensive linemen are experienced – they are all grad students – and that group paved the way for an impressive win.
It was evident to anyone who watched that Georgia and South Carolina tilt that Georgia had the best player on the field in Todd Gurley, and may have had the better overall team. The Gamecocks simply had the better offensive line and did pretty much whatever they wanted to do against Georgia's secondary.
I thought it was interesting that South Carolina sold out to stop the run – kind of what Georgia did to Clemson in week one – and dared Georgia's offensive line to make enough blocks to make a difference. It worked at times, and they got burned at times, but they did enough defensively to win the game. You just have to score more points, right?
I now wonder what that means for Clemson's offensive line at Florida St. Granted, it was a different week, different gameplan, different game and different teams. But Georgia wasn't able to get pressure on Dylan Thompson, and nothing that defensive coordinator Jeremy Pruitt did seemed to work. It truly is amazing what a good offensive line can mean in a game like that.
Clemson faces that same kind of line this week in Tallahassee, and it will be interesting to see how Clemson responds. Florida St. has a bevy of talented defensive linemen and it will be up to Clemson's offensive line to create enough holes for the Clemson running game to succeed.
One former Clemson running back posted on Facebook prior to the South Carolina St. game and said that if Clemson was serious about running the football, they should come out and just run, run, run and run some more against an inferior opponent, and that it shouldn't take more than 15 throws to win the game. I watched with interest as Clemson ran the ball 51 times but threw it a whopping 42 times. Was that designed to get Clemson's young receivers more touches? Get Cole Stoudt

Cole Stoudt
Sr. Quarterback
#18 6-4, 231
Dublin, OH
View Full Profile more rhythm? Or is Clemson's offensive line just better in pass pro than they are running the football?
There are still a lot of questions about this offense and the offensive line that have to be answered, and this week's game at Florida St. should shed even more light.
Clemson's defense didn't tackle well in the fourth quarter at Georgia, and what was a tight contest quickly morphed into a Georgia blowout. Add in the poor play of the offensive line that half, and you have a Georgia victory.
Saturday's game won't be about Jameis Winston, the crowd or which quarterback plays for Clemson. Heck, you could have Cam Newton or Andrew Luck under center and it wouldn't matter if the offensive line didn't block. No, Saturday's game will be all about blocking and tackling.
Can Clemson win that battle? I will let you know about midnight on Saturday.