| | |
| --- | --- |
| The Thad Turnipseed Files | |
---
| | |
| --- | --- |
| Friday, February 20, 2015 7:01 AM | |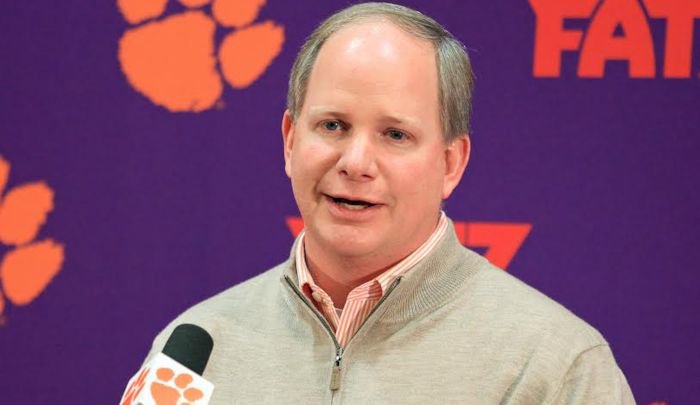 CLEMSON – Thad Turnipseed has been at Clemson only a short amount of time, but has already made his mark on the program.
Following head coach Dabo Swinney

Dabo Swinney
Head Coach
View Full Profile 's National Signing Day press conference earlier this month, Turnipseed met with the media to discuss his role as Director of Recruiting and External Affairs. We've run a few pieces of his press conference, but the following is a transcript of his time in front of the microphone.
Opening statement
"It's easy to sell the Paw. The paw is powerful, and nationally the paw is recognized. Everybody wants to be a part of it. The culture in place here that he (Swinney) has put in place here over the years here recruits itself for the Clemson-type of player that we want. The good kid - academics mean a lot and character means a lot. Those kids come here to see the culture and it recruits itself at this point."
On his relationship with Dabo Swinney and the approach to recruiting
"Coach Swinney - I've been around a lot of great leaders but Coach Swinney has the ability to communicate clearly his vision. If it's a recruit walking through the door, he's the best closer I've ever seen. If its talking to our staff or to IPTAY, his message is clearly understood to where everybody understands what we are trying to be and how we are trying to get there. We played together - he is two years older but he wasn't nearly as good as he says he is. I tore up both my knees and was a student assistant and was thrown into his office to work. So I knew he was special then. But what I worried about when I came here - everybody loves Dabo and he takes over a room - so I wondered if he would be strong enough. I came from some great leaders in Coach Saban and Coach Stallings, but I was so impressed with his leadership ability. He's one of the strongest leaders I've ever been around. And so part of that decision was I knew the family background he came from and my family knew his family. I thought the culture here would be better for me to start here. It doesn't get any better if you want to work for a great coach who is a Christian guy - this is as good as it gets in the business right here.
"It is a holistic approach - to be great you have to have a holistic approach to everything you do. When he hired me, he said you have to bloom where you are planted. I was in an 8x10 office in the back, and in an 8x12 office next to me was James Trapp and in the office next to him was Jeff Davis in a 10x16 office. And we had to create a board room area, and the player's lounge area wasn't really up to par, and the locker room needed to be redone. With my facilities background, I said we need to do this and this and this. He said you've got a million dollars, go do it. So last summer we developed that plan and we built the player's center and recruiting center. So now the recruits are blown away when they get here. And we updated the locker room. That takes support. And we have future facilities in mind, and we are always planning ahead.
"And why I think we are going to be great? When your head coach can communicate his vision to the athletic director and they buy in together, and then the athletic director can communicate that to the president and then the president is on the same page (and by the way President Clements is one of the best recruiters we have), and then he can communicate to the Board of Trustees then everybody is on the same page. I know that sounds simple to you guys, but in higher ed that is usually not the case. That is a rarity when all four groups on the same page together. But that is where we are right now at Clemson, and that is why I think the future is bright."
How does Dabo compare to Nick Saban?
"I will stand by it. Best closer I've ever seen. They are two different people but the one way they are alike is that they are two of the most intelligent people I've ever been around. They manage totally different, but they have a plan in place and they have a plan in place and they hold everybody accountable. Dabo's intelligence is what amazes me. I knew he was smart because I shared an office with him for two years while he was an MBA."
Clemson Google
"Let me tell you how it really is. If our recruiting department is a 500-piece jigsaw puzzle, well when I came in Jeff had 480 pieces put together and those last 20 are pretty easy to put into place. We wouldn't be nearly as successful as we are today - that department or my department and I wouldn't be nearly the guy I am today - without his guidance and teaching me the Clemson culture.
"I guess we will call it Clemson Google. I didn't know that is what it was branded," Turnipseed said with a smile. "I guess we are going to brand it Clemson Google. And I hope Google doesn't sue us or anything. But we are really there to support the coaches. It's logistics support. Instead of seeing three or four players today, can we use the airplane because by the way we have some 2017 kids and some 2016 kids that will be hot two years from now? Why don't you swing by four miles to this school and just go ahead and touch base. So instead of seeing four kids a day, we might see six kids a day and that will pay dividends two years down the road."
"We get the film, we organize the film to where it is easy for the coaches to get to. And then when they get into their staff meetings and start talking recruiting, instead of spending 20 minutes trying to find some tape it's right there at their fingertips and that saves time. A lot of that was the graphic development and video development. When I first got here, I literally wrote on a piece of paper and posted it on corkboard, "if you can do graphics, if you can do videos come see me." We now have four students in my area and they are all working together and Jonathan Gantt kind of runs that. And then we have the direct message aspect - it takes three or four hours to sit there and direct message 150 recruits so we hired Jordan Sorrells as our Director of Recruiting Operations and he is helping me manage that part of it as well as just getting it out every single day to communicate with those guys we can legally communicate with."
Social media
"I have seven guys who follow all of these guys on social media, and they can tell me what they are saying and I can tell Jeff Scott

Jeff Scott
Asst. Coach (WR) / Recruiting Coord.
View Full Profile , "here is what they are saying" and we can tell if they are a Clemson fit. Everybody on that board can play, but how many are Clemson people. That is what we do, we help define through social media and when they are on campus and here on recruiting visits and game day. We gather on Monday and we say, 'hey what is this guy like? Is he talkative? Did he say the right things? Is he somebody that might belong here?' So even though on the board I might have him at a "10" athletically I might have him just the opposite on character. And Coach Swinney really puts a lot of emphasis on that Clemson character. `That is why we tell our kids to be careful what they put out there. It's all out there forever and the NFL people go back and look at what you said in high school. It plays a large part in determining if someone is a Clemson guy. My role - and one thing we do here is play by the rules better than anybody in the country - it's illegal for my department to evaluate talent. It's not my job to say this guy is a good player. My job is to say, 'Hey coaches, this is who you want.' "
Brandon Streeter

Brandon Streeter
Quarterback Coach
View Full Profile
"He got here and hit the ground running. We have had two meetings. He has big shoes to fill but he will do great. He is off to a great start for us."