| | |
| --- | --- |
| The Terminator is headed to Clemson | |
---
| | |
| --- | --- |
| Tuesday, May 20, 2014 6:13 PM | |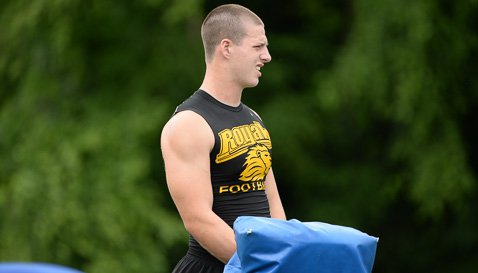 The Terminator is headed to Clemson.
Garrett Williams

Garrett Williams
Tight End
6-4, 215
Orlando, FL
ESPN:


View Full Profile , the 4-star Orlando (FL) First Academy tight end, announced his decision to attend Clemson Monday afternoon, choosing the Tigers over Florida State, Auburn and Stanford.
The 111th ranked prospect in ESPN's 300 became the 15th member of the Tigers 2015 class – the fourth in the last six days – and the first tight end.
His nickname? The Terminator.
"It has been awesome coaching him," said Leroy Kinard, Williams' head coach. "One of the nicknames I have for him is 'The Terminator.' I call him that because he never stops. He does not take time off and he is relentless in his pursuits and he is relentless in his workouts. He is the hardest-working player I've ever had by far."
As a junior, Garrett – who also plays defensive end – tallied 76 tackles and a team-high 10 sacks. I asked Kinard if Williams could make the move to defensive end on the collegiate level and he said yes before explain why Williams is listed as a tight end prospect.
"There is always a chance. I don't know if that's what he wants to do," Kinard said. "What happened was he went up to a Florida St. camp and he said he started looking at the body type. One of the coaches there said, 'Hey, start looking at the body types of all the defensive ends.' And he looks around and all of them had body types essentially like Garrett. And the coach says, 'Now look at the tight ends.' And none of them were built like Garrett. He just said that he felt like he was a better athlete than the majority of tight ends out there. There were a lot of defensive ends out there that could move like he did. That is why he made his decision, because he thinks long-term that position might have the biggest upside. But does he have the ability to play defensive end? Absolutely."
However, expect Williams to stay at tight end/H-back once he arrives on Clemson's campus. While he isn't a blazer and won't stretch the field like faster tight ends, his versatility is something that can't be understated.
Kinard said that despite having a high-profile recruit on his squad – one who has heard from almost every coach in the country – there has been very little drama with Williams' recruitment.
"He has been great through the entire recruiting process," he said. "It has actually been very easy. Anytime you have a high-profile athlete it can be really hard and for him it hasn't. Coming down to the end, it has been a little harder for him but the process has really been easy."
Why did Williams choose Clemson? Kinard says it's because of the Clemson coaching staff.
"They did a really good job of recruiting him. He feels like the coaching staff at Clemson would fit him better," he said. "He likes the guys on their coaching staff and their philosophy and the kind of individuals they are trying to recruit and get on the team. Clemson and Florida St. showed him the most attention and they have been down here as much as possible. But he picked Clemson because he feels at home at Clemson. He is a really good kid and Clemson is a good fit for him."