| | |
| --- | --- |
| The Play: Fourth-down stop sets up Gallman's heroics | |
---
| | |
| --- | --- |
| Sunday, November 8, 2015 12:39 PM | |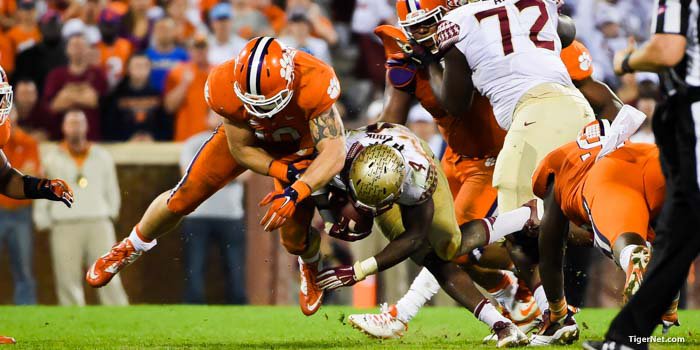 Wayne Gallman put the game away with his 25-yard touchdown run with 2:34 left to play Saturday against Florida State. But a stifling sequence by the Clemson defense on the Seminoles' drive right before that score led to Gallman's game-clinching run.
Clemson took a 16-13 lead on Greg Huegel's 34-yard field goal with 7:23 left to play, but the Seminoles had terrific field position at the Clemson 49 after a long kickoff return. Four plays later, including a stop on third-and-1 and another one on fourth-and-1, Clemson's defense gave the ball back to the offense and set up Gallman's heroics.
"They got in a box set, which they hadn't done in 22 personnel, two tights and two backs," Clemson defensive coordinator Brent Venables said. "Just looking to see if we had our numbers right, and our numbers were good. We got a good surge at the point of attack, starting with Travis Blanks and whatever defensive end was on that side. They pulled it up, and we had amongst others, B.J. (Goodson), Ben (Boulware) and a host of others that knifed through there and spiked it.
"They had gotten us on that play a few other times when were soft and not lined up. They fastballed us a few times, caught us off guard. That might have been the biggest play of the game for us defensively."
Dalvin Cook got the ball on a third-and-1 sweep to the right, and he was stopped by Goodson.
On fourth down, Cook took another sweep, this time to the right. He wasn't able to get to the outside and was slowed down by Shaq Lawson, and then Boulware came in to stop Cook short of the first down.
"They kept doing that hurry-up toss play, fastball stuff," Boulware said. "I just saw a hole and shot it. I should have wrapped him up, but I got a good lick on him, I guess."
Cook rocked the Tigers early, scoring from 75 yards out right up the middle on the second play of the game. He had 36 yards on his first carry of the next drive but had only 83 yards on his other 19 carries. And he got nothing on those two pivotal carries in the final quarter, but head coach Jimbo Fisher said the decisions were no-brainers, both the choice to go for it and the play calls themselves.
"We had to go for it. I felt very comfortable," Fisher said of the fourth-down call. "We had a good play, but we just came up an inch short. We came here to win the game. We had it right there. We have one of the best running backs in America, so we gave it to him. I'd do it again."
After the quick start and Cook's opening score, the Seminoles didn't reach the end zone after Cook's score, settling for two field goals the rest of the game.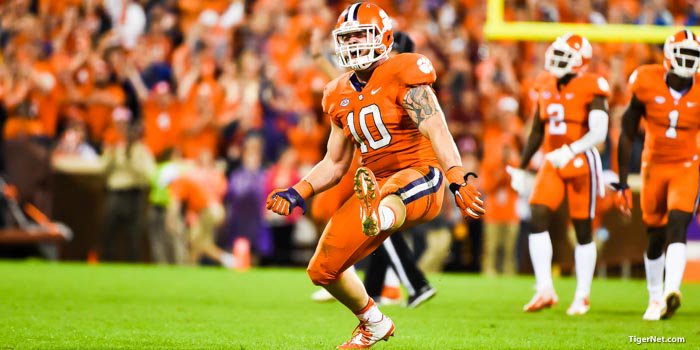 "What a great stop that was on fourth-and-1," Venables said. "That was just huge. Florida State was the champs, and they weren't going to go down easily. It's a talented group of guys. I thought our guys battled, all night long. We made plenty of mistakes, but you've gotta give Florida State credit. They hit a couple of seams on us, but our guys, once they got settled in, I thought they really handled a lot of things they did well."
*Daniel Shirley is the sports editor of The Telegraph in Macon, Ga., and co-host of The Morning Show on FoxSports 1670 AM. Follow him on Twitter at @DM_Shirley and read his blog at macon.com/peachsports.