---
| | |
| --- | --- |
| Saturday, August 1, 2015 10:44 AM | |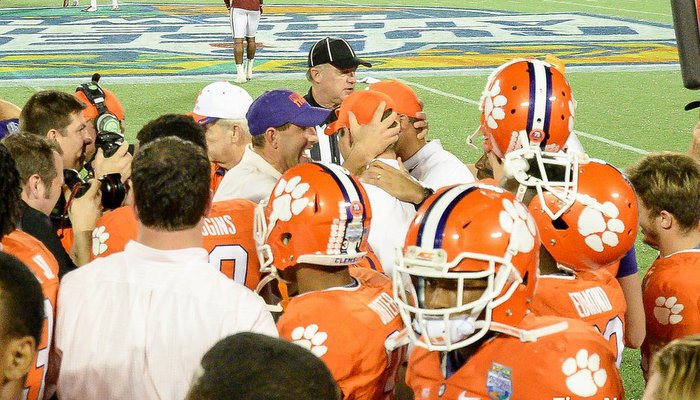 Chad Morris

Chad Morris
Offensive Coordinator / QBs
View Full Profile ' departure for SMU last December didn't catch Clemson head coach Dabo Swinney

Dabo Swinney
Head Coach
View Full Profile off guard, and Swinney didn't have to look far and wide for a replacement. He had a plan.
Morris was Clemson's offensive coordinator for four years and 41 victories, but it was no secret that Morris had his eyes on a return to Texas. The vacancy at Southern Methodist also wasn't a secret – former head coach June Jones resigned in early September – and Morris was deemed early on to be a perfect fit in Dallas.
Talks between Morris and SMU began to heat up after Clemson's final regular season game against South Carolina and Morris officially took the job the first week of December. Speculation centered on whether Swinney would go after a national replacement or stay in-house.
Swinney said earlier this week on a national radio show that he always knew that answer. Why? Because he had a plan and that the plan of succession had been in place for a couple of years, and that plan was for Tony Elliott

Tony Elliott
Co-OC / Running Backs
View Full Profile and Jeff Scott

Jeff Scott
Co-Offensive Coordinator / WR
View Full Profile to take over for Morris.
"When you are in this role you always have to have a plan. If you want to be successful you have to be able to make decisions quickly," Swinney told ESPN's Ivan Maisel. "I've made a lot of decisions in six years, but this was an easy decision. It took about 30 seconds. This is something that's been in place for a couple of years. Tony Elliott and Jeff Scott are just tremendous. They've played a huge role in our success over the last several years."
Swinney said the decision was made easier because of his familiarity with the duo.
"Jeff has been with me from day one, and Tony has been with me a little over five years," Swinney said. "He (Elliott) played for me, and I coached him - he played receiver for me and was a captain in 2003. Two incredibly bright guys that are loyal and understand me and what I expect and the philosophy we have in place."
Swinney brought former quarterback Brandon Streeter

Brandon Streeter
Quarterback Coach
View Full Profile back into the fold to coach quarterbacks, enabling the revamped staff to gain some continuity as the Tigers prepared to take on Oklahoma in the Russell Athletic Bowl.
"The neat thing about it is the timing of when Chad took the job. Now I am able to bring Brandon Streeter in to coach the quarterbacks and make the changes and get the staff together the way I want it," Swinney said. "And then we have three weeks to work together and then we get to go play Oklahoma in a bowl game. That really helped us with the transition. In college football, when there are staff changes the first time you really get to work together it's live bullets. You don't have preseason games, and you can't simulate that pressure in practice. To have that experience under our belt is something that will help us be a little further ahead than maybe we would have been without that."
What does the future hold for the tandem? Swinney said he thinks both will run their own programs one day, and he will be able to look back and know he had a hand in shaping the process.
"He's (Elliott) the first former player that I've coached that I've been able to hire, other than a G.A. or something like that. It's a really neat experience for me, just like when Coach (Gene) Stallings hired me. It's as cool for me to hire Tony Elliott and watch him blossom," Swinney said. "And then Jeff Scott was a young coach that I kind of mentored and tutored along the way. Those guys were teammates - Jeff was one year ahead of Tony, but they were stretch partners. They have a great relationship, and it will be a lot of fun to watch them. They will both be head coaches one day. There is no question they have the skill set for that."