| | |
| --- | --- |
| The Paw Has Power, Even In the Big Apple | |
---
| | |
| --- | --- |
| Tuesday, November 17, 2015 7:01 AM | |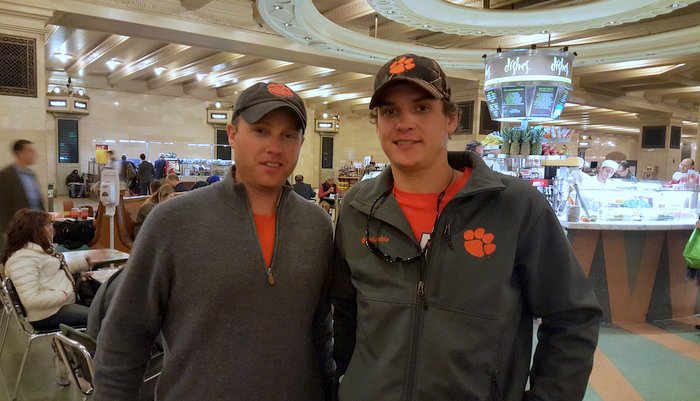 Clemson is a hot commodity these days, even in the Big Apple.
The top-ranked Tigers traveled to Syracuse this past weekend to take on the Orange, and I took the family into New York City a few days early for a little sightseeing. Little did we know it would turn into an eye-opening experience.
Much of the talk in college football over the past few years has centered on money and how the almighty dollar affects college football programs. Folks in the Big 12 not associated with Texas fuss about the Longhorn Network, people in this part of the country fuss about ACC Commissioner John Swofford not pushing an ACC Network to the forefront and fans of the SEC love to talk about the dollars brought in by the SEC Network.
The points are all valid, and money can cure a lot of ills. But so can winning, as Clemson has found out this season. The Tigers get hours of free publicity with the rankings, on the national talk and television shows and on college football Saturdays when the paw is evident for everyone to see. And, as we found out this weekend, the paw is relevant even in New York City.
We landed at LaGuardia Thursday afternoon and made our way to the hotel on 57th street, changed clothes and headed out for a bite to eat. My son Koty has a wardrobe that I sometimes think is all orange, and he was wearing a Clemson sweatshirt as we walked down the streets of New York. Three different times we were stopped by native New Yorkers who saw the paw and wanted to comment on Clemson's season. Koty even got more than one "Go Tigers" as we walked in Times Square later that evening.
The next day we were eating lunch and the guy who brought us our food saw Nikki's Clemson shirt and couldn't stop talking about Clemson. He said he was a native New Yorker and he loved pro football but had adopted the Tigers as his team because "they're so much fun to watch." He then launched into a story about Buffalo Bills head coach Rex Ryan, and how Ryan had eaten in the same restaurant not long before and had bragged on the Tigers, Dabo Swinney and the entire program.
Once we started eating, I looked up to see what looked like your typical New York City businessman (three-piece suit and all) headed our way with a big smile. He told us he was eating lunch with friends and saw the Tiger paws and had to come over and ask about Clemson. He was all smiles as he talked about Swinney and seeing the rankings shows and how happy he was to see someone other than Alabama and Ohio St. getting attention from the national media.
Later that day, we were in Grand Central Station (we had to catch a train back out to the airport to pick up a rental car to drive to Syracuse) and there were Clemson fans all over the place. In the food court area, two Clemson fans came over (Brad White and Thomas McEntire) and asked us about tailgating at the Syracuse game – they had been to every game this season (home and away) and weren't going to miss this one. Right in the middle of Grand Central we had a nice conversation about this year's team and the team going forward.
We just shook our heads at all the attention and made our way to the rental car area, and the bus driver told us that while he was a big Jets fan, he was following Clemson closely and what he said sounded like the guy in the restaurant – he was glad to see someone other than Alabama or LSU or Ohio St. getting some attention and the Clemson program was one he thought he could pull for.
While the paperwork was being signed for the car, one of the employees came over and asked if we could wait around for his manager – he said he was a Clemson grad from a few years ago and would love to talk Clemson football with some other Clemson people. We didn't have the time, but as we made our way to Syracuse I couldn't help but think how much this season and the rankings and the publicity have put the university and the football program in the center of the public's consciousness.
Even in the Big Apple.