| | |
| --- | --- |
| The Opening gives Smith chance to showcase talents, recruit for Clemson | |
---
| | |
| --- | --- |
| Friday, July 11, 2014 3:25 PM | |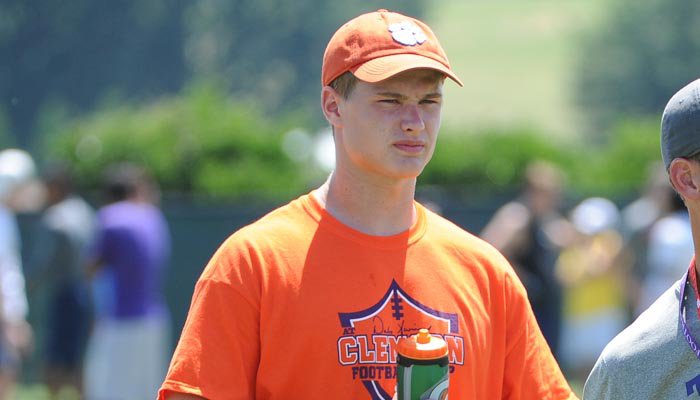 Mission accomplished.
As Chad Smith

Chad Smith
Outside Linebacker
6-4, 215
Sterling, VA
ESPN:


View Full Profile was wrapping up his time in Oregon and preparing to catch his flight back to Virginia, he took a few minutes with TigerNet to reflect on his time at Nike's The Opening.
His biggest accomplishment?
He wanted to make sure that his name was mentioned with the elite linebacker in the country, and he believes that he did just that.
"There were two highlights," Smith told TigerNet. "One was being in the SPARQ Championships and being one of the Top 10 most athletic players in the nation. I was recognized as being in the top five. That really speaks volumes for me as the confidence it gave me. I am truly blessed with the gifts that God has given me. He has given me amazing athletic ability and all I can do is use it to glorify Him.
"I honestly believe that I belong in the top linebacker corps, position wise. I believe that I should be in the conversation of being one of the best players in the nation. That was my goal when I came here to The Opening and I believe I proved that."
The second highlight occurred when he and his 7-on-7 team proved all of the other athletes at The Opening wrong, making it to the championship game.
"Secondly, our team - the Land Sharks - started off in pool play 0-4," Smith said. "We lost every single game. Everybody was talking smack out us saying that we weren't going to do anything and we're going to be the first team out and on the sidelines watching everybody else vying for that championship. They never gave us any credit of possibly being an underdog. That's what we were.
"We came out and showed everyone and were in the championship game, getting the new gear from Nike while everyone else was looking at us like, 'Wow, we really did underestimate you. We respect you guys.' I think we really did earn that respect coming out in tournament play and heading to the championship and making a good fight for it. Even though we lost, I think we got that respect that we were seeking."
His team came up short in the final game, but Smith said that he left everything out on the field. However, he knows that there are still areas of his game that need improvement.
"Individually, I felt like I played pretty well," Smith said. "Obviously, there are always things that I can improve on in any aspect of a game. Those are the things that I'm really going emphasize. I felt like overall my performance was good. It wasn't great but it was good. I'm going to try to do the things that I can improve on to make it great. As a team, we lost 19-0. Flat out, the other team was better than us. Their offense was moving the ball down the field and our offense was struggling to move the ball down the field and our defense wasn't stopping them when we needed to. They made more plays than us - that was flat out the result of the game."
Smith's time at the opening wasn't all about competition. He learned valuable lessons both on and off the field.
"It was privilege to be coached by some of the NFL greats, especially Willie McGinest - he is in my mind a hall of fame linebacker/defensive end," Smith said. "Some of the advice I got from him was to be confident in your ability to play and just go out there and be cool, do your job. When you do your job, everything else falls into place. He told me not to think too much."
And, of course, he did a little recruiting for Clemson.
"I keep in mind a recruit, Austin Bryant

Austin Bryant
Defensive End
6-5, 245
Thomasville, GA
View Full Profile . He could be the guy that is the next Clemson commit," Smith said. "Matt Burrell is also very interested in Clemson, but there are a lot of other schools interested in him and pushing for him. He would be an interesting recruit that could possibly be a Clemson commit later on. That's to be determined. And then, another guy that I've been talking to recently - Josh Sweat. I know that he hasn't been on campus, but I laid it out for him about Clemson. He definitely wants to visit Clemson in the near future."
Next up for Smith is a trip to Clemson.
"The All In Cookout on July 18th," he said. "I can't wait to just get around the guys and the atmosphere that they have around there. Just being able to spend time in a relaxed environment down there. It's definitely something I'm looking forward to."
"You play faster when you reacting. You slow down when you think too much" @WillieMcGinest thank u so much for coaching me. It was an honor

— Chad Smith (@Smith44Chad) July 11, 2014
#LandSharks we got that swag!!! pic.twitter.com/wydfQr0Rk6

— Chad Smith (@Smith44Chad) July 10, 2014