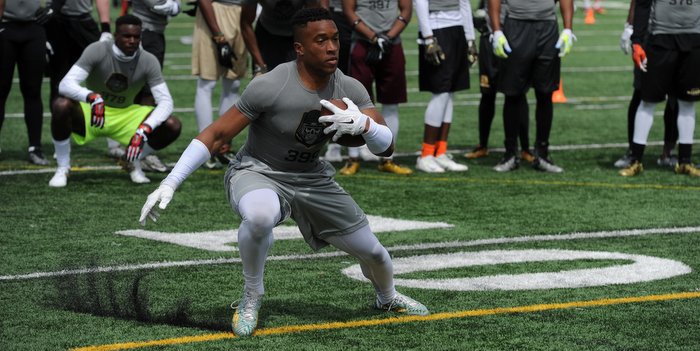 | | |
| --- | --- |
| The Opening Atlanta: Rodgers and Brice shine as "Clemson Connection" | |
---
BUFORD, GA – The "Clemson Connection" was the star of the show Sunday afternoon at Nike's The Opening Atlanta.
Clemson 2017 commits Amari Rodgers and Chase Brice connected on a beautiful pass late in the session, eliciting cheers from those watching the play, and I heard more than one person say, "Too bad Dabo Swinney wasn't here to see his Clemson Connection."
Rodgers and Brice earned Camp MVP honors at their respective positions, while Rodgers earned an Opening invite for later this summer. Brice was given an invite to the Elite 11 Camp later this summer in Los Angeles. All in all it was a good day for the Tigers on the camp circuit, and it started with Rodgers.
Rodgers walked into camp wearing an orange Clemson shirt with a big white Tiger paw in the middle, and he put everyone on notice that he was there to grab an Opening invite. One of the coaches for the defensive backs threw his hands up in the air after one route and screamed, "Can somebody cover this guy?"
The short answer was no. It was my first time really laying eyes on Rodgers in that type of setting, and I wanted to be impressed. I was. His leaping ability? Off the charts. His hands? Strong. Route running? Smooth. Can he create separation? You betcha. Speed? Like lightning. Yep, it might sound like I'm gushing maybe a little too much, but he was that impressive Sunday. Another showing or two like that and he'll get another star.
Brice was also impressive, one of the two most impressive quarterbacks we saw Sunday. The other was Georgia commit Jake Fromm. During the early drill sessions, Brice was praised by the coaches for being calm in the pocket and having the right footwork. Once the drills started, he showed good arm strength and decision making, especially when the skeleton work started. He also showed really nice touch on the deep ball, hooking up with one of the smaller receivers on a long touchdown that had both sidelines jumping up and down.
He later connected with Rodgers and told me after the camp that it was extra special to throw a pass to his future teammate. "I expect I'll get to do that a lot more," he said with a big smile. "That really meant a lot to me, getting to throw to him. It also meant a lot to me getting the Elite 11 invite, because that's what Deshaun Watson did. With both of us being Clemson guys, that means a lot to me."
We'll have more on the standouts in a second story, but for right now let's get through some notes and observations from the camp as a whole:
*One of the big topics of conversation was the addition of former Grayson High School head coach Mickey Conn to the Clemson coaching staff. Several Grayson parents were in attendance, and they couldn't say enough good things about Conn and the type of coach he is. The addition of Conn could be big because……
*Unlike in recent years, when Georgia maybe wasn't as big of a player as you would think at a combine so close to campus, the Bulldogs were a known presence Sunday. It was obvious from the numbers of players wearing Georgia gear and the number of players who did interviews that said Georgia was their leader or in their top group. New head coach Kirby Smart isn't going to make the same mistake as Mark Richt and let the in-state talent get away – he's made recruiting the Peach State a priority and it's already beginning to show.
Clemson has had a lot of success in Georgia in recent years, and it will be interesting to watch that battle and see who they can get with Smart in charge.
*Speaking of wearing team gear – Malcolm Askew was wearing Clemson gloves even though Auburn appears to be his leader. But wearing the gear wasn't limited to a few players – it was easy to tell the ones who were committed somewhere because they had shoes or hats (Brice had on a Clemson visor) and in some cases – all Alabama commits – entire outfits that consisted of Bama shoes, shorts, shirts, gloves, hats, jackets and windbreakers. The Crimson Tide was a known quantity Sunday.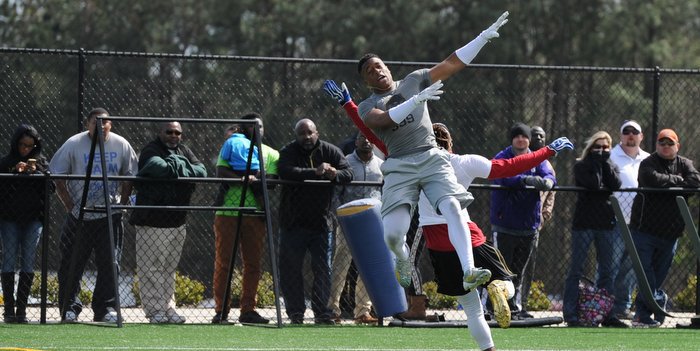 *Another interesting prospect who showed up sporting a purple sweatshirt with a big orange tiger paw was Zachh Pickens, the 2019 Anderson (SC) T.L. Hanna defensive end who recently visited Clemson and picked up an offer. Pickens owns offers from Florida St., North Carolina, South Carolina and Tennessee.
*Clemson target Jamyest Williams didn't participate in the drills – he was in a walking boot after having surgery to remove a bone spur. Williams was into every drill, however, and walked over to receive coaching when they were between drills. I told him I would like to see him try to cover Rodgers, and he said I won't have to wait long. "I am going to the combine up in Columbus when this heals," he said. "Then I am going to The Opening and when I get there, it's on between me and Amari. It's on. He is going to do great things for Clemson."
*You might think that an event like the one that took place Sunday at Buford High School is just for prospects and there parents but there were plenty of celebrities on hand. Georgia running back Nick Chubb took in the action from the stands. Cal redshirt freshman defensive tackle Russell Ude from Atlanta was in town and wandering around the sidelines. 2016 Southern Cal signee E.J. Price was also on hand Sunday. It was kind of weird not seeing him workout because last year at this time we were thinking Clemson might have a chance with the 4-star offensive tackle.
*The skeleton and 7-on-7 periods obviously draw the biggest crowds, but to me the most exciting part is watching the offensive and defensive linemen get after each other, especially when the All Star period begins at the end of each day. Both sides are super competitive and the coaches are always trying to give each side little secrets to help them defeat the other. At the end of the day, most of the linemen are only wearing pieces of what's left of their shirts because they've been torn to shreds during the competitive reps.

Upgrade Your Account
Unlock premium boards and exclusive features (e.g. ad-free) by upgrading your account today.
Upgrade Now