| | |
| --- | --- |
| The Man They Call Tootie: Tankersley making name for himself | |
---
| | |
| --- | --- |
| Monday, October 12, 2015 6:04 PM | |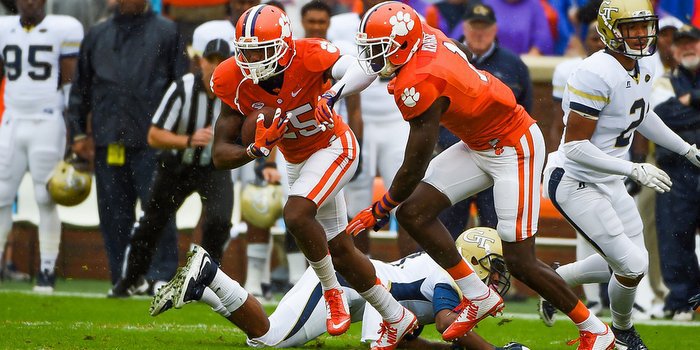 CLEMSON – The man they call Tootie goes unnoticed by most fans each Saturday, playing his position with a calm demeanor and a passion to prove he is the best. He won't talk postgame, and he rarely talks in the week leading up to a game, preferring to let his play on the field do the talking. He's also making a name for himself.
As each week passes, however, junior cornerback Cordrea Tankersley

Cordrea Tankersley
Jr. Defensive Back
#25 6-1, 195
Beech Island, SC
View Full Profile draws more and more attention and opposing teams and coaches have certainly taken notice.
The redshirt junior out of Beech Island, S.C., toils in the shadow of his more-recognizable teammate in Mackensie Alexander

Mackensie Alexander
RS So. Cornerback
#2 5-10, 189
Immokalee, FL
View Full Profile . Like Alexander, Tankersley prefers to focus on his craft and not the media, but after nabbing his second interception of the season Saturday against Georgia Tech he met with the media.
The man they call Tootie won't talk much, but when he does talk it pays to listen. In 281 snaps this season, Tankersley has 15 tackles, four passes broken up and two interceptions. Heading into this season, Tankersley had played just 158 snaps over 25 career games, and he told TigerNet Monday that he's thankful to finally have his opportunity to shine.
"It's big to get my full year. I just really want to focus and just stay humble, of course," Tankersley said. "I really just thought about talking to the media after the year just to reminisce on it. I want to just focus. Not playing drove me to just come out and help and compete. I call myself the sleeper of the team. I want to come out and help my team. I work hard every day. I want to be the best, as well, but I also know my role. I want to compete.
"It's been hard (waiting), but I must say that it's been worth the wait. I've been behind some really good players, but I had to be patient and be humble. I knew God had something in store for me, and I just waited for my opportunity. I want to make the best out of what I have now. I feel like I can be ranked in the upper level with those guys. I feel like I can play up to those guys' level, but other than that I want to be the best. I want to help my team and just compete."
Tankersley is a sleeper no more as teams try to shy away from Alexander. In five games this season, opponents have completed just three passes in 16 attempts, and he hasn't allowed a touchdown pass in his last 14 games over two years. As a result, teams want to try Tankersley's side of the field.
"I love it. I embrace it. Coach (Dabo) Swinney and Coach V ( Brent Venables

Brent Venables
Def. Coordinator / Linebackers
View Full Profile ) always challenge me, and I always accept their challenge. It's more fun for me. I have to build my rep up somehow," he said. "We just want to do our job. It's supposed to be like that. If the ball comes his way, he's supposed to make a play. If the ball comes my way, I'm supposed to make a play.
"We just want to be the best, and we want to prove to the country that no side is open. It's going to be locked down on both sides. That's what we really want to do. It makes me feel really good. I help my other corner, and he's made a name for himself. I just pretty much want to make a name for myself. To hear my name being called and to hear that I'm a good corner, that makes me feel really good, but I also feel like I have more to prove."
Tankersley then said he thinks he is part of the nation's best secondary.
"I believe so. We work hard. We want to be the best," he said. "We go up against the best every day in practice. We have a standard - no fly zone - and we want to live up to that, so our group thinks that we are the best secondary in the country."
Tankersley said he couldn't have reached this point without the support of his family – his father George, mother Ledean, sister Cidestini and brother Codarius are at every home and away game, even traveling to far-away places when they knew Tootie might not see a lot of playing time.
"I have great support, there's no doubt about it," he said. "They've been my support all of my life. They're the reason why I do it. I ball out for them. They keep me up. They pep talk me. They keep my head on straight. I've always been humble, so that's never been a problem, but I thank them for everything."
It was his older brother Codarius who gave him the name he goes by today – Tootie.
"When I was born on November 19, 1993, that's the first thing he said when he saw me. He 's like, 'Tootie, Tootie, Tootie,' and my mom started calling me that, so ever since then that's what I've been called," he said with a laugh. "They should've just put it on my birth certificate, but that's where I got my name from. I cherish it. Me and my brother are really close. I love him to death. I have no idea why he said Tootie. Still to this day, I don't know. He's a year and ten days older than me. I don't know how he came up with the idea. I guess he was just happy that I came into the world."
The man they call Tootie is making a name for himself.