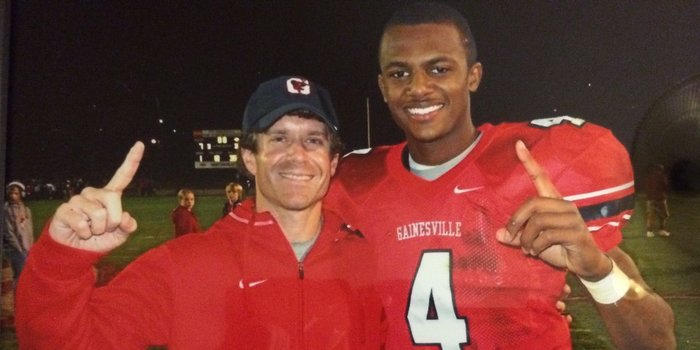 | | |
| --- | --- |
| The Making of a Quarterback: Early lessons helped mold Watson | |
---
Deshaun Watson has at least one and hopefully two games left in his Clemson career, and then he'll be off to the National Football League.
Michael Perry will enjoy every second.
Whenever talk of Watson's decorated high school career begins, the attention invariably turns to longtime Gainesville (GA) head coach Bruce Miller. Writers and sportscasters seek out Miller in the hopes of learning a little more about Watson and how a spindly freshman grew into the nation's best quarterback.
But when we talk to people who have been around the Gainesville program and ask about the coaches that actually had the most to do with Watson's development and meteoric rise, one name invariably came up: former quarterbacks coach Michael Perry, who is now the offensive coordinator for Coffee County.
Perry is the one that taught Watson to watch film, we were told. Perry is the one that spent countless hours in the playbook with Watson. Want to know why Watson is the player he is today? Talk to Michael Perry.
So we did.
Perry doesn't mind talking about his star pupil, and he said he first laid eyes on his future quarterback when Watson was just a child following in the footsteps of his older brother.
"The first time I ever met him was when I was in high school. Me and my twin brother were working on this summer camp and his older brother, Detrick, must have been middle school age and Deshaun was like seven or eight," Perry told TigerNet last week. "He didn't say a word, but that day we had them come over, and we played football with them in our back yard. I don't think Deshaun ever said a word the entire time we hung out. Detrick was a really good athlete, too. My twin brother was the middle school head coach years ago, and I started working with him in 8th grade."
A few years later, Perry became Gainesville's quarterback's coach and was there when a young Watson walked through the door.
It didn't take Perry long to see what he had in Watson, and Perry endeavored to make sure that Watson's talent didn't go to waste.
"The first time I became his quarterback coach in high school, I gave him a notebook with everything we were going to cover," Perry said. "I told him, 'Man, you have a talent. If you work as hard to match your talent, you're going to be the Peyton Manning of GHSA.' There is no telling how many times we met - every Monday - Thursday from February through football - we'd watch film. He'd come early in the morning to watch film, and we'd have our plays on how we would attack them. One thing that helped us too is that we were playing so fast, defenses couldn't do a whole lot. It's really easy to spot a change really quickly.
"I knew he was different, just the way he carried himself, even at such a young age. He was so much more mature than all of his peers. I knew he was going to be good. You never quite expect him to be a Heisman Trophy finalist, but I knew he was going to be good."
Winning the job
Watson wanted to be the starter for the Red Elephants, and he began building his case the summer before his freshman year.
"He's super smart, super intelligent. I knew his freshman year. How he conducted and handled himself. I remember specifically being at a summer camp. It was a full-contact camp," Perry said. "We were going against some of these South Georgia teams that were loaded and had multiple D1 players. He was competing for the job as a freshman for the Varsity quarterback spot. We had some older guys that clearly got a little 'deer in headlights' look. Deshaun wasn't scared at all. He went right in there and got tattooed. He didn't blame his lineman or complain, he just got up and was ready for the next play and didn't pretty well too."
Perry quickly realized Watson would learn everything thrown his way, so the two began meeting as often as possible. Perry wanted to take the raw athlete and turn him into a superior athlete, and he wanted to turn the prideful but quiet young man into one the community could be proud of.
"I would start with a little devotional because there is a lot more than just football that I try to instill in these kids. That's why I do this," Perry said. "After that, we would go, and we have our coverage for the day. We would talk about the strength and weaknesses of the defenses coverage. Our quarterbacks in my system, if they see a void in the defense, then they can check to a play. That doesn't mean they check to a play if their best buddy is playing receiver. It means, if they are in cover three, alright, we're going to attack the seam right now.
"I just can't tell you how proud I am of him. The biggest thing I'm proud of is what a role model he's been. You see all of the time these star athletes getting into all kinds of messes and everything, but Deshaun has been a stellar representation and a great role model for a bunch of kids out there."
Dealing with his mother's health and senior season
Watson's mother, Deann, developed cancer of the tongue during his sophomore season of high school. Deann had to take treatments in Atlanta, treatments that meant an extended stay away from her family.
Watson kept his emotions in check while his mother recovered.
"You could tell it was bothering him because he loves his mother to death," Perry said. "But, he wasn't going around and talking about it in front of people. He doesn't let his emotions out really. He keeps everything to himself."
Watson honored Perry during his senior season.
"I remember it was his senior year. My mother was the cheerleading coach at the high school at the time. She had breast cancer earlier," Perry said. "It was October when they do the Pink Out. We came out with the pink eye black, and he had my mom's name on the eye black. He never told me he was going to do it. It meant a whole lot to her and to me and my twin brother."
Watson never stops showing his appreciation to Perry.
"I'm down here as the offensive coordinator at Coffee High School, and my team made it to the third round, and that's the farthest they've made it in a long time," Perry said. "He sent a video message to my team and right before we went to play he called my quarterback and was giving him words of encouragement. He came up to me and was like, 'Did you get Deshaun to call?' And I said, no, because I hadn't and he said, 'He just called me!' It means' so much to that kid, and he doesn't even know that kid. No one told him to do that, but that's just the type of kid he is. This was right before the ACC Championship too, so he's kind of busy, but he takes the time to do stuff like that."
The Heisman and Pride
Perry said he tries to watch every play when Watson is on the field, and the two are in constant contact.
"I text him every week, and we talk on the phone. Mainly in a text," Perry said. "It's definitely pride. It's hard to explain. You almost feel like you're living and dying on every play also. I worry about when he gets hit. It still gets me every time he adjusts his knee pad, 'Oh God he's hurt.'"
Perry watched with pride and emotion when Watson was picked as one of the five Heisman finalists earlier this month, and he saw the hurt register in Watson's eyes when Louisville's Lamar Jackson was picked as the winner. Then, old lessons began to take hold.
"I think the biggest thing is the roller coaster ride that is playing quarterback. There are going to be moments when all of the adversity sets in, and most kids can't handle it," Perry said. "It snowballs. Something we always talked about was 'snap and clear.' It's one play at a time, and all that matters is the next play. Anything in the past, whether you just threw a touchdown or interception, it doesn't concern you. It's all about the next play. That's something we always harped on with him. And, then, what it meant to be the quarterback. All eyes are on you. You represent the whole program."
He knew that not winning the Heisman Trophy would only serve to fuel Watson's competitive fire.
"You don't seem him rattled. You never see him rattled," Perry said. "After watching that night, I saw that look in his eye, and I just thought, 'Welp, that's the worst thing that can happen to Ohio State and Alabama right there.' The bigger the opponent, the bigger stage, that brings out the best in him. I can't wait to see him. He's going to go off on them."

Upgrade Your Account
Unlock premium boards and exclusive features (e.g. ad-free) by upgrading your account today.
Upgrade Now