| | |
| --- | --- |
| The Latest from Miami - players and coaches speak out | |
---
| | |
| --- | --- |
| Saturday, October 24, 2015 8:01 PM | |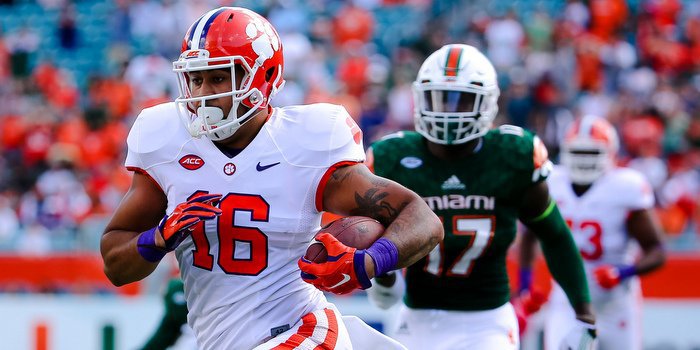 MIAMI GARDENS, FL – Quotes from Clemson's players and coaches and Miami head coach Al Golden following the Tigers' 58-0 win over Miami Saturday afternoon in Sun Life Stadium.
No. 6 Clemson moved to 7-0 on the season, including 4-0 in the ACC. Clemson plays at NC State next Saturday in a 3:30 matchup. The Wolfpack improved to 5-2 (1-2 in the ACC) with a 35-17 victory over Wake Forest Saturday in Raleigh.
CLEMSON HEAD COACH Dabo Swinney
Opening Statement
"Obviously an awesome, awesome win for our guys. Complete performance, all three phases. I'm really proud of our team. It was one of those games where it all went our way. Our guys were ready to play, they were dialed in, and I just could not be more pleased with all three phases and how they came together. A lot of big plays…I have to go back and look, but I don't know if I've ever been part of a game where we rushed for 400-plus yards. I think we rushed for 415 [yards]. Hats off to the offensive line, Coach Caldwell and our backs, tight ends and receivers blocking down the field.
"We wanted to start fast and get control of the game early. That's what happened. Coming into the game, they led the nation in turnover margin. [Brad] Kaaya only had one interception. We needed to create some momentum with some turnovers, and we were able to do that – I think we were plus-two in the turnover margin, picked him off early, which was big by Jadar [Johnson]. Huge play in the game. Obviously we were able to affect them with our rush. Just a great day. They're a pass-first team – that's what they do, they throw the football. Coming into this game, they led the league in pass attempts and all that stuff. I think they threw for less than 100 yards. Just a tremendous perfor- mance by our defense. Hats off to those guys. Offensively, we were really kind of hitting on all cylinders. On special teams when we punted, we were very, very good. Kickoff coverage was very sound all day. Just a complete game, and one we're really happy to get. We wanted to play better on the road than we did last time, and we did.
"For us, it doesn't get any easier. Heading northeast next week to take on NC State. I think they had a big win today. Tough place to play, we know that, another tough road game for us. We'll enjoy this ride home tonight, and this win tomorrow, and get back at it Monday for the biggest game of the year versus NC State next week. I'm proud of our guys, I think we came out of it pretty healthy. A lot of you guys might be wondering why Deon Cain didn't play – I sat him today. He could have played. Just sometimes, it's good for some of these young guys…it's just part of the process. Sometimes everyone needs a little attitude adjustment every now and then. Sometimes it's good for them to stand over and see that you can win without them. He's a good kid. I love how he responded. I don't think I'll deal with that anymore. He'll be dialed in and ready to go Monday and back at it. It was just my decision not to play him. That was my decision on that. Injury-wise, I think everyone is good to go. Just an absolute incredible performance by our guys.
On the halftime meeting on the field
"This is one of those places where you got both teams crossing and all that stuff. It's not a good set-up, to be honest with you. I was in the locker room, but supposedly we had a little chippy-ness earlier in the game. It seemed like we were kind of losing our focus a little bit. It's one thing to play with emotion – this is a game of emotion – but it isn't okay to be emotional. We have to channel that the right way. I felt like we needed to get refocused on who we are and the way we do things at Clemson. I'm not about all that stuff. Just trying to let them get off the field, clear out and let's refocus and get ready to play a second half. Obviously everything went our way in the first half, and the last thing I wanted to do was come out and play sloppy in the second half. I was really pleased with how we continued to play well. Probably the best thing in this game was the message, I knew we were going to get some guys in the game, and the message to those guys was, 'Prove to us we can trust you. You know you want to play. Prove to us that you're paying attention and ready to go.' Some of those backups went in and guys that hadn't gotten a lot of playing time, but knowing what to do and going out there and executing, that bodes well for us as we continue to move forward."
On the offense starting 4-for-4 with touchdowns
"That was a pretty flawless roll of drives right there, for sure. The guys executed. Very clean, I don't think we had any penalties. You don't get to be a part of many of those like that. You're always trying to coach a perfect game. We still have a lot to coach from this game, but I'm really proud of our guys for the execution. It's a game of execution. They were pretty precise in what we were doing those first few drives."
On how the team responded to the noon kickoff on the road, and if he was concerned
"No. We don't spend any time worrying about that."
On how his team has been able to successfully handle the mental aspect of the game
"That's just what we do. We try to prepare each week - I say it every week - as if it's the biggest game of the year, as if it's the only game of the year. It's a one-game season. That's what we talk about. We try to keep a windshield mentality – it's not about what's behind us. You can always learn from what you've been through, but it's really about what's directly in front of us. When you have that mentality, you're more consistent. That's just who we are. That's what we do. We don't spend al ot of time talking about the opponent. We try to prepare the same each and every week. We have a very systematic approach to it. With our guys, the biggest thing is they believe in what we do. They've bought into it. And we're being led from the front. We have a group of veteran guys that are serious about being the best they can be, in whatever that is. Right now, we could be 12-0. But you can't be 12-0 until you win eight. I think our guys understand that. That's all they're dialed in on, is, 'Let's not have any regrets.' We have about 35 days left in the regular season. Let's put everything we've got into each and every day, because they're all critical. When it's all said and done, let's just look up and see what we got done. It's easy to get distracted, especially in today's world. Our leadership on our team deserves a lot of credit."
On the pregame scuffle between the two teams
"To be honest, I don't even know how it started. I knew something was going to happen, just had that little vibe. We were just a lot of "big thing" talking. That's just what it was."
On if the scuffle helped provided extra motivation
"It got us hyped. Going out there, you can't talk all day. It's about performance. We did all that stuff, that's good, but we came here and were focused. We just went out there and did our thing."
On if either team started the interaction
"We don't talk. We don't need to talk. There's nothing to talk about. They got mad at us. It happens. We knew it was going to happen. I thought it was fun, going at it. That's something you're just going to look back on."
On the thought of returning to Sun Life Stadium for a College Football Playoff game
"That's going to be great. Hopefully we get there. But we have to take care of business before we talk about it."
On improvement of WR Charone Peake
"Charone's been quietly improving and making plays. Probably the biggest play he had was the pancake block on one of their top corners. He had the guy on the ground and Deshaun [Watson] took off."
On the offense
"We've got a really good combination of older guys with experience and really good youth. To see those guys mixing the way they are, I think it's a big reason we're having the success we're having."
On reserve players making plays
"I loved getting those guys the experience and they went out and played well. They're going to feel great when they get on the plane. It was neat to see them get in there and have some success."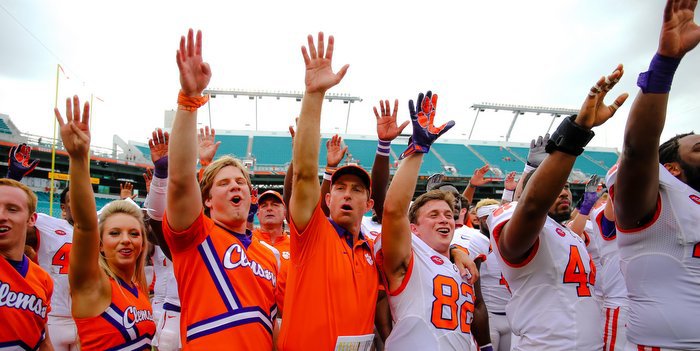 On Miami quarterback Brad Kaaya and Miami offense
"It was a big challenge, defending a team that throws the ball really well. Kaaya is a terrific player. They play with a lot of precision offensively. We hadn't necessarily displayed anything on tape that would scare them because we hadn't seen a lot of really good throwing teams yet. This was a real challenge."
On Miami being aggressive early on offense
"Turnovers are hard to get. It was a complete performance. Miami's performance when they got down big was to continue to be aggressive. They came out slinging right before the end of the half and we picked them off and scored. If you want to be elite, that's what you do. To get a shutout against a team that has quality players, anytime, it's pleasing."
On the victory
"I've never seen anything like that, never participated in it either. At the end of the day, we really just did our jobs. We're going to build off this for next week."
On Coach Swinney's message right before halftime
"He just wanted to make sure we were playing Clemson football. We weren't going to get into the arguing and bickering and any type of fight. Being down at home is kind of embarrassing and we knew they were going to try and provoke us and do different things so we wanted to make sure we could handle our own and be good people."
On if the players were focusing on 400 yards rushing
"We were at 355 with about six minutes left and that's when we started keeping track. We were really excited to get that done. It hasn't been done here since the 2000's.
On if he heard Miami was expected to upset Clemson in this game
"Shout out to ESPN, giving us props every week for being underdogs. I love hearing it. It keeps us fired up. The disrespect has really fired up this team."
MIAMI HEAD COACH AL GOLDEN
On how he explains the result
"We got beat from top to bottom. They outplayed us, they outcoached us. I just told the team, that's completely my responsibility for not getting them ready to play. They just beat us soundly, in every facet of the game, period."
On the problems Clemson's defensive front presented
"We knew going in how strong they were. We didn't run the ball effectively, and we didn't protect well enough –we got one quarterback knocked out, and the other one knocked around. What we thought they were going in the game – deep, strong, physical – and they outplayed us."
On if he sensed any lack of readiness amongst the players
"No. Absolutely not. I thought they really invested, I thought they had a great week. They practiced really well. We got beat from the start by a really good football team and we didn't answer. There was nothing in the week... I check with the staff every day, I check with the leadership. There was none of that. We're not that kind of team, where we cannot be on edge, and compete, and be focused and be ready to go. I thought we had a really good week. We just got beat soundly by this team."
On if the team had the fight he was looking for in the second half
"I think there are a lot of guys that fought. The biggest thing for our guys, as I just told them, we have a five-game playoff now. They're all divisional games. We have to move on. This was terrible. We cannot let it beat us tomorrow, or the next day, or next week. We have to move on quickly."
On the penalty yardage incurred by his team
"It's my responsibility. We're still getting the 15-yard variety. Just inexcusable. Intolerable. Most of them are selfish in nature. We helped them. We helped a really good football team today."
On the status of QB Brad Kaaya for next week's game against Duke
"I don't know. The good news is, he and Rashawn [Scott] are good, in terms of health and everything. But it's too early to evaluate where they're at for next week."