---
| | |
| --- | --- |
| Monday, June 16, 2014 9:27 AM | |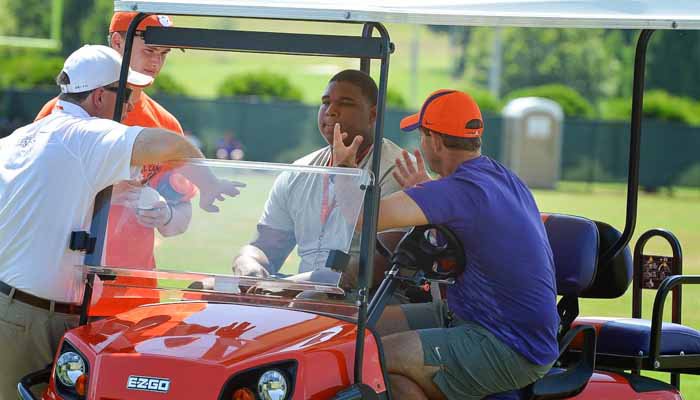 Chad Smith

Chad Smith
Outside Linebacker
6-4, 215
Sterling, VA
ESPN:


View Full Profile , Clemson head coach Dabo Swinney

Dabo Swinney
Head Coach
View Full Profile , recruiting coordinator Thad Turnipseed and 5-star defensive tackle prospect Tim Settle

Tim Settle
Defensive Tackle
6-3, 305
Manassas, VA
ESPN:


View Full Profile sat on a golf cart in the middle of the Clemson practice field Saturday afternoon, engaged in what looked to be a serious conversation.
The conversation left Smith, the 2015 Clemson linebacker commit out of Sterling (VA) Dominion, in awe as Swinney covered a number of topics with the two players. Sitting side-by-side with Settle in the front of the cart as Smith and Turnipseed stood by, Swinney delivered a heartfelt talk that Smith says separates Swinney from other head coaches.
Smith made the trip down from Virginia Saturday with Settle, his brother, his father and offensive line prospect Matthew Burrell

Matthew Burrell
Offensive Tackle
6-5, 305
Woodbridge, VA
ESPN:


View Full Profile to work out at Swinney's high school camp, and both Settle and Smith worked out in the morning session. During the afternoon session, Swinney pulled both players aside and gave a talk that Smith says he will remember for a long time. While he didn't want to get into the specifics of the conversation – and I agree that those should remain private – he said it made him realize that Clemson is the right place to be.
"That was very moving. It was real. It was reality. It was a great talk," Smith told TigerNet Sunday afternoon. "Just being able to talk with Coach Swinney and hear his pitch blew me away. I'm sure it did Tim as well. It was awesome to be a part of that and hear from him. It really hit home with me that I picked the right spot. I'm truly blessed to have the opportunity to play for Clemson and such a great coaching staff. I'm really looking forward to it."
He did say, however, that there were life lessons involved.
"You don't hear that too often. There are very few head coaches - I believe - that will give that type of life lesson in the recruiting world and use recruiting as an example," Smith said. "A lot of coaches get caught up in the business side of football and college because there is a business side when you get to college. They get caught up in that. Guys that are looking to play football for a university are teenagers looking to have an opportunity to play at a top-notch college and they are trying to sort out which one best fits them.
"Some coaches tell kids what they want to hear instead of what they should hear and what they need to hear. They tell it how it really isn't sometimes instead of how it really is. It was really awesome to be a part of that and hear that from him. Coach Swinney has really made me realize that he is a special coach and a special human being. I really am blessed to be able to play for him next year."
Smith also said that the caliber of recruits that are being brought in make him realize that Clemson is about to go on a special run.
"Most definitely. I knew that the minute that I went down there for the junior day that this was something special that they're building up," he said. "I wanted to a part of it. The class that they're putting together is looking like it could be the best that Clemson has ever brought in. You definitely get that feeling that you're a part of something special - just being able to visit down there, talk to some of the other recruits and realize that the guys that they're bringing in are top-notch players."
He then said that the weekend was a success.
"It was great. Bringing down some of the recruits, my brother and my dad, it was a great experience. I really loved it a lot," he said. "I wouldn't say it reaffirmed my decision - it was firm either way - but I just had a great time down there being able to associate more with the players and talk with them. Getting an opportunity to hang out with them and spend time with them and talk to the majority of the coaching staff. It was the first time I've been down there since I visited them as an uncommitted recruit. It was just an awesome feeling to go down there as a committed Clemson Tiger and be able to experience the atmosphere as one of the future Tigers for the university."
Spending time with current players was a highlight.
"I'd say hanging out with the players and being able to talk with Stephone Anthony, Vic Beasley, Ebo [Ebenezer Ogundeko] and all of those guys. Just being able to talk to them and talk to Coach Swinney and Coach Venables," Smith said. "Just being able to be around them as a guy that's going to eventually go there and actually be a part of that program, it was just awesome to do and I really enjoyed it. I'm really glad I was able to get down for a visit."