| | |
| --- | --- |
| The Boys Are Back in Town | |
---
| | |
| --- | --- |
| Wednesday, March 5, 2014, 10:54 PM | |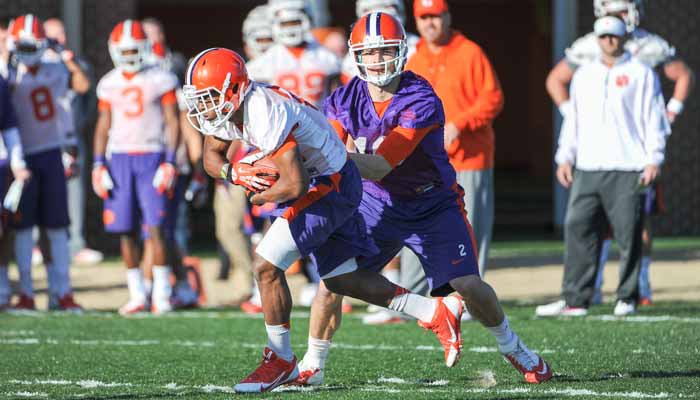 CLEMSON – As the 2014 Clemson football team took the field Wednesday afternoon for the first spring practice, "The Boys are Back in Town" was blaring over the loud speaker at the indoor practice facility.
That can only mean one thing – football is back, at least for a little while, and Clemson head coach Dabo Swinney

Dabo Swinney
Head Coach
View Full Profile was pleased with his team's first day of spring practice.
"Good energy out there today," Swinney said after practice in the indoor practice facility. "We have the makings of a good team, but we aren't there yet. It's the first day, but you've got to start somewhere. Now we've got something that we can take back to the film room and look at this year's team. We've been looking at last year's team for a long time. It's a good start for a lot these guys."
The major topic of conversation during and after practice was seeing freshman quarterback Deshaun Watson

Deshaun Watson
Fr. Quarterback
#4 6-3, 190
Gainesville, GA
View Full Profile sporting the retired No. 4 of Steve Fuller, but Swinney said that the agreement to bring that number out of retirement was made last spring.
"That's been set since last May. Obviously, he was number four. It's something that Steve and I talked about last May over dinner," Swinney said. "We play in a golf tournament together, so I get to spend three days with him every year and we always have a lot of fun. It came up in conversation and I asked him if he had a problem if Deshaun brought his number out of retirement. I told him that it would be really cool to have a Steve Fuller patch on the jersey. Every time Deshaun practice and every time Deshaun Watson plays in his career, Steve Fuller is being honored. It has been a long time since Steve Fuller played at Clemson, so it's cool to give up recognition for the things he did. He was a phenomenal player and set a standard for that position and for that number. It was his call and we are very appreciative that he decided to do that."
With the topic of Watson coming up also brought the discussion of Clemson's quarterback battle, and offensive coordinator Chad Morris

Chad Morris
Offensive Coordinator / QBs
View Full Profile said that he is excited to see what Cole Stoudt

Cole Stoudt
Sr. Quarterback
#18 6-4, 205
Dublin, OH
View Full Profile , Chad Kelly
Chad Kelly
RS So. Quarterback
#11 6-2, 210
Buffalo, NY
View Full Profile and Watson can do.
"I love it. I'm excited. I really am. I'm excited for these guys," Morris said. "I'm excited to watch them. I'm excited to see them grow. Every play means something. Everything they do means something. I am excited to see how it all turns out. It was a good first day, but that is all it was, a first day."
However, Morris said that the quarterback position won't be won or lost during the first few days of practice.
"Be the same guy every day, be the same guy," Morris said. "You aren't going to win the job the first day, or the second day or third day. You're going to have great days. You're going to have really bad days, be the same guy every day. I mean your approach to learning, your approach to play. The last thing that anybody wants to deal with is a guy that's real high and the next day he's real low. I think we've all been around people like that. You don't know what kind of personality that you're dealing with. Be the same guy every day. That's my advice. Be supportive of each other and be the same guy every day. If you'll do that, the consistency will win out in the end."
Other news and notes
* Swinney on Kalon Davis

Kalon Davis
RS Sr. Offensive Guard
#67 6-5, 330
Chester, SC
View Full Profile ' transformation
"He has changed his body composition. It's not as much about the weight as it is about the muscle mass," he said. "Lisa Chan does a great job with our nutrition with these guys. They are constantly in the bod pods and they are studying those things. Kalon has done a fantastic job. He is a big man, but he can move. I'm really proud of him for how he has changed his body. He's really cut his body fat. He's still a big, heavy, strong dude."
* Swinney on the depth at linebacker
"At SAM, if we get into some nickel stuff, it's going to be Korrin [Wiggins]," Swinney said. "Travis [Blanks] isn't here right now, but he's going to move back up to that spot. So it will be him, Korrin, T.J. Burrell

T.J. Burrell
RS So. Linebacker
#41 5-11, 215
Goose Creek, SC
View Full Profile , Dorian O'Daniel are the main guys right now. If we were playing somebody today that was a 21 personnel type team with a tight end on the line, we would probably move B.J. [Goodson] over there or somebody with a little bit more size.
"[Ben] Boulware will cross-train at MIKE and WILL. Tony [Steward] is at WILL and Stephone [Anthony] is at MIKE. Kellen [Jones] is also capable of playing MIKE and WILL, but he's not going to do any contact this spring. He's doing good and looks good with his rehab. Dorian O'Daniel could probably slide over and play some WILL for us, too."
*Morris detailed what he saw out of his running backs.
" Wayne Gallman

Wayne Gallman
RS Fr. Running Back
#9 6-1, 195
Loganville, GA
View Full Profile is a guy we are expecting big things out of," Morris said. " Zac Brooks

Zac Brooks
Jr. Running Back
#24 6-1, 185
Jonesboro, AR
View Full Profile , it's his time. He is healthy. D.J. Howard

D.J. Howard
RS Sr. Running Back
#22 5-11, 195
Lincoln, AL
View Full Profile is obviously a veteran. Out of all the positions we have, that is probably the deepest we have. But everybody looks like an All-American in pads and shorts."
*Morris said the Tigers also have to run the football better this season.
"We have to be a more run-oriented football team," he said. "We hope to have that. I think we can all agree we got absolutely all we could get out of Hot Rod McDowell. For him to rush for 1,000 yards was amazing. But now we have depth and we need to run the football better."
*Morris said that offensive lineman Tyrone Crowder

Tyrone Crowder
RS Fr. Offensive Line
#55 6-2, 325
Marston, NC
View Full Profile looked good at times, but still has a long way to go.
"There were some times we had to point, and tell him what direction we are going," he said. "He is just a young guy, but he will get better."
*Morris visited Auburn earlier this month, where he met with Auburn head coach Gus Malzahn. The focus? Running the football.
"They ran the ball as well as anybody in the country," Morris said. "There are some things they do that are real similar to us. But in the end it comes back to basic fundamentals of blocking up front and working hard. We may only get 60 percent of the offense this spring, but we are going to get good at what we do."