---
| | |
| --- | --- |
| Friday, September 4, 2015 6:46 PM | |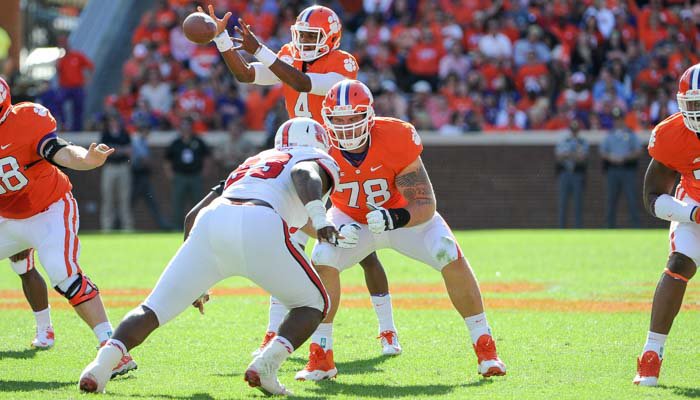 CLEMSON – At some point Saturday afternoon, the Death Valley crowd will be at full throat cheering on the Tigers in a big situation and Wofford's defense will have to try and find a way to stop the offense and put pressure on quarterback Deshaun Watson

Deshaun Watson
So. Quarterback
#4 6-2, 207
Gainesville, GA
View Full Profile . It's at that point that freshman left tackle Mitch Hyatt

Mitch Hyatt
Fr. Offensive Line
#75 6-6, 285
Sugar Hill, GA
View Full Profile will have to clear his head and trust Eric Mac Lain

Eric Mac Lain
RS Sr. Offensive Tackle
#78 6-4, 315
Hope Mills, NC
View Full Profile .
Hyatt will be the first true freshman to start the first game of the season at left tackle since 1944 when Phil Prince started the opener against Presbyterian. Since 1946, only one true freshman has started in the offensive line over the course of the season. That was Barry Richardson

Barry Richardson
Offensive Tackle (2004 - 2007)
#79 6-7, 330
Mt. Pleasant, SC
View Full Profile in 2004, who did not start the opener, but started seven of the 11 games that year.
Hyatt's job might be the most important on the line because he protects Watson's blindside, and he'll have to trust and communicate with Mac Lain in order to keep Watson upright.
"It's vital, especially on that blindside. If me and Mitch aren't on the same page, bad things are going to happen, but that's something that has rarely happened in camp," Mac Lain told TigerNet earlier this week. "Off the top of my head, I can think of maybe two times that I can think of in camp, which is pretty good when you have a true freshman out there. He's done a great job of evolving in this offense and really making it his own baby."
Mac Lain said communication with Hyatt will be at the top of the list, and the two have a checklist they have to go through prior to the snap.
"The first thing we do is look at where the defensive linemen are," Mac Lain said. "They kind of give away little tendencies of what they do - they're a little bit heavier on a guard or a little bit heavier on a tackle, or they might be slanting inside. From there we go to linebackers and base it on their depth. If there's a guy outside or not a safety stacked of him, then he's probably not going to come. There are a lot of different nuances when you're looking at various defenses, but usually they're given away pretty easily."
Mac Lain said calling out the protections is up to the linemen, but Watson has the ability to make a change if he sees something.
"Based on blocking and protections, it's all up front with us. Now, if Deshaun sees something he doesn't like he can flip it or change something, but we make all of the calls," he said. "It's expected of everyone to make a call. If we look on film and don't see all five of us give a sign or at least everyone says that they called it out then it's going to be a problem in the room. We all do a pretty good job of calling it out."
Despite the learning curve, all of the freshmen have impressed Mac Lain with how quick they've picked up the nuances of playing on the line.
"It's been incredible how fast they've picked it up. Jake (Fruhmorgen), Mitch (Hyatt), Noah (Green) and Zach (Giella), they all did a really good job throughout camp of developing into the offense. It maybe took a week for them to get all of the calls down, which is great. It really speaks to the simplicity that we've changed this offense to. We're ready for Saturday."
Mac Lain said he's ready for Saturday, and he trusts Hyatt.
"The amount of adversity and things we've been through throughout camp, maybe there's a slip here and there, but we work it out. There's no question that I have his back, and he has mine," Mac Lain said.
Getting to know the offensive line according to Mac Lain
Hyatt's demeanor
"He's a very approachable person as a teammate, but if he's not comfortable with you or know you from Joe he's probably going to be a little less talkative and keep to himself. You kind of like that in a young guy when his eyes are wide open, and his mouth is shut. He's really been taking it all in and doing the best that he can."
The comedian of the group
"It's probably Jay Guillermo

Jay Guillermo
RS Jr. Center
#57 6-3, 324
Maryville, TN
View Full Profile , and I think a lot of people probably know that. He's a comedian in the locker room and does some pretty funny stuff."
The most serious
"It's probably Mitch or Ryan [Norton]. Both of those guys are pretty down to earth and pretty quiet and keep to themselves."
The meanest
"Probably Taylor Hearn

Taylor Hearn
RS Fr. Offensive Line
#51 6-4, 319
Williston, SC
View Full Profile . He's out there trying to hurt people every single play, which we love. He'll definitely get after it."
Best pass protector
"I would say from a kick slide standpoint, it's probably Jake. He has the prettiest kick that I've ever seen in my life. I know I said that numerous times before he got here, and now it's just been solidified when I see him out there doing it against division one athletes."
Road grader
"I think Ryan. He gets after it. He's been an offensive lineman since he could walk and his coach in high school emphasized finishing the block to the ground, so I think Ryan tries to get after it as much as he can."