| | |
| --- | --- |
| The Battle To Gain Weight | |
---
| | |
| --- | --- |
| Sunday, August 3, 2014 6:58 AM | |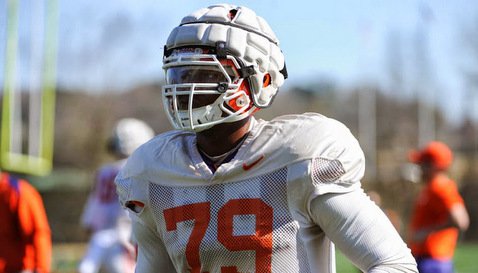 CLEMSON – Isaiah Battle

Isaiah Battle
Jr. Offensive Tackle
#79 6-6, 280
Brooklyn, NY
View Full Profile has a problem that most people would love to have. No matter how much he eats, no matter what he eats and how many times he eats in a day, it's almost impossible for him to gain weight.
Battle is projected to be Clemson's starting left tackle this fall, a position he has been groomed to play over the first two seasons of his career. Battle has logged 512 snaps in 15 games (four starts), but inconsistency and a punch thrown at N.C. State last season that led to a suspension have hindered his progress.
Over the summer, offensive line coach Robbie Caldwell

Robbie Caldwell
Assistant Coach / Offensive Line
View Full Profile said that while Battle has overcome his bad habits and turned into a player the coaches think they can trust, he was worried that Battle wouldn't gain enough weight to turn into the monster left tackles they've envisioned. As a result, Battle has waged a battle to gain weight.
Saturday night, Battle told TigerNet he checked in at a robust 288 pounds thanks to his eating habits.
"Just eating every night, going to sleep early, eating three peanut butter and jelly sandwiches every night. Just trying to stay consistent on my diet every day," Battle said. "I weighed in at 288 today. It's a work in progress, but it's coming along. I eat three plates of breakfast, lunch and dinner every day. Snacks. It's crazy, but it's a process. I've got to do what I've got to do. Whatever we have, I just stack on it."
Battle said that while most people would enjoy being able to eat all day and not worry about adding flab, eating all of the time isn't something he enjoys.
"Not really. Not when you're full to the max and you keep stuffing yourself," he said. "I've always had a problem gaining weight. I went to the doctors and everything but I just have a high metabolism. "
As a result, he might not hit the goal the coaches have set.
"They want me at 315, but my goal is 297 when the season starts," Battle said. "I'm going to gain it. It's coming. The highest I've ever weighed in at is 297. It's summer. It's a lot of conditioning and agility work. It's hot, so I lose a lot of weight."
How does he plan on getting to 297 pounds? Even more eating.
"Just keep piling on. After I leave here, you'll see me with at least three plates," he said. "A lot of carbs. A lot of protein – meat."
We asked Battle if he or the nutritionists were concerned that he would be adding the wrong kind of weight, and he just smiled and said that the NCAA's new rule that allows for schools to provide unlimited meals has helped in his battle to gain weight.
"Honestly, nothing has gone wrong. I try not to eat bad foods – like McDonald's fast foods – but it really helped out when the NCAA passed that we can have three meals a day," he said. "It really helped and I'm going to take advantage of it. I was excited because now I don't have to eat fast food. That was the best decision they ever made. We've got nutritionists so they make sure every meal has protein, carbs and everything to stack on. They give me a sheet of what I should eat to gain weight."
Now that he is putting on the required weight, Battle feels like he can concentrate on being a starter and a leader.
"It feels good. I waited my time. I put in the work," he said. "It feels good to lead the team and give them things that I learned from other players."