| | |
| --- | --- |
| The 2016 Schedule: Friday, Thursday and more | |
---
| | |
| --- | --- |
| Tuesday, January 26, 2016 9:33 PM | |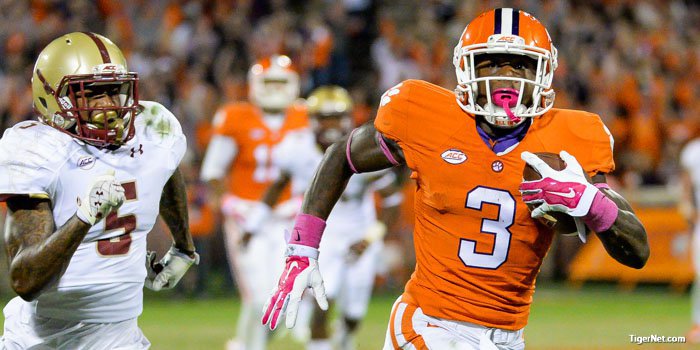 The Atlantic Coast Conference released the 2016 football schedule Tuesday afternoon, and while many fans will look at the Florida St. game or the opener at Auburn, it's a four-game stretch starting in September that caught my attention.
The schedule – at first glance – works out well for the Tigers. There are no back-to-back road games and no long layoffs. Despite the fact that many people said the 2015 schedule worked out in Clemson's favor – and in many ways it did – the 16-day layoff before Notre Dame wasn't optimal. However, the schedule was front-loaded with home games as Clemson played five of the first six in Death Valley.
That meant that seven of the last nine games were played either at another school or at a neutral site. That's a lot of time on the road. The 16-day window – caused by a bye week after a Thursday night game at Louisville – also meant Clemson didn't get a week off from Sept. 17th until Dec. 6th, the day after the ACC Championship Game.
The shortest gap between road games this season – at least until the post-season – is the 15 days between the Sept. 22nd game at Georgia Tech and the Oct. 7th Friday night game at Boston College.
The Tigers open at Auburn and follow that with home games against Troy and S.C. State. We went through that a week ago – it's a solid chance to get a win on the road followed by two teams that are very beatable. Then comes that stretch – at Georgia Tech on a Thursday, at home against what should be a better Louisville squad, a Friday night trip to Boston College followed by a home game against N.C. State.
All four games Clemson should be favored to win. Clemson should win all four games, and they are better than all four of those teams. So where is it concerning? Playing at Georgia Tech on a short week – five days after S.C. State – with a roster full of young defenders. Georgia Tech should be better – quarterback Justin Thomas returns and the team was absolutely injury-riddled last season.
The game is also on a Thursday night. In Atlanta. If you've made the trip down there – or even watched on television – you know that strange things happen to Clemson in Bobby Dodd. Illegal trick plays that are allowed; phantom holding calls; fluke injuries. The Tigers are 6-9 on Thursday nights but are 5-1 under Dabo Swinney. The lone loss – at Georgia Tech. Clemson won 24-3 against the Yellow Jackets in 1995 in Atlanta and has won exactly twice at Bobby Dodd since that game – in 2001 and 2003.
Nine days later the Tigers host Louisville – as we mentioned they should be better – and then turn around six days later and play at Boston College on a Friday night. You read that right. A Friday night. The Eagles actually hosted Florida St. on a Friday night last season and drew a shade over 39,000 people. That kind of attendance would be remarkable, but playing a day earlier than expected just 15 days after a Thursday game – coaches and players are creatures of habit and that's a departure from routine.
The Tigers close out that stretch against N.C. State. Again – all four games are winnable and Clemson should win – but the game on short rest in Atlanta against the option offense plus the weird schedule gives me pause.
The rest of the schedule is unremarkable, and Clemson gets an open date before facing Florida St. in Tallahassee on Oct. 29th. I had wondered if the ACC would perhaps schedule these two teams earlier in the season – they are clearly the class of the ACC and an early-season defeat would give the loser a chance to run the table and perhaps make an impression on the College Football Playoff committee. It was my thinking that an earlier date would protect the conference, but we've seen over the last two seasons that teams we thought were out of the playoff discussion make a strong run in November – Oklahoma last year and Ohio St. the year before. If you're Clemson, however, the November schedule isn't exactly a murderer's row – Syracuse, Pitt, Wake Forest and South Carolina.
2016 Football Schedule
Sept. 3 at Auburn
Sept. 10 TROY
Sept. 17 SOUTH CAROLINA STATE
Sept. 22 at Georgia Tech, ESPN (Thu.)
Oct. 1 LOUISVILLE
Oct. 7 at Boston College (Fri.)
Oct. 15 NC STATE
Oct. 22 OPEN
Oct. 29 at Florida State
Nov. 5 SYRACUSE
Nov. 12 PITT
Nov. 19 at Wake Forest
Nov. 26 SOUTH CAROLINA
Clemson won't play a road Saturday game between Sept 4 and Oct. 28. Won't play consecutive roads games for just 2nd time in last 24 years.

— Tim Bourret (@TimBourret) January 27, 2016