| | |
| --- | --- |
| That look in his eye: Deshaun Watson | |
---
| | |
| --- | --- |
| Monday, November 2, 2015 8:01 AM | |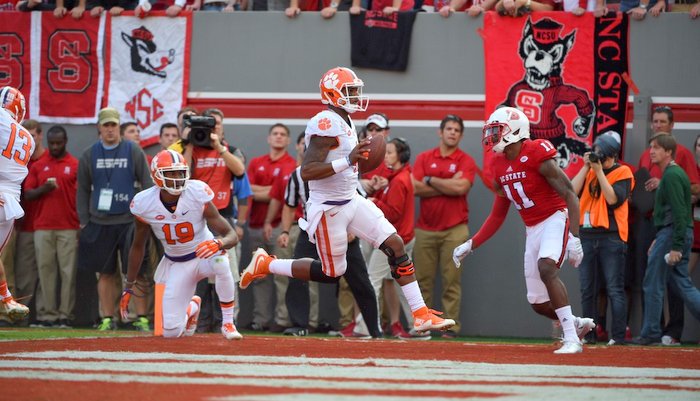 Deshaun Watson has that look in his eye.
Clemson's sophomore quarterback has led his offense to some prolific numbers over the last few weeks, and it's no coincidence that Clemson's playoff push coincides with Watson's emergence in the Heisman discussions.
Watson passed for 383 yards and five touchdowns, leading Clemson to a 56-41 win at N.C. State Saturday afternoon in Raleigh. Next up for the third-ranked Tigers is Florida St., the team that stands between Clemson and an ACC Atlantic Division title.
Watson, who is now 12-1 as a starter, has led Clemson to 58 and 56 points the last two weeks and is a combined 38 of 49 for 526 yards and six touchdowns, with each of those scoring tosses going to a different receiver. Watson also has tacked on 22 carries for 149 yards and two touchdowns on the ground.
In wins over Georgia Tech, Boston College, Miami and now N.C. State over the last four weeks Watson is 86-for-120 (72 percent) for 1,211 yards and 11 touchdowns. In other words, he's on a different level than he was earlier in the season, and appears to be regaining the form (if not surpassing it) that made him a freshman sensation a year ago.
I texted one of Watson's high school coaches Sunday afternoon, and he said the way Watson is playing now is something he's seen before.
"Deshaun is looking the way he did when he had his breakout junior year the year we won the state championship," his coach said. "He just gets that look in his eyes when you know he is comfortable. The game slows down for him."
The game looked slow for Watson Saturday night as he picked apart a Wolfpack defense that entered the game ranked third nationally. Three times the Tigers trailed, and three times Watson led the Tigers back.
Clemson trailed 20-19 late in the first half and I wondered if the Tigers would take a knee and regroup at halftime. Not with Watson at the helm – two long passes turned into a Clemson touchdown and a lead at intermission.
Watson said he didn't feel any pressure and, in true Watson fashion, credited his teammates with making plays.
"I wouldn't say it's pressure. We know what we are supposed to do every time we go out there on the field," he said after the game. "We just have to execute the plays. You can't quit in the first half - you have to play all four quarters and that's what we did. It shows that this offense has plenty of weapons. Everyone that touched the ball made a good play. Everybody stepped up."
Watson never appears rattled and he said falling behind doesn't faze him and that he just has fun playing the game he loves with the people he loves.
"It's just something that I have. I grew up calm. It's just something that I have," he said. "I don't let things bother me. I just go out there and do what I can to help my team. I know my skill set and I know what I can do. I didn't feel any pressure. I knew what I had to do. I was out there having fun. I wouldn't want to be anywhere else. I was out there with my brothers."
Offensive coordinator Tony Elliott said that Watson's calm demeanor keeps him calm while he calls plays, and that Watson is feeling more confident in his command of the offense.
"He is a lot more confident and he is feeling in command of the entire system," Elliott said after Saturday's game. "He's feeling good, his timing with his receivers is getting better each week. He's just a special young man and he prepares with a purpose. It's just good to see him have success."
With Florida St. next on the docket, however, don't expect Watson to get out of character.
"I think he has a flair for playing the game," Clemson head coach Dabo Swinney said Sunday evening. "They're all huge games for us and for him. He has pride in his performance whether it's Wofford or Florida St.,' Swinney said. "He has been very consistent. Some games we've had to have more out of him than others. Last night with the type of balance we needed to have, he was there. He's a young player, still. I promise you, he won't prepare any different this week than he did last week before N.C. State."
No matter the week, Watson just has that look.