| | |
| --- | --- |
| Thanksgiving thoughts: A year to remember | |
---
| | |
| --- | --- |
| Thursday, November 26, 2015 11:24 AM | |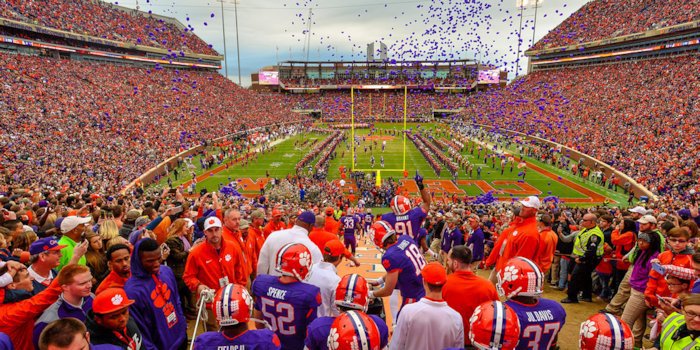 *I am thankful I can find good friends like Michael Mac Lain (father of Eric and Sean) prior to Tiger Walk for a quick pep talk and a hug. He's active duty in the Air Force, and you can't spend more than 30 seconds around the Major (soon to be Lt. Col) without feeding off of his energy.
*I am thankful for the spirit of Clemson fans. Nikki and I can't tailgate – the demands of the job preclude us from actually setting up and cooking and hanging out with people – but Mike Van Gieson and Missy Nolind and even DEROBERTS of TigerNet fame are always grabbing us and making sure we eat. Our working Saturdays are made easier because of people like that.
*I am thankful that for a few days each week I get to go to the fourth floor of the WestZone and work. An office that overlooks Death Valley makes for a pretty sweet view.
*I am thankful that I am not having to deal with a coaching search in the football program and that I am not really worried about a coordinator constantly looking elsewhere. It's a nice feeling heading into the holidays knowing that we can just concentrate on football.
*I am thankful for the ferocity of Wayne Gallman, the rhythmic grace of Deshaun Watson, the athletic poise of Jayron Kearse and the grocery store kicker named Greg Huegel. I am thankful that I got to watch guys like Shaq Lawson and spend a little time on Alexander Island. These guys are as good as it gets. I am thankful for seniors like Eric Mac Lain and B.J. Goodson, and I am thankful for the Tasmanian Devil that is Ben Boulware.
*I am thankful for our new press box and the fact that the food was ten times better this season than it has been in the past.
*I am thankful for the chance to see the beginning of an era with Monte Lee and the baseball program. I haven't spent a lot of time around Monte, but I've spent enough to know I would love to play for the guy. He's a no-nonsense baseball coach that will get the best out of his players. I walked through the new facilities again Saturday and marveled at how far we've come. We love the heights that Dabo Swinney has taken the football program, and I think Monte will do the same with baseball.
*I am thankful that my career has coincided with two of the greats in the Sports Information business. When I first started out, I got to meet and spend time with Bob Bradley (who once sat me down beside Frank Howard and said, "Listen." I did). I've also gotten to spend a lot of time with Tim Bourret, whose mind and ability to recall stats and dates always amazes me. Both men – the definition of class and professionalism.
*I am thankful for TigerNet and all of its readers and posters. You guys are why I get to follow my passion and do what I love. B-Meist and Crump allow me the chance to help disseminate information to the best fans on the planet, and I get to do it with the girl of my dreams by my side. You guys are the best and humble me. Especially when you feed me.
*But when it comes to Clemson, I am thankful that seven times a year I can walk across the campus on a fall day and see what makes a game day at Clemson special, even if it rains. I sit in the press box during games, but the sounds of Tiger Rag and the cannon signaling a touchdown never get old. The passion of this fan base and how you turn out in even the worst of conditions never cease to amaze me. You guys rock.
Happy Thanksgiving everybody. Save a turkey leg for me.