| | |
| --- | --- |
| Terry Allen: Fulfilling a promise | |
---
| | |
| --- | --- |
| Tuesday, September 22, 2015 2:06 PM | |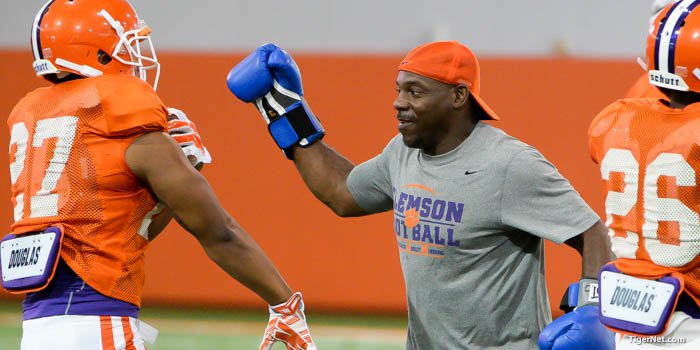 CLEMSON – Terry Allen made a promise to his mother, and he keeps his promises.
The former Clemson and NFL running back is back with the Clemson football program as a student assistant as part of a program called Tiger Trust, one of the 12 tenets introduced in the Clemson Will in 2014-15. Tiger Trust provides an opportunity for all student-athletes who have exhausted eligibility or left early for a professional career to return to Clemson and earn an undergraduate degree if he or she left in good standing. The athletes receive scholarship assistance through the athletic department and IPTAY.
Allen is one of seven former players back in school and acting as student assistants with the football program in 2015. The Georgia native came to Clemson as a relatively unknown prospect because most colleges wanted him to play defensive back, but head coach Danny Ford

Danny Ford
Former Head Coach
View Full Profile afforded him a shot a tailback.
After redshirting in 1986, Allen burst on the scene in 1987, setting a Clemson freshman record and leading the ACC in rushing with 973 yards. During his sophomore season in 1988, he led Clemson in rushing with 1,192 yards and was the MVP of Clemson's Citrus Bowl win over Oklahoma. His junior season was spent battling a nagging knee injury, but Allen mustered an 89-yard first half performance to give Clemson a sizeable advantage over archrival South Carolina.
Allen finished his Clemson career with 2,778 yards and 28 touchdowns, before deciding to declare for the NFL draft after his junior season.
Allen was drafted in the 10th round by the Minnesota Vikings and spent ten seasons in the NFL – playing for the Vikings, Washington Redskins, New England Patriots, New Orleans Saints and Baltimore Ravens. He rushed for over 1,000 yards four times and was a 1996 Pro Bowl selection. He is the only running back in NFL history to come successfully back from torn ACL injuries on both knees.
Despite his accomplishments on the field, however, he never finished his degree in Management at Clemson, and the Tiger Trust program allowed him the opportunity to keep the promise made to his mother.
"When I first heard about the program, it did interest me because I had made a promise to my mother that I would finish my degree," Allen said Tuesday in the WestZone. "It was important to me to come back and do that because of the promise I made to my mother. And then to have the opportunity to work with the football team is icing on the cake. To be able to come back and give to these young men and help them understand what is expected of them - not only to be an athlete but to be a student-athlete."
Allen is taking 15 semester hours to complete the degree but said it was easier being a student this time around.
"I have a year and a half left now. But after being away for 25 years, it's definitely different," Allen said. "It's easier now because I am focused on what I am doing. I am not worried about what everybody else is doing. I have been out in the real world and understand what is out there. This is something I've chosen to do, and it makes it easier."
It helps that his mother is supporting his efforts.
"She is still around, and she is healthy. I am not doing this in any rush because she may not be here," he said with a big smile. "But that is a promise I made, and I've kept every promise I made to her. She is very, very proud. Not only of the fact that I am back in school but that she gets to see me with the orange on again. We all bleed it."
Other notes
His advice to players today
"The first piece of advice is school first. The NFL will be there. The NFL wants you, but they don't need you, so don't get caught up in the idea that this is why I am here, to go to the NFL. Because there are only a few jobs. They all had teams last year that played without you, so don't think that they have to have you."
How much have offenses changed since you played?
"The offenses have changed tremendously. Now, we throw the ball every other play. When I was here we ran it almost every play. The game is not as physical as it was, but that is something we have to get back to. Because if you look at the teams that win it in the end they can come out and take a physical toll on people and get the job done."
His thoughts on Wayne Gallman

Wayne Gallman
RS So. Running Back
#9 6-1, 210
Loganville, GA
View Full Profile
"He is very impressive. He comes in and does the things we try to ask him to do. He has shown growth between last year and this year, and that just goes to show you how hard the young man works. He asks a question, and he expects an answer. He isn't going to give up just because you tell him something. He wants to know why. I do the best I can to help him out, and Coach Elliott has done a tremendous job with that group."
Advice to injured backs
"You can't go out and played based on the thinking that I am gonna get hurt. Who is to say I won't come back and play another ten years and never have another injury? You can't let those things deter you from what you want. Zac (Brooks) wants to be out there on the field, and he is working hard and he has come back from a few injuries he had in camp. He is looking good now."
Running down the hill
"I was the last person to come down the hill. With my bad knees, I am too slow to come down in the middle of the pack and get run over. We have had the reunion teams to come back and run down the hill, so I've done it before. But it was good to come down the hill with the team again and be on the sideline in the capacity that I am."
On leaving early
"You have got to know who you are and what your circumstances are. Some guys come out early and we don't understand why. Some guys come out early because they flunked out and wouldn't be eligible anyway. They have to. And then you have guys that come out for financial reasons and they have to support their families. We come to college to find out what we want to do in life, to get a profession. Well, the NFL is a profession. I don't hold it against the kids who come out early, because that is a job. How many times can you come out and make that much money right when you get your degree and go into a regular job? You can't take that opportunity from a guy, because the next play that you play could be the one that means you never play again. Some guys come out and sign with agents and lose the opportunity to play again. So just be smart."
Being around today's players
"It is very humbling to be around these kids because I found out after coming back just how much I did know about football at that age. Or saw just how talented these guys are as opposed to how much talent I had. These kids are far more talented than I ever was. I tell them all the time you take your talent along with work ethic you can get wherever you want to be because there is so much talent here."
Similarities between program then and now
"It's night and day, but the thing is both programs won. That is the similarity. We were very, very physical and disciplined team. Coach Swinney has the discipline, but Coach Ford created men and Dabo Swinney

Dabo Swinney
Head Coach
View Full Profile creates whole men. He creates that kid that is out in the community working. Coach Ford expected us to do the right things. Dabo makes sure that kids are doing the right thing. He has got people lined up in front of them to give them direction. There is nothing these kids lack. If these kids don't get it while they are here, they worked in order not to do it because it is so easy to get it done while you are here."
Who are special players on this team?
"A lot. You just take for instance the other night, Thursday night, you look at (Jayron) Kearse, and he is running a guy down on the kickoff return. Everybody didn't do that. He separated himself from a lot of his teammates in just that one instance. Just to see him give that type of effort for a guy who is better much gone and he runs the kid down. Another two yards and we are out there lining up to play defense. Wayne Gallman is another one. C.J. Fuller

C.J. Fuller
RS Fr. Running Back
#27 5-9, 211
Easley, SC
View Full Profile one of the young running backs. If we can just get him to hold on to the ball, this kid has an opportunity to be special. Obviously you can't say enough about our quarterback. This kid is just totally amazing, the things he can do. I've played with quarterbacks in the NFL that didn't have his talent."
His thoughts on Tony Elliott

Tony Elliott
Co-OC / Running Backs
View Full Profile
"Great relationship. I'm probably learning more from him than he is from me. Obviously I played the position, so there are some things about being a running back that I have that he doesn't. But Tony is so smart. He's a student of the position itself. I have not came in and changed up anything that he has told these guys because he is telling them all the right things. Now, by playing the position, there are certain things I understand about the mentality of that position that is different from the mentality of a receiver that I can relate to those guys in conversation. But Tony is doing an outstanding job.
Biggest differences from when he was here
"Being a player when I was here, we didn't have all the things that they have now. Yes, we had the great training table. We didn't have a masseuse come in and give us a massage. We didn't have an indoor facility. When it rained, we were out in it. All those things are great. They deserve everything that they get because they go out and put the work in and they are winning. I'm just happy to see this program has come as far as it has.
"I would say it is a lot more structured. We had structure, but we were a different breed. The kids today are not like us. We would rather be outside running playing football. These guys would rather be inside playing video games. So you got all the stuff that keeps them inside. You keep those guys from being outside where a lot of the trouble is. The structure itself, we have always got something for them to be doing that keeps them from having a lot of the idle time. It is not so much of football related stuff that we have them doing but it is stuff that they need to be working on outside of when we have them to work on their craft or to make sure they are getting their education taken care of with the different factors we have in place."
If social media had been around when he was at Clemson
"We probably would have had a whole team that would have been suspended," he said with a laugh. "As you know, a lot of things now it gets blown way out of proportion because of all the social media and everybody chimes in. It starts out small and ends up big. Without that, things that were small when I played stayed small. The media attention that the guys get now you can't do anything now without it being seen, and we let those guys know that."
His plans
"Well I had my own trucking company, and I did that for years. I spent a little time back at my high school helping those guys. Just doing football camps and speaking. Just doing all the little things to give back to the communities. First and foremost is to get my degree. After being around the kids, I definitely want to be able to continue coaching at some level to be able to give back. It is so fulfilling for me to be able to go out and speak something into these young men and then to see it come true. I really enjoy that. Just to know that a lot of time we look at our lives as professional athletes, and we take it for granted. Just because we are doing it, and we don't understand how we impact those who want to do what we are doing. Now I see wholeheartedly the impact I can make on people, these young athletes. I want to get them to understand that yes you want to play professional football, but that shouldn't be your only goal. That shouldn't be your only goal in life."
On being second-oldest coach
"Keith Jennings is older than I am. Second oldest. You know what it is great. It really is. Just to have the opportunity to be able to come back and work with these young men. And they feed into everything we say. They really do. They understand we have been where they're trying to go. In some cases, we have guys that didn't go to the NFL but they have life experiences that they can teach these young men. I think it is truly a blessing for these guys to get that."